October 13, 2022 11:01 am
XPeng's X2 flying car makes first public flight in Dubai
X2 an all-electric two-seat flying car with carbon fiber body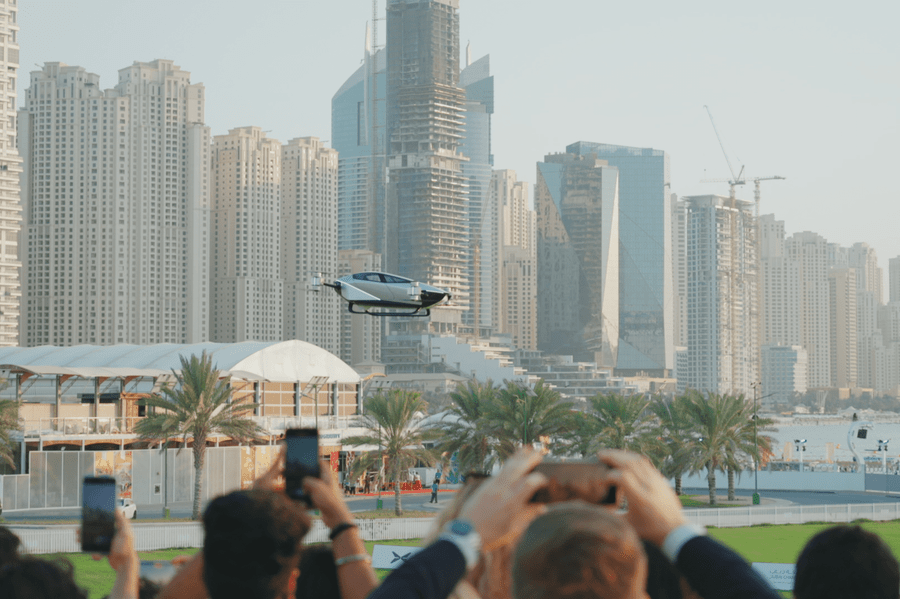 The X2 flying car in action in Dubai (Image credit: XPeng)
Chinese electric-vehicle-maker XPeng has been developing a teardrop-shaped eVTOL to serve as a flying taxi of the future and has just flown it in public for the first time.
The eVTOL launch was part of the 42nd annual edition of the Gulf Information Technology Exhibition (GITEX) in Dubai. 
While it gave a glimpse of what our near future could look like, with ambulances flying over traffic to save lives or you soaring over your morning commute to work to save time, the technology is far from the fantasy of driving off the road and into the air. 
The X2 is an all-electric two-seat flying car with a carbon fiber body and eight rotors. It is designed to soar to altitudes of up to 1,000 m (3,281 ft), cruise at up to 130 km/h (81 mph), and fly for up to 35 minutes on each charge, according to the electric vehicle company. 
The UAE is XPeng's only international partner working with the Dubai International Chamber and supporting authorities, said Brian Gu, vice chairman and president of XPeng. 
The company is gearing up to deliver its sixth generation of luxury flying vehicles by 2024.
Exclusives