Government-backed investments and initiatives over the past 12 months have jumpstarted activity in the Jeddah real estate market.
The city is Saudi Arabia's second-largest and has typically served as a regional logistics stronghold largely due to the Jeddah Islamic port (JIP). Jeddah is also a key domestic market for tourism. It is the gateway to the holy city of Mecca, as well as trade and commerce.
Traditionally, Jeddah has trailed behind Riyadh – Saudi Arabia's largest city and capital – in terms of real estate projects. Urban spending over the past two decades has focused largely on projects in the capital. This includes projects like King Abdullah Financial District and Riyadh Metro.
But the resurgence of Saudi construction spending since Vision 2030 is starting to reach Jeddah's real estate sector.
The $90 billion pipeline
Jeddah's projects pipeline is worth about $90 billion, according to a January 2023 estimate. The pipeline comprises 89,000 homes, 250,000 square meters (sqm) of offices, and 1.4 million sqm of retail areas. 
Knight Frank's January research shows about $14 billion of the budgeted spending is dedicated to infrastructure projects.
This includes the estimated $7 billion (SR26.2 billion) Saudi Landbridge that includes a Riyadh-Jeddah link.
Also planned for construction are 1,500 kilometers (km) of railway lines to link eastern and western Saudi towns and cities. A $7 billion expansion program for JIP is planned too.
Read more: New asset classes spring life in Mecca, Medina real estate
Urban projects
Yet another megaproject planned for Jeddah's real estate market is the $20.4 billion (SR76.5 billion) Jeddah Central project.
Jeddah Central's masterplan features a sports stadium, an oceanarium, a coral farm, a marina, and a cruise terminal. Client Jeddah Central Development Company has signed contracts for the project's stadium, and marine and infrastructure areas.
"With nearly $3.3 billion (SR12.4 billion) earmarked for wellbeing projects, Jeddah residents are set to benefit from improvements to the city's leisure, cultural, education, and healthcare facilities," according to Yazeed Hijazi, associate partner for real estate strategy and consulting in Saudi Arabia at Knight Frank.
"While perhaps considered secondary to more grandiose gigaprojects elsewhere in the country, improved healthcare and educational facilities help to make cities more attractive places to live.
"This is something that will help Jeddah cement its position as the Red Sea's main commercial hub while also making it an even more attractive city to live and work in."
Jeddah real estate market outlook
By the third quarter of 2022, Grade A office rents were down about 2.5 percent and valued at $269 (SR1,008) per sqm. Regional and super-regional mall rents were down by 1 percent. The latter were valued at $533 to $933 (SR2,000-3,500) per sqm. 
In the year to September 2022, average daily rates in Jeddah increased by 19.6 percent year-on-year to reach $214 (SR802). Occupancy averaged 52 percent during the period.
Demand is expected to continue growing across multiple segments of the Jeddah real estate market in 2023. According to Deloitte, demand is increasing for upper-mid to high-end residential units. Good quality apartment schemes continued "to sell well during the pre-construction phase".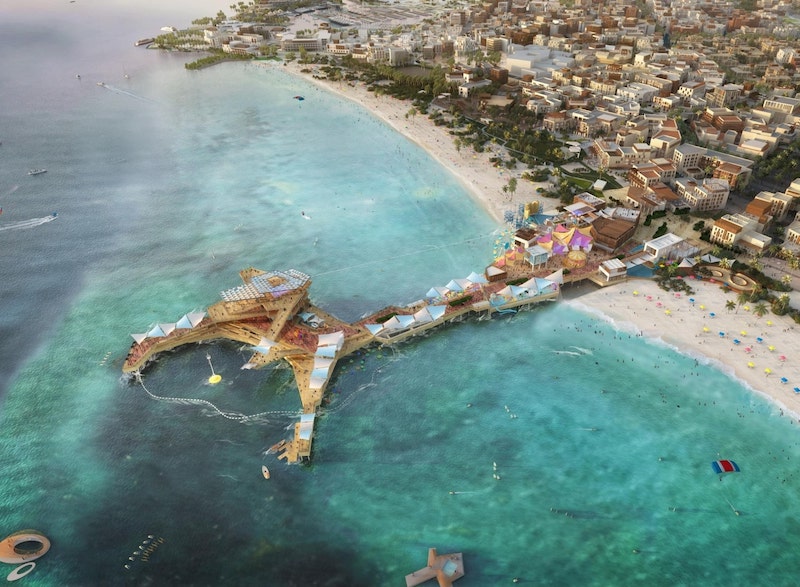 Considering 2022 performance improvements and spending plans, the fundamentals are in place for the real estate market in Jeddah to thrive this year. 
"The popularity of Jeddah Season and the Jeddah F1, combined with the ultra-fast and modern rail links to the holy cities, means Jeddah's potential as an international tourist destination is only now starting to grow," said Faisal Durrani, partner, and head of Middle East research at Knight Frank. 
"With plans to draw 100 million tourists to Saudi Arabia by 2030, the city still has the potential to develop a vibrant tourist market. Particularly so, given the wide range of pre-existing attractions and more temperate climate relative to the rest of the Gulf region."