When your CV includes cooking for the likes of His Highness Sheikh Mohammed bin Zayed Al Nahyan and Prince Harry, chances are you are doing something very right.
Chef Moha is putting his own spin on traditional Moroccan cuisine at the wonderful Tagine located in the One and Only, Royal Mirage. His re-imagined menu ranges from a wide selection of Pastillas, Soups and Tagines, to an elevated selection of couscous. The author of several culinary books and a member of the jury on "Master Chef Morocco", Chef Moha clearly qualifies as someone we wanted to speak to.
Economy Middle East sat down with the acclaimed chef at Tagine.
What was your inspiration for becoming a chef?
It all started during my Hotel & restaurant studies in Geneva where I was at first picturing myself becoming one day, a Hotel Director. With the help and wise advice of one of my professors, a German Chef, I developed a passion for cuisine while discovering the pleasure of international flavors. 
I understand your cooking is influenced by your family. What are some of these?
Many people often mock hand-down recipes, such as those from my grandmother and the family. However, I take my family and Moroccan origins very seriously and use these as great inspiration, especially the traditional recipes. These have had a great impact, directly and indirectly on all of my creations, and they still do to date.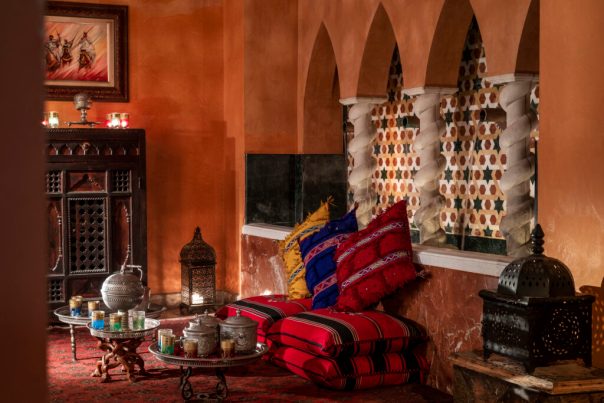 You've spent considerable time outside of Morocco. How has that added to your cooking style?
My studies abroad really helped me develop my culinary skills. Surrounded by a team of international Chefs, I managed to combine various amounts of knowledge, and a blend of innovative cuisines. Of course, I always had the utmost respect for all the traditional flavors of my childhood.
How did the partnership with One and Only come about?
I recently had the opportunity to partner with the Kerzner Mazagan Resort located in my native Morocco. As a result of this, the General Manager of this property, Mr. Jacques Claudel, introduced me to the Managing Director, Mr. Olivier Louis of One&Only here in Dubai. He was seeking to further elevate the dining experience at Tagine, a restaurant that has always been a reference for serving truly traditional Moroccan cuisine, for over twenty years. It has been an absolute pleasure to bring my expertise and passion to a location such as Tagine.
Also, I love the challenge and my dream has always been to promote our Moroccan cuisine around the world, and do hope that we will be able to convey to our guests the richness and the variety of our cuisine.
Have you brought any of the favorites from Dar Moha to Tagine?
The magic of cuisine is also to adapt and reinvent oneself. So, when I arrived here in Tagine, I worked closely with the team to ensure that the existing menu was tweaked in a way that it would benefit from the introduction of revised ingredients and flavors. I hope with all my heart that our guests will be satisfied and that they will leave delighted with their dining experience. The restaurant is so beautiful and the live entertainment from the two classical musicians is exceptional, which contributes to a beautiful and memorable atmosphere.
What are some of your favorite things about Dubai?
Dubai is itself an example of a true success story. I already had the pleasure of visiting this city on several occasions during international events, and each time, I was fascinated and impressed by the cultural diversity of this magnificent city; the speed and the quality of the execution of projects, the elegance of the city and the warmth of its people are what make this destination so exceptional.