February 15, 2023 6:57 pm
Abu Dhabi's GDP reaches 10.5 percent, fastest in MENA
Real GDP exceeded AED830 bn by end of first 9 months of 2022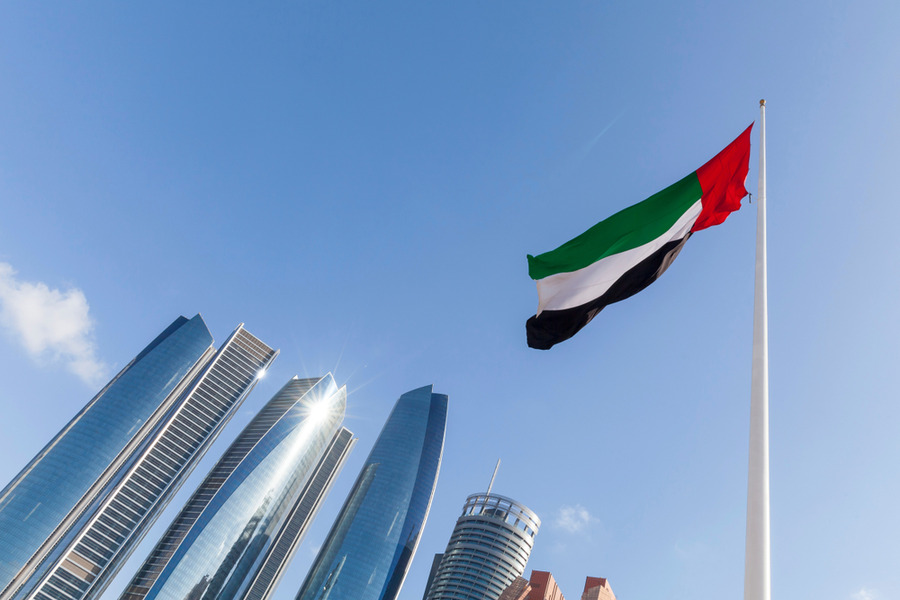 Abu Dhabi
Statistics Centre – Abu Dhabi (SCAD) has announced statistical estimates that show the growth of Abu Dhabi's Gross Domestic Product (GDP) in the first nine months of 2022, reaching 10.5%, the highest in the Middle East and North Africa, compared to the same period of 2021.
Through the provision of an enabling knowledge-based economy and a resilient economic framework, Abu Dhabi continued to grow in leaps and bounds at the end of Q3 2022 across its various sectors thanks to the collaborative efforts of various government and private sector organizations. Abu Dhabi strengthened its international standing and maintained its competitiveness and macroeconomic stability.
Ahmed Jasim Al Zaabi, Chairman of the Abu Dhabi Department of Economic Development (ADDED), said: "Abu Dhabi's robust economy continues to prove its superiority driven by our leadership's clear vision, its ability to attract foreign direct investments and agile policies that enabled our economy to achieve the strongest growth in the region."
For his part, Ahmed Mahmoud Fikri, Director General of the Statistics Centre – Abu Dhabi, said: "The Emirate of Abu Dhabi has attained accelerating growth rates in the non-oil gross domestic product, culminating in a 10.3% increase by the close of the third quarter of 2022. This growth is attributed to the strategic policies of prudent leadership, which have aimed at diversifying the economy, fostering private sector engagement, and investing in human capital."
Read more: Powering a green falcon economy
Soaring Growth 
According to statistical estimates that the Statistics Centre – Abu Dhabi announced, the non-oil sectors contributed 50.3% to GDP, with an increase of 39 billion dirhams compared to the same period in 2021 to reach 417.3 billion dirhams in total by the end of Q3 2022.
Real estate activities
Abu Dhabi's real estate sector experienced an exponential 20.3% growth compared to the same period the previous year. The growth was due to the rise in real estate activities during the first nine months of 2022, as investors have been attracted to Abu Dhabi's renowned waterfront and island communities, such as Saadiyat Island, Yas Island, Al Reem Island, and Al Raha Gardens.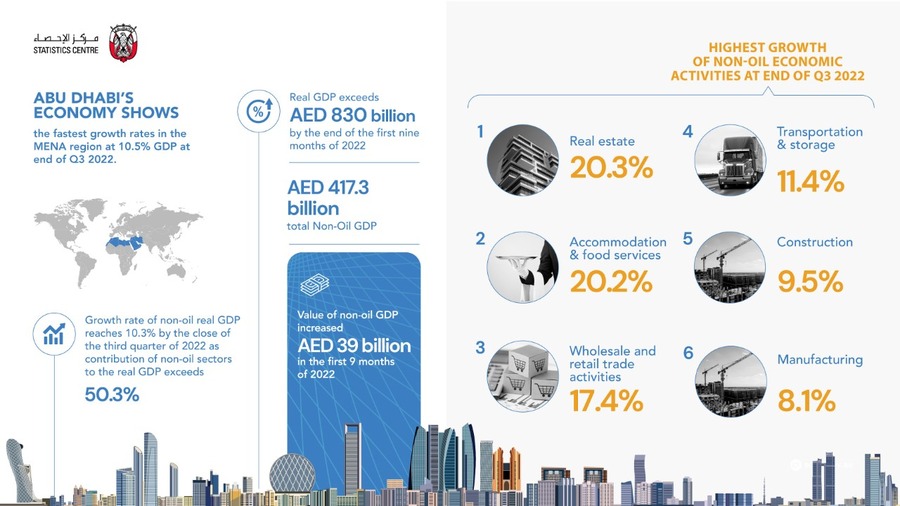 An infographic illustrating Abu Dhabi's economic growth
Accommodation and food services
The accommodation and food services sector in Abu Dhabi achieved a growth rate of 20.2% in the first nine months of 2022. In Abu Dhabi's tourism sector, hotel occupancy rates, amongst other key indicators, have reached a two-year high. In 2022, Abu Dhabi hosted a total of 4.1 million overnight hotel guests, an increase of 24% from the previous year. Hotel occupancy rates reached 70%, well above the Middle East average of 63.6% which makes Abu Dhabi among the top tourism destinations in the region in 2022.
The robust growth is being driven by increased awareness across international and domestic markets of Abu Dhabi's offering of entertainment and sporting events, cultural and heritage experiences, and leading international partnerships.
Wholesale and retail trade activities
During the first nine months of 2022, the wholesale and retail trade sector reached 45 billion dirhams, with a 17.4% increase compared to the same period in 2021. This sector accounted for 5.4% of Abu Dhabi's nine-month GDP.
Transportation and storage activities
The transportation and storage sector saw an added value of 14 billion dirhams in the first nine months of 2022, recording a growth of 11.4%. This sector, which boosted the emirate's GDP by 1.7%, covers the transportation of passengers and cargo via rail, road, water, or air, and related storage activities. Abu Dhabi Airports reported that the Emirate's airports were used by a combined total of 15.9 million passengers in 2022.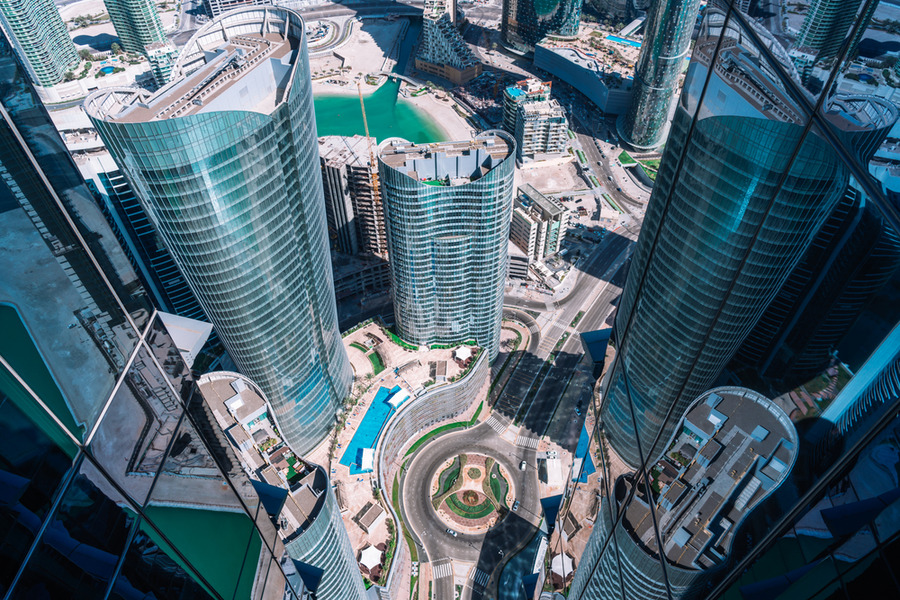 Manufacturing activities
The manufacturing activities in the Emirate witnessed a growth rate of 8.1%, with a contribution of 8.0% to the GDP during the first nine months of 2022. The manufacturing sector is expected to double in size by 2031 with the newly announced Abu Dhabi Industrial Strategy to strengthen the Emirate's position as the region's most competitive industrial center. Abu Dhabi government recently announced that it will invest 10 billion dirhams across a number of ambitious industrial programs to more than double the size of the emirate's manufacturing sector to 172 billion dirhams by 2031.
The new strategy will boost Abu Dhabi's trade with international markets, with the aim of increasing the Emirate's non-oil exports by 143% to 178.8 billion dirhams by 2031.
Financial sector
Abu Dhabi's financial sector grew by 6.9% in the first nine months of 2022 compared to the same period in 2021, with a value of 28 billion dirhams. The sector accounted for 5.5% of the GDP.
For more economic news, click here.
Exclusives