November 3, 2022 5:09 pm
AD Ports acquires 80% stake for AED 2.9 bn in global shipping firm
Creating world's largest independent feeder carrier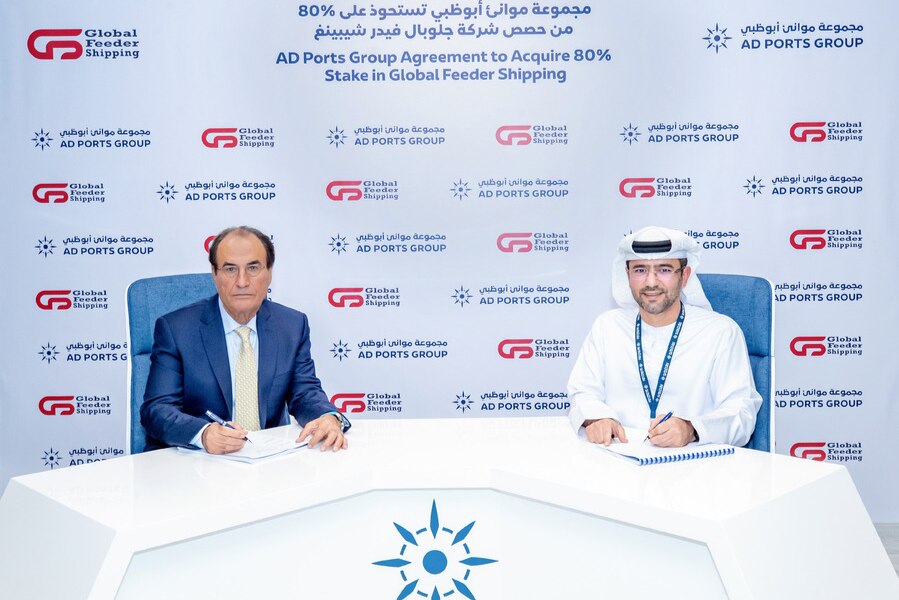 AD Ports Group
AD Ports Group announced that it has signed an agreement to acquire an 80% equity stake in Dubai-based Global Feeder Shipping (GFS), a global container shipping company. 
The total purchase consideration for the stake amounts to 2.9 billion dirhams ($800 million), implying a 100% Enterprise Value of 3.7 billion dirhams ($1 billion), with the acquisition being fully funded through a new acquisition loan.
The acquisition will boost AD Ports Group's trade activities and connectivity to core markets, as well as enhance its feeding business, providing significant economies of scale through an expanded route network and fleet. In addition, the acquisition will further strengthen the company's hub and spoke model by linking core markets in the Gulf, Indian Subcontinent, Red Sea, and Turkey to its key port assets including Khalifa Port. 
Read more: AD Ports acquires majority stake in two Egypt-based trans cargo companies
GFS' integration with SAFEEN Feeders' services has the potential to generate significant operational synergies.
Subject to regulatory approvals, the transaction is expected to close in Q1 2023. GFS's existing management will remain in place with the founders retaining a 20% stake in the company.
Citi acted as the financial advisor and A&O as the legal advisor while Roland Berger completed the commercial due diligence and KPMG the financial and tax due diligence for AD Ports Group in this transaction.
Exclusives