March 6, 2023 11:46 am
ADNOC, Eni sign MoU to cooperate in renewables
Both sides highlighted importance of COP28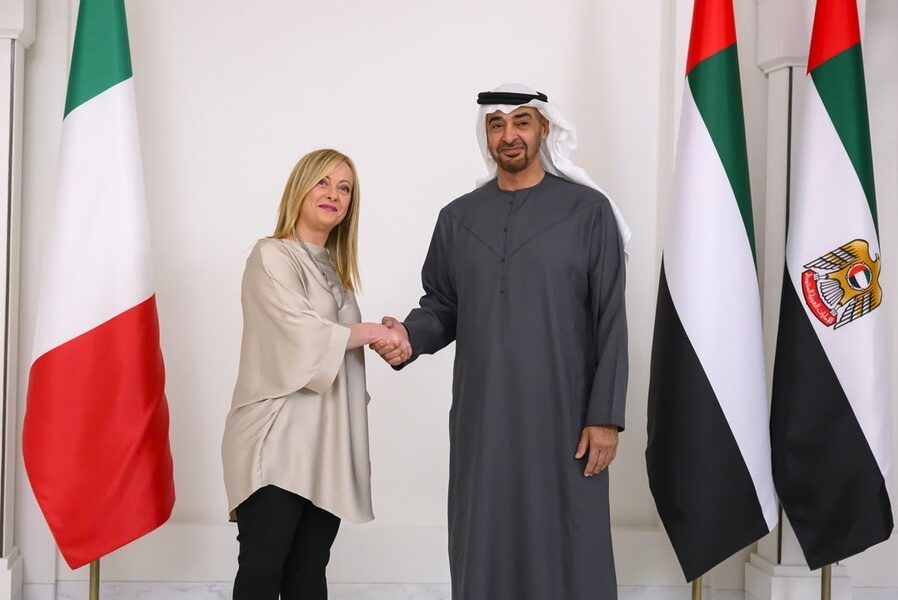 UAE President Sheikh Mohamed Bin Zayed Al Nahyan receives Italy's Prime Minister Giorgia Meloni (Photo Credit: WAM)
UAE's Abu Dhabi National Oil Company (ADNOC) and Italy's Eni have signed a memorandum of understanding (MoU) to explore collaboration in the development of renewable energy, blue and green hydrogen, and carbon capture and storage.
The MoU was inked during the visit of Giorgia Meloni, Italy's Prime Minister, to the UAE.
UAE President Sheikh Mohamed Bin Zayed Al Nahyan received Meloni. Both sides touched on the importance of the United Nations Climate Change Conference of the Parties (COP 28), which the UAE is hosting this year.
They also reviewed several developments in the regional and international arenas, and exchanged views on issues of mutual interest, stressing the importance of dialogue and prioritizing diplomatic solutions and cooperation to address various crises, enhance stability and security, and achieve a better future for current and future generations.
Read more: ADNOC Gas IPO touches $2.5 billion mark
According to Eni, the two companies will also look into a collaboration to reduce greenhouse gas emissions, methane emissions, and routine gas flaring.
ADNOC intends to invest $15 billion in clean energy projects by 2030 as part of its efforts to decarbonize its operations. It has pledged to reduce its carbon intensity by 25 percent by 2030 and has set a target of 0.15 percent upstream methane intensity by 2025.
At the same time, ADNOC is boosting its oil production capacity to 5 million barrels per day by 2027, up from over 4 million barrels per day now, and will spend $150 billion between 2023 and 2027 to help fund this increase.
Eni also plans to increase its upstream production, which will increase at a 3-4 percent annual rate from around 1.61 million b/d of oil equivalent in 2022 to a plateau in 2025 to 2030.
Despite the higher output guidance, Eni remains committed to reducing its scope 1, 2, and 3 emissions by 35 percent by 2030 and 80 percent by 2040, to reach net zero emissions by 2050.
The UAE, OPEC's third-largest producer, has pledged to achieve net zero emissions by 2050, making it the first country in the Middle East to do so.
First finance summit to advance COP28 climate agenda
Last Thursday, the Dubai International Financial Centre (DIFC) hosted the first summit dedicated to advancing the COP 28 climate action agenda in the global finance industry, WAM reported.
The findings of the first Global Islamic Finance Retail Banking Survey, as well as their implications for the UN Sustainable Development Goals (SDGs), were released at the event.
According to the survey, 90 percent of Islamic banking customers from various markets believe their bank must offer SDG-aligned products.
Approximately 86 percent of respondents said it is critical that the financial products they purchase align with their values and ethics.
Furthermore, 87% are willing to pay more for financial products that support the SDGs.
For more on energy news, click here.
Exclusives