It's not easy to make a mark on the highly competitive culinary scene in Dubai.
But a relative newcomer, SUSHISAMBA, seems to have done just that. Since its launch in November 2021, SUSHISAMBA has quickly become a favorite on the Dubai restaurant scene. Within months, it has caught the attention of royalty, sports stars, and gourmet diners who come to enjoy a fusion of Japanese, Brazilian and Peruvian cuisines.
Located on the 51st floor of the newly opened St Regis on The Palm, the Dubai restaurant is the 4th edition to the worldwide SUSHISAMBA family, with two in London and another in Las Vegas.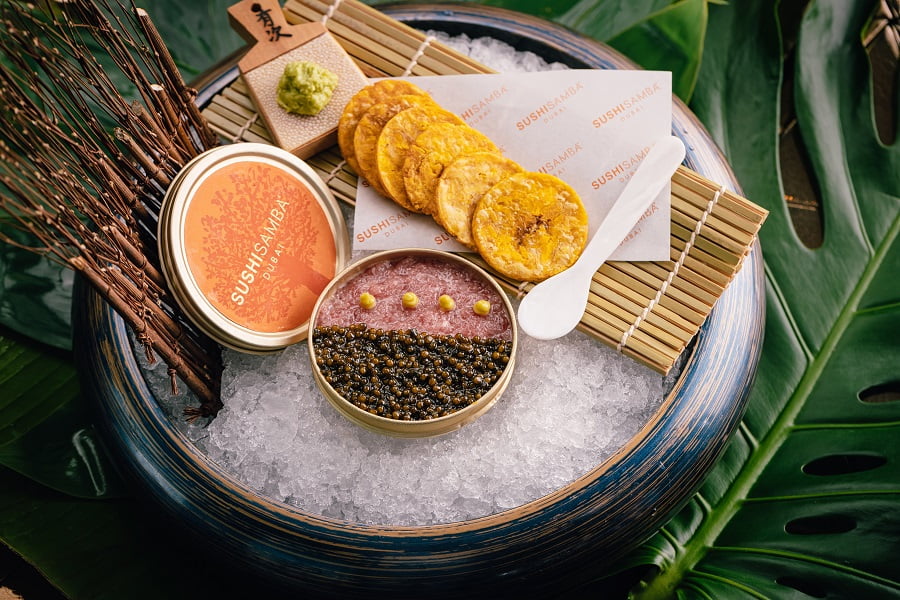 The vista
Starting February 28th, and due to overwhelming demand, the venue has opened its doors for a weekday lunch between 12 pm and 3 pm. Discerning diners can now enjoy the beautifully curated Vivo Business Lunch, consisting of some of the chef's top picks. Should the full experience be your choice, the fabulously rich à la carte menu is also available. On the weekend, SUSHISAMBA's à la carte menu is offered for lunch, daytime 12 pm to 3 pm, and again from 6 pm to 3 am in the evenings.
Economy Middle East was among the first to try the tantalizing two-course Vivo Business Lunch, taking in the breathtaking 360-degree views from the 51st floor. The elevated position of the restaurant provides vistas of not just the Palm, but Dubai Marina, JBR, and as far as the eye can see. The unique location of SUSHISAMBA is like no other, where diners can effectively have a different view each time they visit.
Let's get to the menu
For a very reasonable AED139 guests are treated to a choice of no less than 15 starters, from which you can choose two, and the main course to follow. We took the advice of our lovely server and went with the Samba signature rolls, crispy chicken taquitos, sea bream ceviche, and asevichado, all were excellent as expected. While no doubt the teams at SUSHISAMBA are experts at what they do, it doesn't hurt that all the seafood is flown in fresh from Japan.
For the main course, there is a generous choice of eight of SUSHISAMBA's most popular dishes. We went for the Black Cod and Australian Angus Beef. Both cooked to perfection and respectively accompanied by white rice and chimichurri. As with all business lunches, the portions are slightly smaller than the à la carte, which serves well, as a siesta is not an option for many after indulging in such wonderful food. While the desert is not included at the Vivo Business Lunch, we do advise indulging.
With a total of 23 dishes, immaculate service, and some of the best views Dubai can offer, SUSHISAMBA's  Vivo Business lunch is sure to be a firm favorite on the culinary scene.