Founded in 2017, Alef Education emerged with a bold vision: to transform students' learning experiences and the education ecosystem through innovative technologies like artificial intelligence, big data and machine learning.
In this exclusive interview, CEO Geoffrey Alphonso shares the inspiring journey of this Abu Dhabi-based company, starting as a home-grown startup and evolving into a prominent global EdTech firm, making a profound impact on students and teachers worldwide. He also outlines his vision for the future of education.
Alef Education's mission is to transform the education ecosystem. How were you able to accomplish this? What were the key milestones that helped you achieve your goals?
Alef Education was established in 2017 to transform the education ecosystem by providing accessible, personalized, and innovative solutions that inspire a love of learning and equip students with the skills needed to succeed in the Information Age. We initially focused on creating a technology-integrated primary mode of education but soon expanded our vision to include a global digital transformation of K-12 education. Our products are designed for students with different abilities and learning styles: we use cutting-edge technologies such as artificial intelligence (AI), personalized learning, and big data analytics to digitize, enhance, and innovate the education sector. This tailored approach ensures that students progress independently. Content is aligned with the local curriculum, and interactive exercises adapt to their strengths and challenges. Using the best technology, data science, and learning materials, we have created a paradigm shift in education and impacted more than 820,000 students and 40,000 teachers.
Read: Alef Education Launches the Alef EcoChamps Summer Program for UAE school students
Our award-winning flagship product—the Alef Platform—is at the heart of our success and has been proven to improve learning outcomes for K-12 students. The AI-powered platform provides data-driven insights and enables real-time feedback and support for educators as they mentor and evaluate their students. We also developed Abjadiyat, an interactive Arabic language platform for K-4 students. Alongside this is Arabits, a comprehensive AI-powered digital curriculum for non-native Arabic learners. The app has been downloaded over 1.8 million times since its launch in 2021, and it facilitates Arabic language learning for approximately 80 percent of the UAE population who do not speak Arabic, in addition to students. More recently, we have expanded our portfolio to include Math Pathways and ELA—two educational programs that provide students with comprehensive support for foundational math and literacy skills. Math Pathways is a student-centered, self-paced supplemental math program that uses interactive learning content, personalized diagnostic assessments, and recommended developmental pathways to help students learn at their own pace. ELA is a simple, effective approach to teaching foundational literacy skills that provide discrete skill instruction through videos and engaging interactive readers. Both programs offer immediate feedback from students and teachers through assessments and content review games.
We have achieved several significant milestones in our quest to transform education, most notably during the COVID-19 pandemic. Since then, we have continued to expand our product and user base. We are available in more than 4,000 schools worldwide, from the United Arab Emirates to the US, Indonesia, and Morocco. We have extended our reach to more students worldwide and continuously refined our solutions to make learning more personalized and engaging. We actively collaborate with governments and educational institutions to advocate for a data-driven approach to education, ensuring informed decision-making backed by data science.
Alef Education is dedicated to equipping teachers with the tools and resources they need to excel in their roles and recognizes their fundamental role in shaping students' educational experiences. Through these initiatives, we aim to transform education by creating a more equitable and inclusive learning environment for all students: technology and successful pedagogy allow learners to fulfill their unique potential.
Alef Education's learning platform provides personalized and engaging learning experiences. Can you elaborate on the role that AI and machine learning (ML) play in this? Will AI be able to help students independently of teachers in the future?
We use artificial intelligence (AI) and machine learning (ML) to provide students with personalized and engaging learning experiences. These technologies are essential to improving educational outcomes by gathering information about student learning and developing student models. Our digital learning solutions employ intelligent tutoring systems and continuous assessments to collect data and provide meaningful insights about learners. This data-driven approach enables educators to tailor learning experiences to individual students and adapt materials to their learning styles and levels. By analyzing vast amounts of data, AI and ML algorithms identify patterns and trends that help create personalized pathways to success. The Alef AI Tutor is an intelligent tutoring system that assists students in classroom activities, providing support and information on subject topics.
One notable application of AI and ML in education is early intervention. Our digital learning solutions use a hybrid assessment and intervention mechanism that employs adaptive diagnostic tests and predictive models. These tools identify students who may be struggling. They adjust in real-time to determine their level of knowledge in different domains and grade levels. This approach provides a comprehensive understanding of each student's abilities by disregarding assumptions about a student's ability, grade level, or language level. By using AI-powered predictive models, our products track user activity, courses taken, and feedback to identify students at risk of failing. This early identification allows teachers to intervene immediately and give students the support they need to get back on track.
While AI and ML can be helpful teaching assistants, they are not designed to replace the face-to-face aspect of a physical teacher. Instead, they serve as tools to assist teachers with their teaching practices. AI and ML provide educators with valuable data and insights to make informed decisions about instructional strategies, differentiate instruction, and provide targeted support to individual students. The potential for AI to help students independently of teachers is a possibility as technology continues to advance. AI could play a more autonomous role in providing personalized instruction and support. However, it is important to strike a balance and preserve the valuable human element of education. While AI can enhance and improve the learning experience, the role of teachers in fostering critical thinking, social and emotional development, and personalized mentoring remains essential.
The Alef Platform collects millions of data points every day. What do you do with this data, and how does it impact student learning experiences on the platform? Given data privacy concerns, how do you promote a secure digital learning environment?
We collect millions of data points every day that are vital to improving student learning experiences with our digital learning solutions. The vast amount of data collected allows us to create personalized learning pathways tailored to individual student needs, strengths, and challenges. Our products can adjust content, pacing, and instructional strategies to optimize student engagement and performance by analyzing these data points.
The data collected by our digital solutions provide students with personalized recommendations, adaptive assessments, and real-time feedback. This level of personalization ensures that each student receives targeted instruction and support to help them progress at their own pace and overcome any barriers to learning. Our products identify areas where students need additional practice or intervention so educators can provide timely and targeted interventions to support learning.
Data also plays a crucial role in assessing student progress and achievement. By analyzing the data collected, educators gain valuable insight into student strengths, weaknesses, and learning patterns. This information helps teachers make informed decisions about instructional strategies, identify areas that require additional attention, and tailor their instructional approaches to meet individual student needs. Additionally, the data collected by Alef Education's platform enables continuous improvement and innovation. By analyzing trends and patterns in the student population, the platform can identify areas for improvement and refine its algorithms and content. This iterative process allows for ongoing optimization and ensures that the platform evolves to meet the changing needs of learners.
When it comes to privacy, protecting student data is a top priority for Alef Education. We adhere to industry standards and regulations such as FERPA and COPPA in the United States and the EU GDPR. We employ robust encryption methods to protect student data during transit and at rest, ensuring that sensitive information remains confidential and protected from unauthorized access. We also conduct regular security audits and penetration tests and remediate system vulnerabilities to strengthen our cybersecurity measures further. We also prioritize educating users, including parents, teachers, and students, about privacy and data security best practices. We provide resources such as privacy guides, tutorials, and workshops to raise awareness and empower users to make informed decisions regarding their data.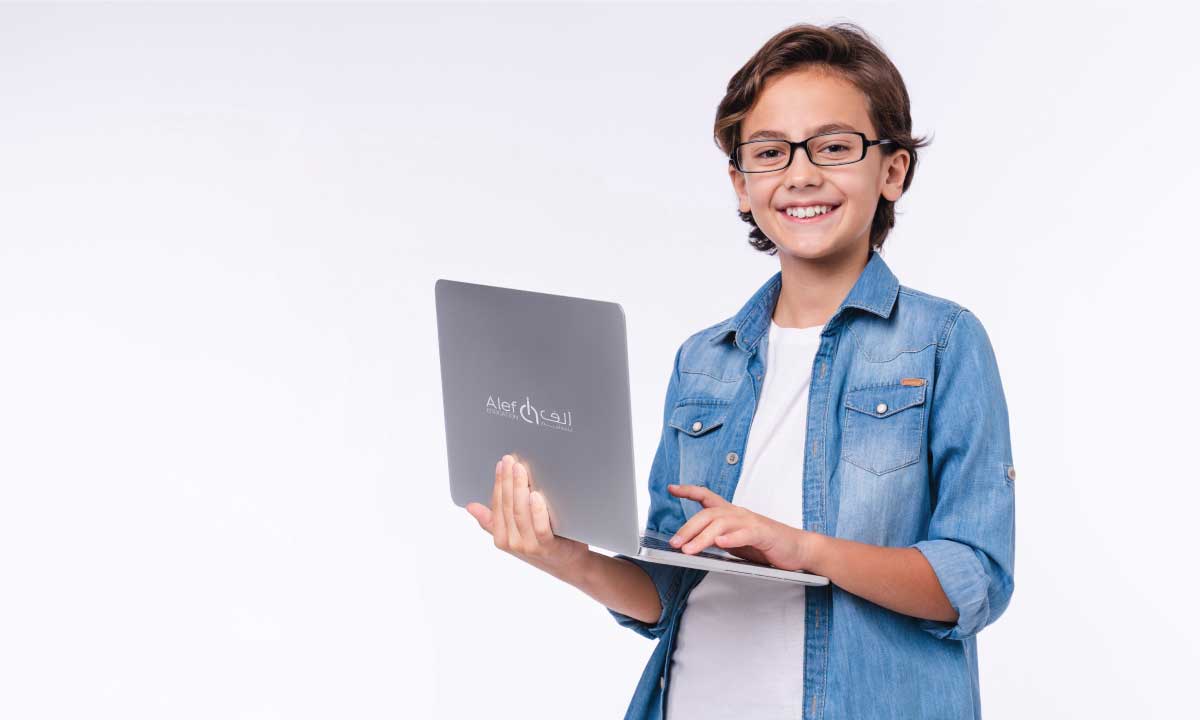 Alef Education showcased its innovative EdTech solutions to a global audience at Expo 2020 Dubai. At COP28, you will have the same opportunity. What sustainability-focused practices will you share with the world this time? How is Alef Education contributing to the net-zero commitments of the UAE? What are your own ESG principles?
As a pioneer in education technology, we are committed to showcasing our innovative digital learning solutions at global events. Building on the success of our participation at Expo 2020 in Dubai, Alef Education is also preparing to share its sustainability-focused solutions with the world at COP28. Our participation at COP28 is also significant because we are a strategic partner of the UAE Ministry of Education. During COP28, we plan to showcase our efforts to promote sustainability through various initiatives, including the EcoChamps Carbon Literacy program, the Alef metaverse, and our commitment to ESG principles.
In partnership with the Ministry of Education, Cambridge Partnership for Learning, and the Carbon Literacy Project, we are working with schools in the United Arab Emirates to deliver the EcoChamps Summer Program. This program provides students with an understanding of climate change, sustainability, and the importance of action. It includes engaging activities such as interactive games, educational videos, and field trips, all integrated into the curriculum. In this way, Alef Education equips students and educators with the knowledge and tools to address the challenges of climate change and environmental degradation.
Alef Education is building a metaverse to promote sustainable education further and will present it at COP28. By using this technology, we will create immersive learning experiences that make sustainable education more engaging and effective. Through virtual reality with high-resolution visuals, advanced spatial audio technology, and immersive digital content, Alef Education will engage users in a truly immersive experience that allows students to learn about carbon literacy and sustainability principles through a series of missions that teach them about conservation and show them the impact of their actions in real-time.
We are pleased to be a part of Educators Voice at TeachersCOP, an event organized by the Office for Climate Education (OCE) in collaboration with the UAE Ministry of Education during the upcoming COP28 in Dubai later this year. This initiative will allow teachers to voice their opinions on climate change and sustainability. Teachers are crucial to promoting sustainable education, and we are committed to supporting them in any way we can.
At Alef Education, we proudly contribute to the UAE's ambitious net zero commitments. We actively support the country's transition to a low-carbon economy through sustainable practices and education initiatives. We are nurturing the next generation of sustainable leaders by equipping students with the knowledge and skills they need to meet the challenges of climate change and sustainability by raising the next generation of sustainable leaders.
How does Alef Education's learning platform support teachers, and how has it impacted teaching methods and performance?
At Alef Education, we understand the importance of supporting and developing educators in creating an effective and sustainable education system. Through a range of professional development offerings, customized training, and ongoing support, we empower teachers to integrate technology and seamlessly improve their teaching practices.
We offer comprehensive professional services, including CPD programs that provide teachers with the knowledge and skills to use technology tools in their classrooms. Our team provides personalized training and ongoing support to familiarize teachers with the features and functions of the Alef Platform. In addition, the Alef Academy offers self-paced courses and resources focused on practical implementation strategies and best practices for digital learning. Through these professional services and access to the Alef Academy, we enable teachers to integrate the platform and improve their teaching practices. The Alef Academy also provides content that introduces new approaches, trends, and pedagogy in education to improve educators' knowledge and skills and enable them to use the Alef Platform effectively.
We also have a dedicated team of Digital Learning Implementation Specialists (DLIS) who support schools and educational institutions. These specialists visit schools to provide coaching and training on the Alef Platform's features and classroom use cases. The team focuses on data-driven decision-making, helping teachers and school leaders read and analyze Alef Platform data through comprehensive dashboards. We also provide comprehensive technical support to ensure the smooth operation of the technology infrastructure through our on-site IT support specialists. We provide ongoing support from equipment setup and troubleshooting to maintenance and system updates.
The impact of the Alef Platform on teaching methodologies and performance has been significant. Its multitude of features which include adaptive skills instruction, curriculum-aligned lesson plans, personalized learning features, inquiry-based learning opportunities, real-time progress reports, data analytics, and interim checkpoints, have all contributed to improvements in teaching practices. Our efficacy studies determine that over 13,500 thousand teachers have been trained and upskilled using the Alef Platform. In 2022, 208 training sessions were conducted, and customer satisfaction scores were 95 percent.
We work with teachers to help them leverage technology, including tools such as the Alef Platform, which has proven to be a valuable tool for teachers to improve their instructional practices, transform their teaching, and help students reach their full potential.
What do you think about the future of education in the UAE and the rest of the world?
The education system in the UAE and the rest of the world is undergoing a significant transformation driven by technological advances. We are witnessing a shift towards personalized and blended learning approaches that cater to the individual needs of students. As a leading EdTech company, we are at the forefront of this shift in education and are committed to providing high-quality, personalized education to students worldwide.
Personalized learning is a growing trend, with educators recognizing the importance of tailoring instruction to students' individual needs. Blended learning, which combines traditional face-to-face instruction with online learning, is also gaining traction as the preferred educational model. In this approach, traditional classroom instruction is combined with online learning so that students can benefit from the advantages of both worlds. In addition, integrating AI into education is a significant movement with enormous potential. AI-powered tools can personalize learning, provide real-time feedback, and automate administrative tasks to enhance the educational experience.
We are excited about the future of education. We believe that technology has the potential to transform education and make it more accessible and effective for all students. We are committed to ensuring that our solutions help students reach their full potential and positively impact the world.  For example, generative AI can personalize learning and engage students in ways that were not possible before. Through the use of these technologies, practice assignments can be tailored to individual student needs. Interactive simulations can help students visualize complex concepts to make them easier to understand. Virtual tutors answer questions, chatbots help with homework, and teachers can focus on each learner's journey. The possibilities are endless!
In the United Arab Emirates, the future of education is bright. The UAE is a forward-thinking country committed to providing quality education to its citizens and residents. Under the guidance of the UAE government, we are helping to shape the future of education in this country. The UAE has the potential to be a global leader in education. And we are committed to making this a reality.
For more on Alef Education, click here.