March 16, 2023 8:44 am
Is Credit Suisse too big to be saved?
A bailout from the Swiss National Bank and financial regulator is the most likely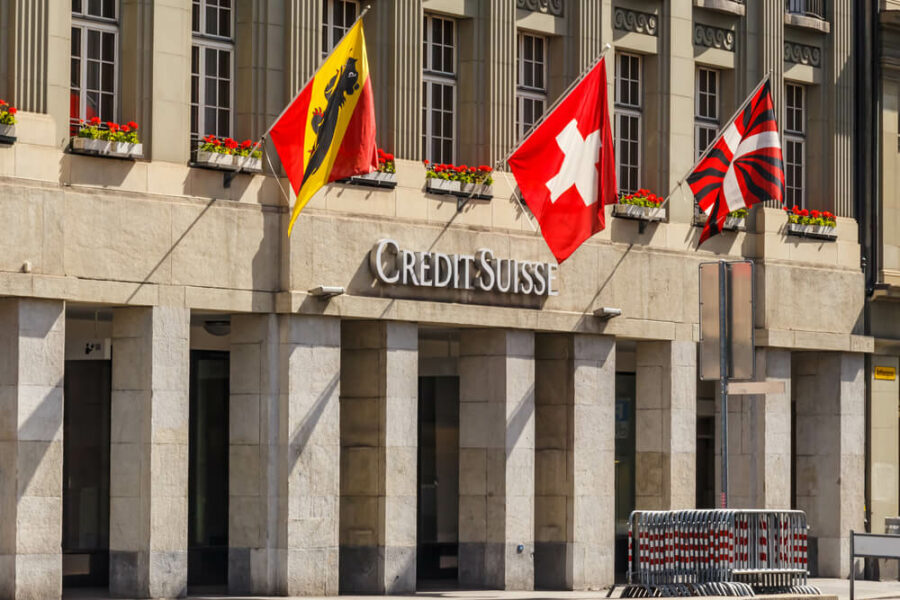 Credit Suisse
Credit Suisse suffered its worst-ever decline on Wednesday, closing down 24.24 percent to Suisse Francs 1.697.
Credit Suisse fell more than 30 percent to a new record high on Wednesday after its main shareholder said it would not provide further financial assistance to the troubled Swiss banking giant.
The Saudi National Bank, Credit Suisse's largest shareholder, said it had "no plans" to increase investment in the Swiss bank "for several reasons," its chairman Ammar al-Khudairi said, adding that the simplest were "regulatory" issues.
Ammar Al-Khudairi, chairman of the Saudi National Bank, said in an interview with Bloomberg, when asked if he would be willing to inject money if he called for an additional capital increase for Credit Suisse, that "the answer is definitely no. This is for many reasons other than those related to regulatory and legal matters."
Read: Is Saudi's Crown Prince considering investing in Credit Suisse Unit?
The Qatar Investment Authority, one of the Swiss bank's largest shareholders, declined to comment on the situation at Credit Suisse after the bank's shares fell sharply.
Three Arab institutions are among the largest investors in the Swiss bank: the Saudi National Bank, which holds 9.9 percent of Credit Suisse's shares, the Qatar Investment Authority, which acquires 6.8 percent, and the Saudi Olayan Group, which acquires 3.2 percent of the bank's shares.
The bank said today that it borrowed as much as 50 billion francs ($54 billion) from Switzerland's central bank to shore up market confidence.
Credit Suisse's market capitalization fell sharply this week due to fears of contagion of the collapse of two U.S. banks, as well as its annual report that pointed to "substantial weaknesses" in internal controls.
The fall in Credit Suisse's share price has caused investors to worry about the resilience of the global banking system after the Silicon Valley crash.
Speaking at the Saudi Financial Sector Conference on Wednesday, Credit Suisse Chairman Axel Lehmann said the bank does not need government assistance, adding that it would be inaccurate to compare the problems it faces with the collapse of Silicon Valley due to the difference in regulation.
"We have strong capital ratios, a strong balance sheet," Lehmann said, noting that they had begun implementing the bank's radical restructuring plan unveiled in October.
But his rhetoric did nothing to curb the fall in the value of his shares or prevent fears of spreading beyond Switzerland's borders. The Financial Times quoted sources in the evening as saying that Credit Suisse appealed to the Swiss National Bank (the central bank) to show public support after the decline in its shares, which led to a widespread sell-off of shares of European and American banks.
The request for a reassuring statement on the financial health of Credit Suisse came after a significant drop in its shares.
Analysts said earlier on Wednesday that a bailout by the Swiss National Bank and Swiss financial regulator FINMA, along with one or more other banks, was "the most likely scenario for Credit Suisse".
But global economist Nouriel Roubini warned that Credit Suisse could be too big to be saved.
The economist, who predicted the 2008 global financial crisis, said the problem was that Credit Suisse, by some accounts, was "too big to fail, but it's also too big to be rescued if it fails."
On Wednesday, Credit Suisse's market capitalization fell below 7 billion Swiss francs ($7.6 billion), after raising 4 billion Swiss francs in capital just a few months ago.
The bank recorded a net loss of Suisse Francs 7.3 billion ($7.8 billion) for the fiscal year 2022.
The ECB has asked EU lenders to disclose their exposure to the Swiss lender, a person familiar with the matter told the Financial Times.
The central bank will hold its regular meeting on Thursday to decide on a new rate hike, which will be in the range of 50 basis points, while the European banking sector will be on the table.
Among the biggest losers in European banks on Wednesday were France's Societe Generale, which fell 12 percent, and BNP Paribas, which fell 9 percent.
The cost of insuring bank bonds against default has risen. Five-year credit default swaps on Credit Suisse's debt widened to 574 basis points from 549 basis points at the last close, based on data from S&P Global Market Intelligence, a figure never seen before.
The drop in Credit Suisse's market capitalization led politicians to move. French Prime Minister Elisabeth Bourne called on Swiss authorities to intervene and "settle" the problem, adding that the French and Swiss finance ministers were due to speak in the next few hours.
In Washington, a spokesman for the U.S. Treasury Department said that "the Treasury is monitoring this situation and is in contact with its global counterpart."
For more on banking and finance, click here.
Exclusives