October 3, 2022 9:40 am
Credit Suisse and Deutsche Bank: Will the Lehman fall be repeated?
Credit Suisse tries reassuring investors as financial fears rise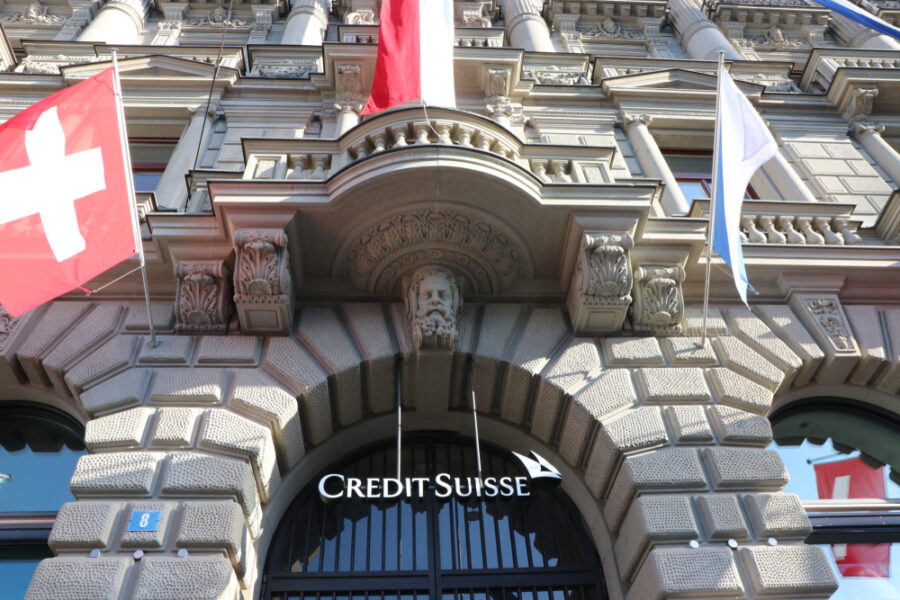 Credit Suisse
What's happening to the two of the biggest investment bankers, Credit Suisse and Deutsche Bank? Will we relive the scenario of the collapse of the American bank "Lehman Brothers" in 2008? Are we thus on the verge of a major banking crisis following inflation and energy crises?
These are the hard questions being asked at a time when rumors are spreading on Twitter about the imminent collapse of a major bank, as Europe faces a bleak winter and war on the continent.
"Serious" rumors are that Swiss Credit Suisse and Germany's Deutsche Bank are in "trouble" (the former is worse off than the latter as it faces greater pressure in the default swap markets), more than a decade after the 2007-2008 financial crisis, when Lehman Brothers, the fourth largest investment bank in the United States, collapsed.
Both are 'too big to fail' but they may also be 'too big to be saved'.
Noting here that both Credit Suisse (with total assets of $829 billion) and Deutsche Bank (classified as SIFIs), have a special transaction if they run into financial problems.
With the outbreak of the 2007-2008 financial crisis, the international community moved to protect the global financial system by preventing the failure of SIFIs, or, if one of them failed, to limit the negative effects of their failure. In November 2011, the Financial Stability Board published a list of important global financial institutions for G-SIFIs.
"Lehman Brothers", once considered "too big to fail", filed for bankruptcy on September 15, 2008. It was the largest single bankruptcy filing in US history.
At the time, the bank had $639 billion in assets and $619 billion in debt.
Credit Suisse
As rumors of a shake-up of Credit Suisse spread rapidly, Credit Suisse Group CEO Ulrich Korner told Bloomberg that the bank is "going through a critical moment" as it prepares to make its latest reforms.
Ulrich Körner was appointed CEO in late July 2022 after the last CEO was embroiled in a scandal.
Experts believe that Credit Suisse is in more trouble than Deutsche Bank, and base their assumptions on various data that indicate a pessimistic scenario for the Swiss bank.
For Credit Suisse, the cost of insuring bank bonds against default, known as CDS, is approaching the same level as it was during the 2008 financial crisis with the collapse of Lehman Brothers.
A default swap is a financial derivative or contract that allows an investor to swap or offset their credit risk with that of another investor. For example, if a lender is concerned that a borrower will default on a loan, the lender can use credit swaps to offset or trade-off that risk. Most credit swaps require you to pay a continuous premium to maintain the contract, which is similar to an insurance policy.
Meanwhile, Credit Suisse shares are down more than they were during the last financial crisis, from $14.90 in February 2021 to $3.90 now, which analysts see as a source of concern about the possibility of insolvency of the bank and its collapse.
This prompted the Group CEO to write a carefully crafted memorandum to the employees (the second memorandum in a matter of weeks) reassuring them of the sound and strong position of the bank, and inviting them not to confuse the "daily" share price performance with the "strong capital base and position of the bank's liquidity",  according to "Bloomberg".
Credit Suisse is in the midst of what is expected to be a major restructuring. It is also looking to cut more jobs, while investment bankers exit the Swiss bank. Credit Suisse is seeking out investors for potential capital infusion.
Major shareholders
According to Credit Suisse's website, BlackRock is the largest shareholder with a stake of approximately 4.11 percent. Other major investors include Dodge and Cox, Harris Associates LP, Saudi Arabia's Olayan Group, Qatar Holding (the Qatar Investment Authority), and Silchester International Investors LLP.
The two giants are in trouble
Investors believe the two financial giants are facing a major crisis and do not believe the statements made by the CEO of Credit Suisse. Some have also criticized the bank scrutiny because they believe Credit Suisse and Deutsche Bank are overwhelmed with bad loans and debts.
Exclusives