With the ultimate vision of making Dubai, the world's leading commercial center, investment hub, and tourism destination, Dubai's Department of Economy and Tourism (DET) is mandated to support the Government in positioning the emirate as a major hub for the global economy and tourism, and in boosting the city's economic and tourism competitiveness indicators.
DET is the principal authority for the planning, supervision, development, and marketing of the emirate's economic and tourism sectors. With Dubai being crowned the top global destination for two consecutive years in the Tripadvisor Travellers' Choice Awards 2023, it aligns with the goals of the newly launched Dubai Economic Agenda, D33 to further consolidate Dubai's position as one of the top three global cities.
In a recent interview with Economy Middle East, H.E. Issam Kazim, CEO of the Dubai Corporation for Tourism & Commerce Marketing (DCTCM), part of DET, discussed the numerous strategies that have contributed to Dubai's achievements in this vital sector.
How do you ensure that Dubai stays competitive in the global tourism market, and what are some of the key strategies you have implemented to achieve this?
In 2022, Dubai witnessed a remarkable resurgence in tourism, with the city welcoming 14.36 million international overnight visitors. This figure surpassed both global and regional benchmarks for recovery, as evidenced by data published by the U.N. World Tourism Organisation. The strong growth in international visitors can be attributed to the strategic and creative initiatives implemented under the guidance of His Highness, Sheikh Mohammed bin Rashid Al Maktoum, UAE Vice President and Prime Minister and Ruler of Dubai. These initiatives aim to ensure that Dubai's tourism sector remains on track to become the world's most visited and revisited destination.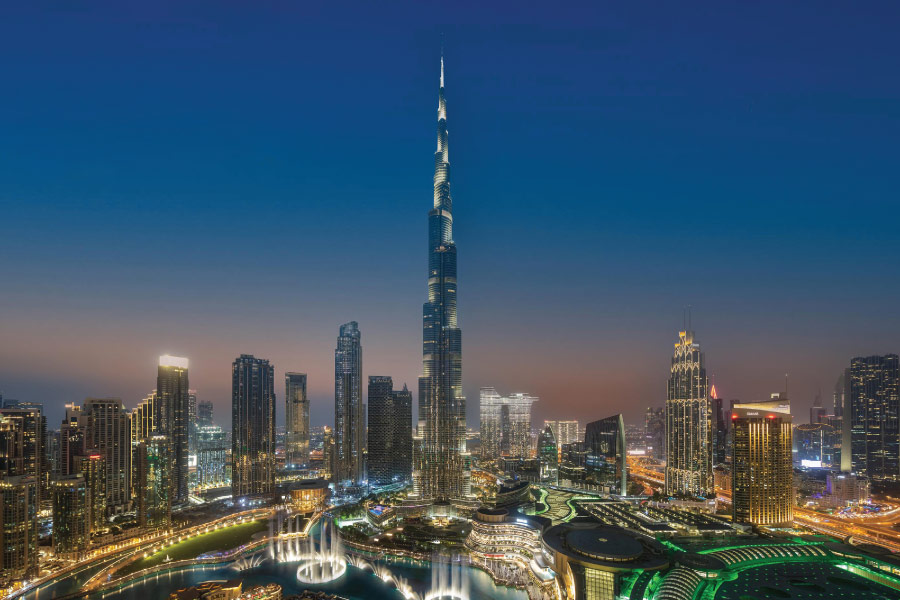 Dubai's ability to provide a diverse range of offerings that cater to travelers of varying budgets and preferences has made it a top destination, earning it the top spot in the Tripadvisor Travellers' Choice Awards for 2022 and 2023. This accolade marks only the second time in history that a city has won this prestigious award for two consecutive years.
As we work toward accelerating momentum across our tourism sector in 2023 and beyond, our strategy to increase the competitiveness and global appeal of the destination will be aligned with the goals of the Dubai Economic Agenda, D33, to further consolidate Dubai's position as one of the top three global cities.
We will continue to focus on a diversified approach to markets; continuous international outreach to global audiences through celebrity and digital-first state-of-the-art campaigns, keeping the city top-of-mind among global travelers and showcasing the city's multi-faceted tourism offering; highlighting Dubai's position as an international MICE and events hub, as well as further strengthening cooperation with our stakeholders and partners.
The success of our strategies will be largely built around the pillars of sustainability, gastronomy, trade, and technology.
With 2023 declared as the UAE's "Year of Sustainability," this is indeed a landmark year for us, particularly as Dubai is preparing to host COP28, the U.N. Climate Change Conference. We will look at successfully balancing sustainability and destination strategies to incorporate sustainable practices into all aspects of the visitor experience while also offering unique and compelling experiences to make Dubai the best city in the world to visit, live in, and work.
Our Gastronomy Always on Campaign to position Dubai as a global hub for food tourism will be regularly enhanced, as we continue to drive growth across the hospitality and F&B sector based on the four pillars of diversity, value for money, authenticity, and experiential. This builds on the launch of the inaugural edition of Michelin Guide Dubai. A total of 69 restaurants in the city were included in the guide, with two restaurants awarded two Michelin Stars and nine restaurants awarded one Michelin Star, while 14 others received a Bib Gourmand.
Read: Dubai Metro celebrates 2 billion riders since inauguration
Dubai's investment in infrastructure and support systems for entrepreneurs has made it a preferred destination for start-ups, global talent, and entrepreneurs. The Intelak Hub, Dubai's aviation and tourism-focused start-up platform, is just one example of our strategic investment in and commitment to revitalizing entrepreneurship in the city.
We are dedicated to building a world-class entrepreneurial ecosystem that encourages growth and innovation. Dubai has also undergone a significant transformation in its legal framework, reflecting our commitment to building a competitive and productive society that is on par with other global economic hubs.
Dubai is committed to always offering something new and unique for the discerning international traveler. These developments will be largely through the Dubai 2040 Urban Master Plan, which includes the expansion of tourism attractions by over 100 percent, enabling new areas for investment, as we increase the diversity of attractions and experiences for residents and visitors.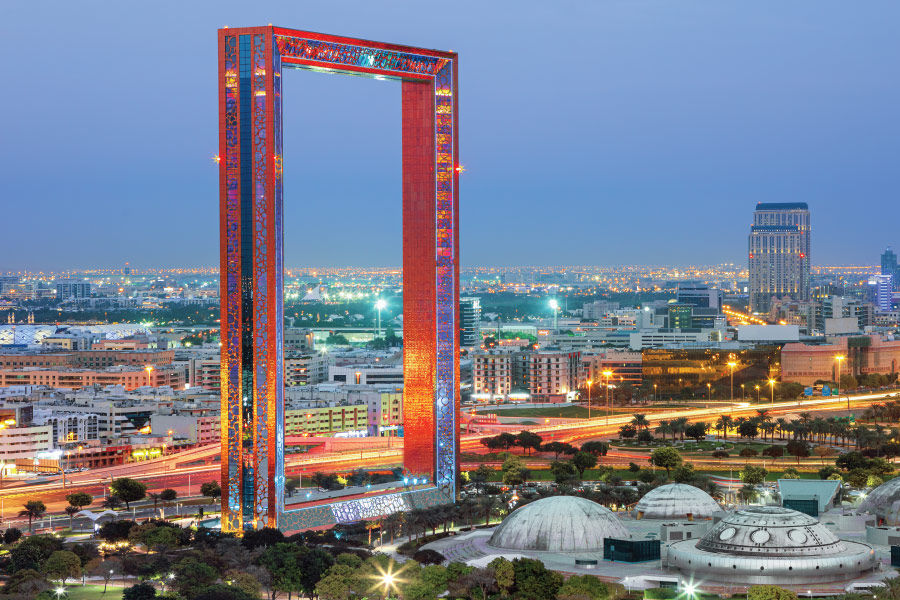 We will also offer alternative pathways to growth facilitated by a series of reforms and regulatory enablers that have eased barriers to entry and paved the way for long-term affiliation with the city through initiatives like the Golden Visa, five-year Multi-Entry Visa, and Virtual Working and Retire in Dubai programs. These initiatives have also further enhanced Dubai's pro-business environment to attract multinationals, family offices, global talent, entrepreneurs, innovators, and investors.
We will continue to promote Dubai to the world across all segments including ecotourism, food tourism, wellness tourism, cruise tourism, sports tourism as well as a hub for destination weddings and more. We will look beyond traditional tourism to create alternative routes to attract visitors. Ultimately, our goal is to strengthen our existing and emerging markets, as well as identify new growth opportunities at home and overseas, while creating unique value and always providing the best guest experience.
Can you share with us some of the major challenges and opportunities currently facing the tourism industry in Dubai?
Challenges are nothing new to Dubai and as a city we have tackled them head-on and even transformed them into opportunities. The pandemic was undoubtedly an unprecedented challenge but thanks to our decisive leadership and their guidance combined with Dubai's resilience and ability to be agile and adapt to changes, we were able to swiftly and successfully navigate our way out and put the industry back on track. We are now harnessing the benefits of the strategic measures that were taken during tough times, having gained first-mover advantage on many fronts. One of the most significant strategies at the time was revitalizing the domestic tourism market, creating numerous growth opportunities for the hospitality sector.
We have recognized that the way forward is to open up new avenues for growth beyond traditional tourism, generating more opportunities that could further diversify our offering and reinforce Dubai's position as the first-choice destination for global travelers. As we look forward to a brighter tomorrow, sustainability is increasingly becoming both an opportunity and a key driver for growth as more and more travelers are seeking out sustainable destinations. Sustainability is embedded at the heart of the city's development strategy, and with the stepping up of activities under our Dubai Sustainable Tourism initiative, we are ready to cater to global travelers who are driven by the desire to seek authentic local experiences that promote sustainable practices.
DET has recently announced the relaunch of the Carbon Calculator tool that measures the carbon footprint within Dubai's hospitality sector. What more can you tell us about this?
Since January 2017, the Carbon Calculator has been measuring the carbon footprint of hotels across Dubai in real-time, as a part of our Dubai Sustainable Tourism initiative, which supports the UAE Net Zero 2050 strategy.
The Carbon Calculator helps hotel establishments identify and manage their energy consumption. On a monthly basis, hotels are mandated to submit their consumption of nine carbon emission sources, including: electricity, water, district cooling, liquefied petroleum gas, landfill waste, recycled waste, petrol, diesel, and refrigerants. This information is aggregated and analyzed to provide valuable industry insights on the sector's collective carbon footprint.
The data provided helps hotels and resorts implement initiatives to efficiently manage their carbon footprint in line with the 19 Sustainability Requirements these establishments are mandated to abide by, establishing a baseline across hotels in Dubai and unifying hotels' environmental practices. Our pioneering Dubai Can initiative, which promotes the use of reusable bottles and encourages residents and visitors to refill, has successfully reduced the use of an equivalent of more than 7 million 500 ml single-use plastic water bottles within a year since its launch in February 2022.
Sustainable tourism practices are critical to the success of the tourism industry as they aim to minimize any adverse impact on the environment to ensure that the destination remains attractive to visitors. Sustainable tourism practices also promote social responsibility, ensuring that tourism benefits local communities and respects their culture and way of life, as well as encouraging more people to visit and re-visit the destination.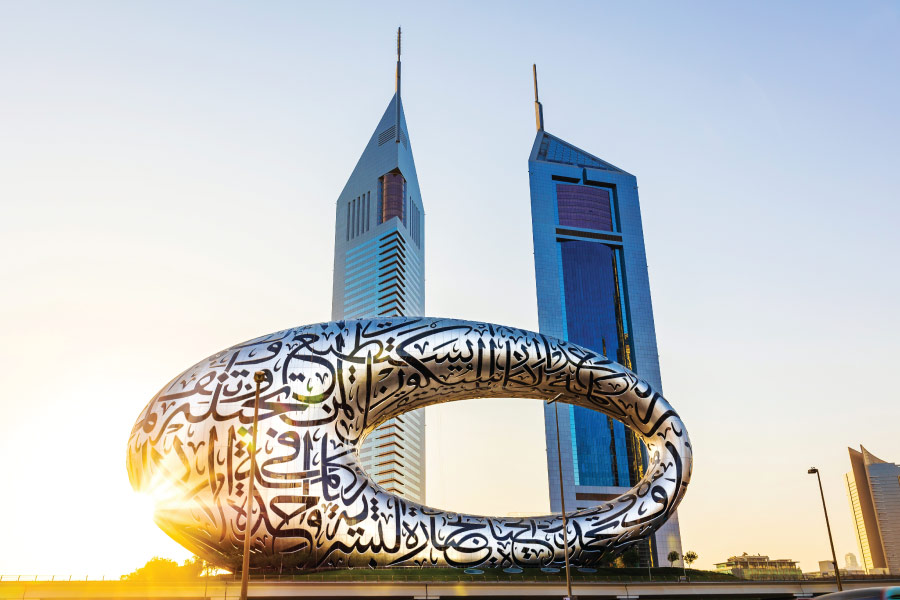 How does DET collaborate with other government entities and private sector partners to promote tourism in Dubai?
The extraordinary success that Dubai's tourism sector continues to enjoy is a testament to the unique spirit of collaboration between the government and private sectors that permeates throughout our industry, allowing us to create a unified approach to showcasing Dubai as a must-visit destination.
This harmonious alignment between our Department, stakeholders, and partners has enabled us to leverage our collective strengths, resources, and expertise to work toward a common goal of creating an exceptional tourism experience for all. This has ensured that all are aligned with Dubai's global campaigns and initiatives and are well-placed and prepared to promote the city effectively in international markets. The future of tourism lies in our ability to adapt to evolving market trends and changing consumer preferences. That is why we are committed to continuously liaising with our stakeholders and over 3,000 global partners to keep pace with new developments and provide regular destination updates to ensure Dubai remains top-of-mind among global travelers.
How important are digital marketing and technology in the tourism industry, and what role does DET play in leveraging these tools to promote Dubai as a destination?
Inspired by the vision of His Highness Sheikh Mohammed bin Rashid Al Maktoum to position Dubai as a global city at the forefront of innovation and technology, we have constantly rolled out initiatives to promote the destination across digital platforms.
Intelak Hub is a testament to our focus on technology and innovation to create a transformative experience across the tourism ecosystem. It was established as part of an integrated strategy to position Dubai as the most sought-after destination for innovators, talents, entrepreneurs, and investors. Guided by its founders – the Emirates Group, Dubai's Department of Economy and Tourism, Accenture, and Microsoft – Intelak Hub is committed to supporting a cohort of innovative start-ups with mentorship and opportunities to enable them to grow and scale their business.
Dubai has a world-class physical and digital infrastructure, offering entrepreneurs and SMEs a platform for ease of setup and scale, as well as allowing companies in the travel, tourism, and hospitality sectors to provide state-of-the-art systems and services across tourism touchpoints in the city.
Digital marketing has become increasingly important in the travel cycle as consumers rely heavily on online research and booking platforms. Recognizing this strategic shift, Dubai has placed significant emphasis on its mobile-first, digital-first agenda, customizing our visitor experience for travelers from each source market based on the audience mix and segment preferences. One of the strategies employed by Dubai is the use of innovative global campaigns like Dubai Presents to highlight the city's multifaceted appeal. The Dubai Presents campaign comprises a series of short video films featuring Hollywood stars set against some of Dubai's most iconic landmarks and hidden locations.
Dubai has pioneered innovative, data-driven digital marketing communications and accelerated the use of these platforms and remote campaigns during the pandemic to position itself as a safe destination for global travelers and sustain its international appeal, presenting the city as the perfect holiday getaway for tourists when it is safe for them to travel. Dubai has also partnered with global technology and internet leaders and digital platforms like Microsoft, Google, and Snapchat to raise destination awareness in a creative way.
To further raise awareness of the destination, Dubai embraces data, analytics, and disruptive innovation to stay abreast of consumers' rapidly evolving needs. The city utilizes a range of social media channels, including Facebook, Instagram, YouTube, and Twitter, to reach its target audiences. At the core of its internet strategy is the region's most advanced destination website, Visit Dubai, a content-rich ecosystem that showcases the city's offerings and serves as a valuable resource for visitors.
Fort more on Dubai, click here.