November 16, 2022 5:02 pm
UAE President, Saudi Crown Prince, meet at G20
They discussed distinguished bilateral relations between two brotherly countries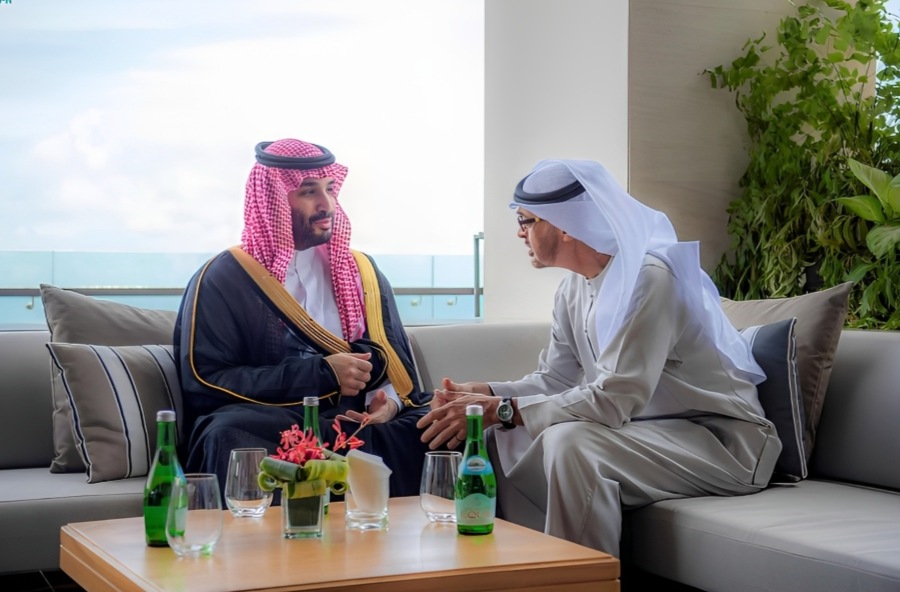 UAE President Sheikh Mohammed bin Zayed Al Nahyan meets with Saudi Crown Prince Mohammed bin Salman in Bali (Image credit: SPA)
UAE President Sheikh Mohammed bin Zayed Al Nahyan and Prince Mohammed bin Salman bin Abdulaziz, Crown Prince and Prime Minister of Saudi Arabia met on the sidelines of the G20 summit in Bali, Indonesia.
According to the Emirates News Agency (WAM), the Emirati president and the Saudi crown prince "discussed the distinguished bilateral relations between the two brotherly countries, as well as a number of issues of common concern, in addition to topics on the agenda of the Bali summit."
Read more: G20 to boost global economic recovery confidence despite challenges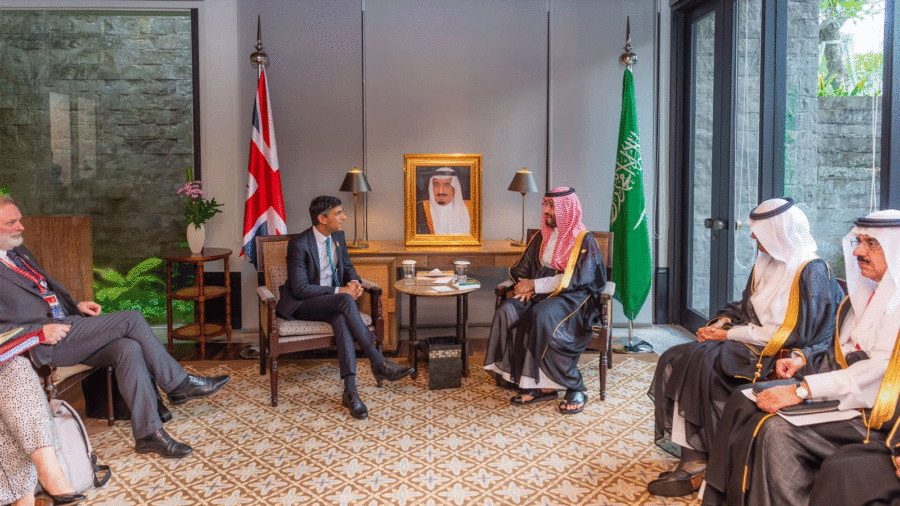 Saudi Crown Prince meets UK's PM Rishi Sunak 
Prince Mohammed bin Salman met with British Prime Minister Rishi Sunak, during which they discussed the two countries' friendship and areas of cooperation. They also discussed regional and international developments, as well as the efforts made to address the crises.
The meeting was attended by Prince Abdulaziz bin Salman bin Abdulaziz, Minister of Energy, Minister of State, Member of the Council of Ministers, National Security Adviser, Dr. Musaed bin Muhammad Al Aiban, Minister of Commerce and Acting Minister of Information, Dr. Majid bin Abdullah Al-Qasabi, and the official delegation of the British Prime Minister.
Indonesia's Bali hosted on Tuesday the G20 summit, which was attended by leaders of member countries.
The summit, organized under the slogan "Recover Together, Recover Stronger," comes amid difficult challenges.
This year, the leaders of the world's 20 largest economies are debating difficult topics such as the economic recession and the Ukraine war, which has resulted in two unprecedented energy and food crises.
The event's agenda also addresses topics that include economic recovery, international cooperation, digital transformation, and the climate crisis.
Exclusives