Inflation in the U.S. ticked up notably in August, driven by higher gasoline and housing prices. The Consumer Price Index for All Urban Consumers (CPI-U) increased by 3.7 percent month on month over 2022. That's up from 3.2 percent in July.
It was still only the third time since March 2021 that the headline inflation figure remained below 4 percent. Compared to July, consumer prices increased by 0.6 percent – the highest reading since June 2022.
The latest uptick in inflation is essentially due to surging gasoline prices which in recent weeks accounted for over 50 percent of the monthly increase in consumer prices in August.
Meanwhile, core inflation excluding food and energy eased to 4.3 percent, its lowest level since September 2021.
Another driver of inflation continues to be the cost of shelter. Rents and owners' equivalent rents of residences increased 7.8 and 7.3 percent year-over-year in August. The index climbed for the 40th consecutive month.
Excluding shelter, inflation would have been just 1.9 percent last month, falling even further to 1.3 percent when excluding food and shelter.
Read: Inflation continues to rise in the U.S., driven by fuel prices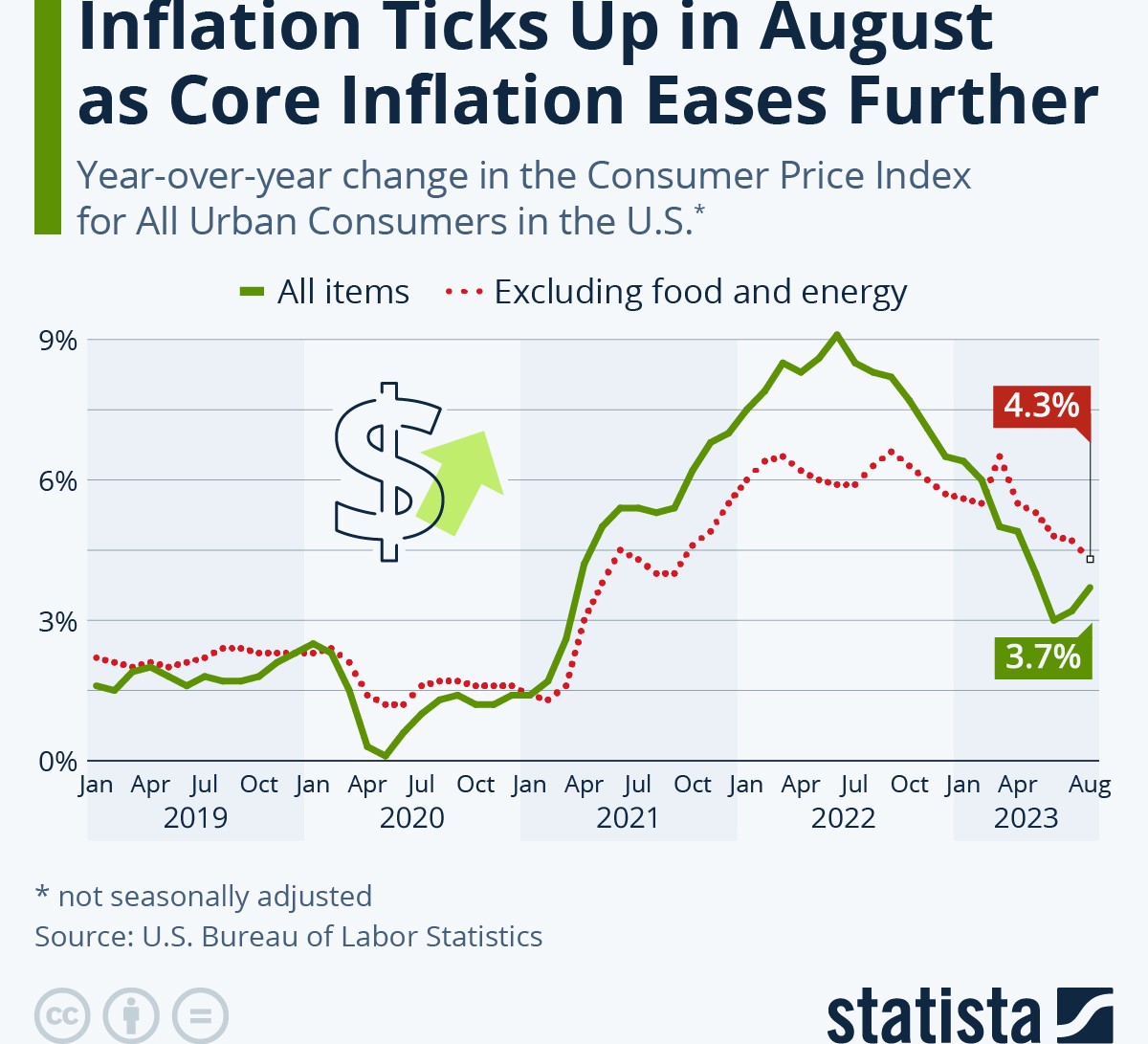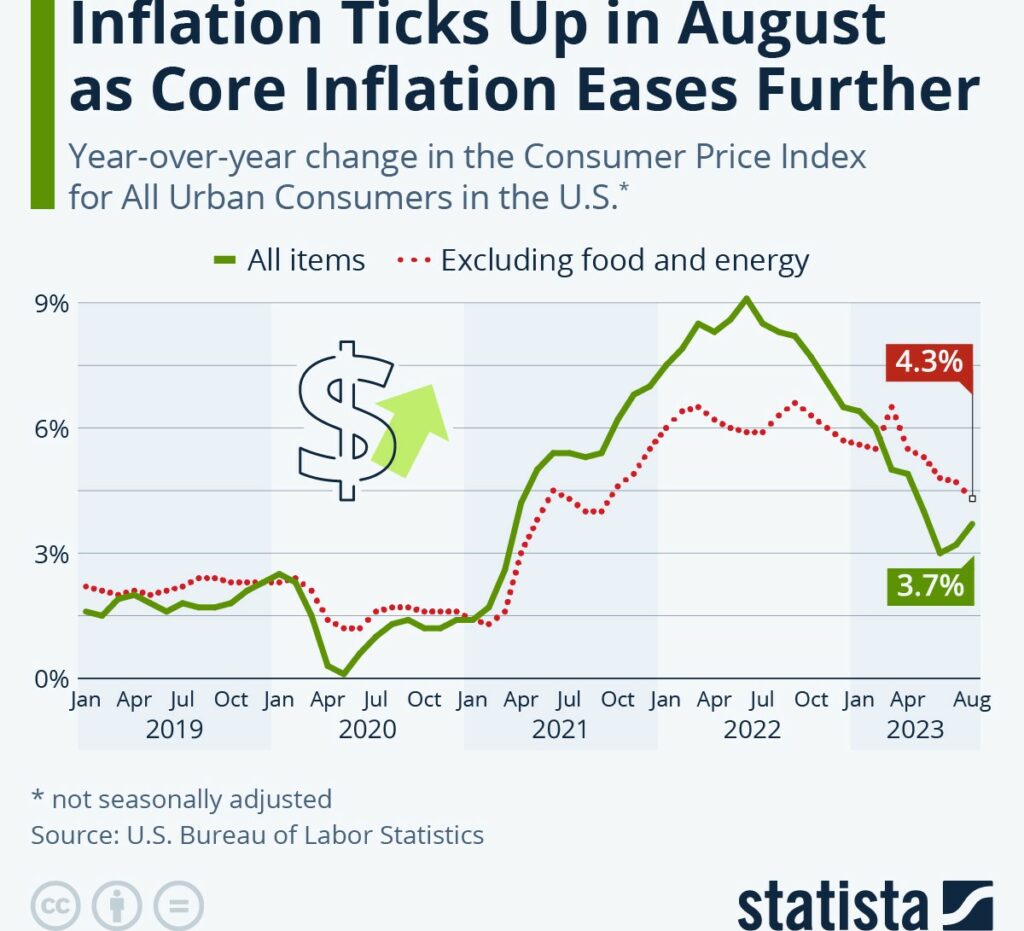 Monetary policy
The Federal Reserve will hold its monetary policy meeting on September 21. It is expected that a 25 basis point rate hike will be added.
Since March 2022, the Fed has raised interest rates by 525 basis points to control inflation.
Fed officials have been split over the need for more interest rate hikes as too much tightening could spur unemployment and spur a recession.
The American Bankers Association's Economic Advisory Committee believes the chances for a recession are reaching 50 percent by 2024.
More than half of 526 respondents said that personal consumption, a result of declining investor confidence abd the most important driver of US economic growth, will shrink in early 2024. This would be the first quarterly decline since the onset of the COVID-19 pandemic, according to a Bloomberg survey.
Meanwhile, China's first-half GDP grew by 5.5 percent year-on-year, significantly faster than the 3 percent growth last year. The IMF predicts that China's economy will grow by 5.2 percent this year and contribute one-third to global economic growth.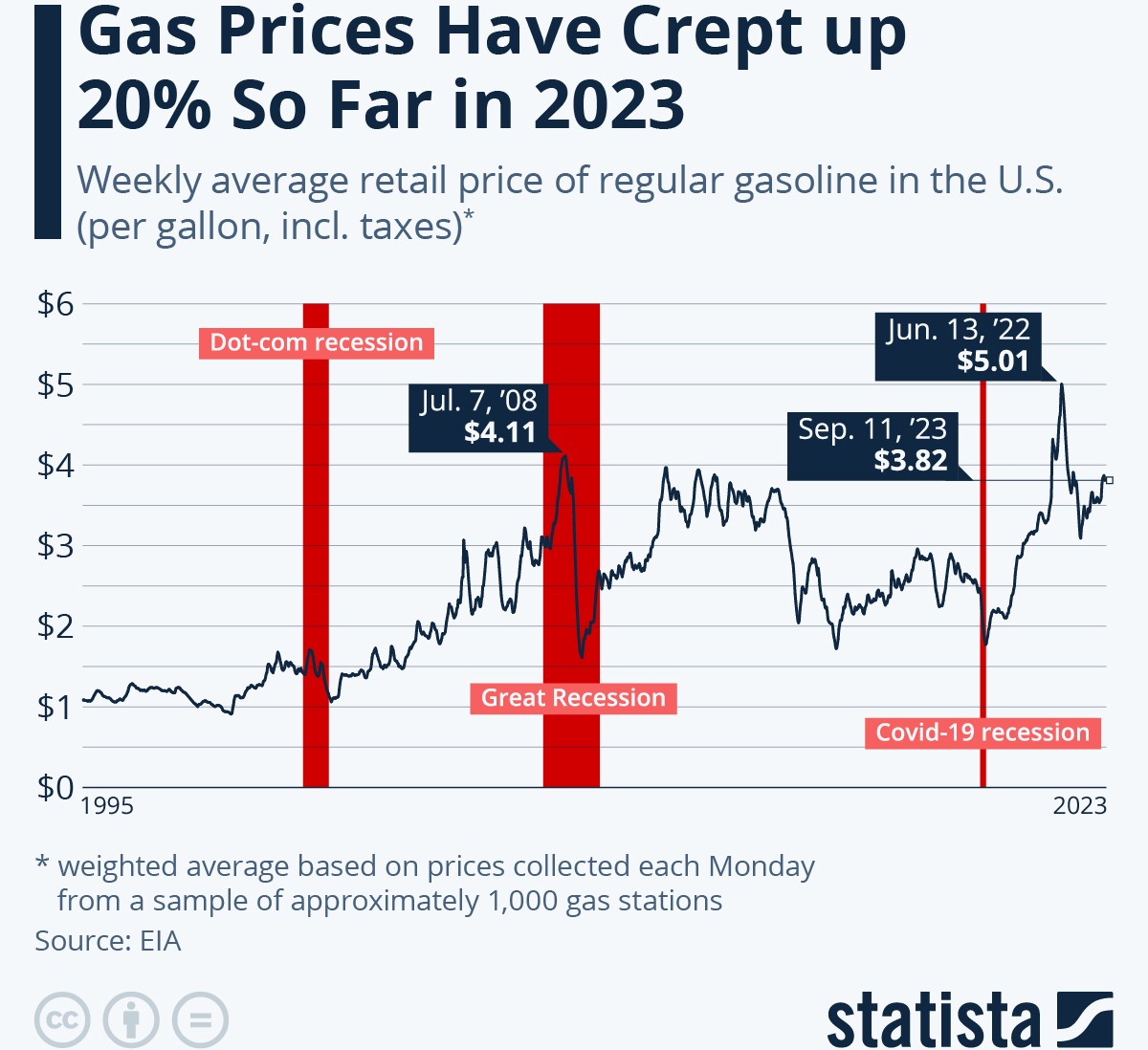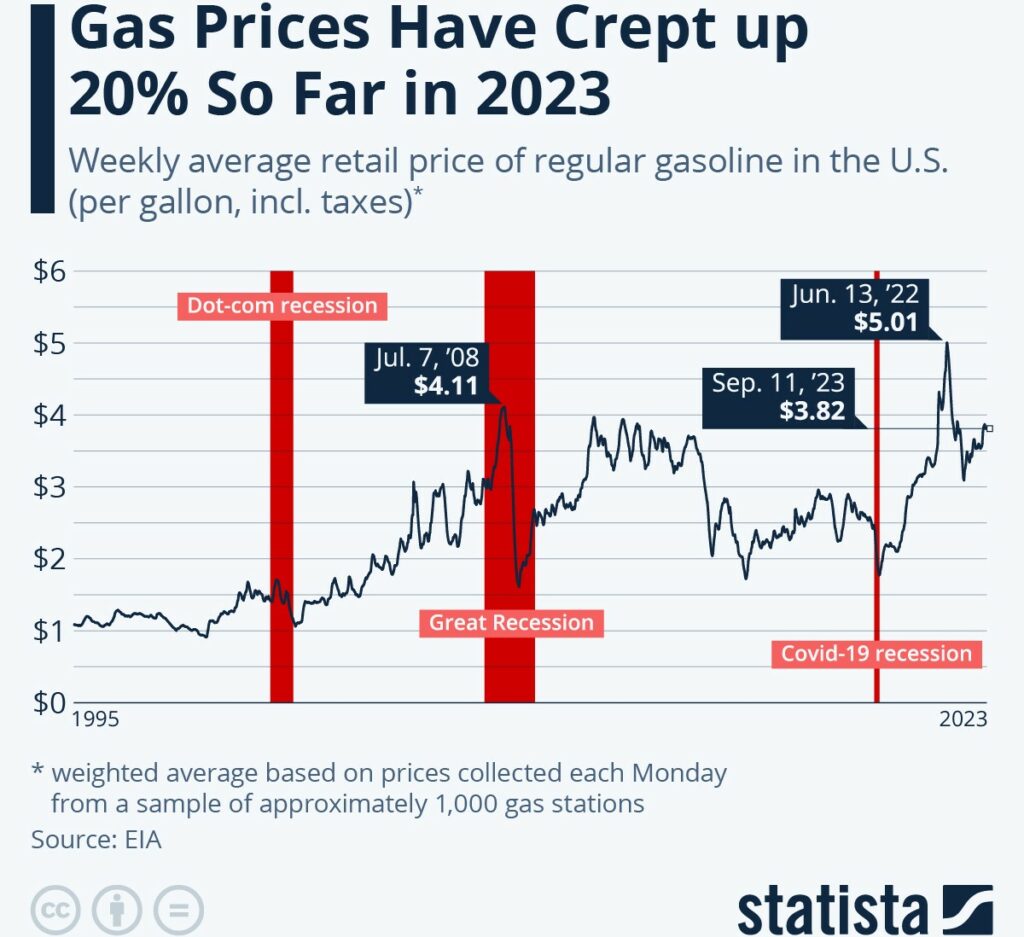 U.S. Gasoline Prices
U.S. crude oil prices jumped to their highest level since November 2022 last Thursday, September 14, 2023. The International Energy Agency (IEA) had warned of a significant supply squeeze in the oil market.
Earlier this September, Saudi and Russia had extended their production cut to the end of the year. The IEA said this will "drive a significant supply shortfall through the fourth quarter."
West Texas Intermediate crude (WTI) hit $90 per barrel for the first time this year, up from roughly $70 at the end of June.
The rise in oil prices has resulted in surging gas prices around the world.  According to the U.S. Energy Information Administration, the national average price of one gallon of regular gasoline stood at $3.82 this week, up roughly 20 percent since the beginning of the year.
In the first half of 2022, gas prices had surged by more than 50 percent, fueled in large part by Russia's invasion of Ukraine.
In June 2022, they peaked above $5 but then tapered in the middle of the month. By the end of December 2022, prices had dropped back to pre-war levels, with the national average price bottoming out at $3.09 in the last week of 2022.
For more on the economy, click here.