Gulf countries (GCC) have had an exceptional year growing their economies in 2022 and in 2023, they will maintain this growth path and continue to benefit from developments in the international energy market.
Economy Middle East discussed all of this and more with Issam Abousleiman, GCC country director at the World Bank since August 1, 2018.
Abousleiman is a Harvard University Executive Management program graduate. He also holds an MBA in finance and investment from George Washington University, as well as an MBA in management from the American University of Beirut.
Abousleiman joined the World Bank in 1989, starting his career in the Loans Department, and has since held various positions across the institution, including head of Financial Advisory and Banking at the World Bank Treasury and principal investment officer in the Banking & Debt Management Department. His regional expertise includes Africa, Asia, Europe, Latin America, and the Middle East.
You previously announced that Gulf countries recorded the highest GDP growth rate back in 2022. What are your growth expectations for this year?
The GCC region is expected to expand by 6.9 percent in 2022 before moderating to 3.7 percent and 2.4 percent in 2023 and 2024, respectively. The strong performance in 2022 was driven primarily by the hydrocarbon sector. However, with the recent signals for a more cautious approach to OPEC+ planned production, the oil sector is expected to expand, but at a slower pace, by 3.3 percent in the medium term. Similarly, the non-oil sectors grew by 4.3 percent in 2022 and are expected to grow by 2.9 percent in the medium term to reflect the weaker global growth outlook.
Read: GCC markets closed mixed
The risks to these forecasts remain numerous. The global outlook continues to be clouded by uncertainty and is subject to various risk factors, including intensifying geopolitical tensions, growing stagflationary headwinds, rising financial instability, continuing supply strains, and worsening food insecurity. Higher food and energy prices are eroding real incomes and could aggravate social tensions in some countries around the world. Global growth is expected to decelerate sharply to 1.7 percent in 2023 – the third-weakest pace of growth in nearly three decades, overshadowed only by the global recessions caused by the pandemic and the global financial crisis. This is 1.3 percentage points below previous forecasts.
Do you trust that Gulf economies can become drivers of global growth?
I do not see why not.
As mentioned earlier, the GCC region is currently considered a bright spot despite high uncertainty and a bleak global outlook. The region has been committed to structural reforms that have allowed for increased private sector contribution and job creation. Indeed, oil receipts continue to play an important role in financing this transition. However, there is also clear evidence of reduced oil dependency overall in these countries.
Which GCC country is expected to achieve the highest growth rate this year and why?
We are in the process of updating our individual forecasts for the GCC countries which will become public during WBG/IMF Spring Meetings in April 2023. Generally speaking, and in light of the global economic slowdown, we do not foresee the oil sector performing as strongly as it did during 2023. However, high-frequency data suggests that non-oil sectors in Saudi Arabia, the UAE, and Oman seem to be performing slightly higher than their peers. This is supported by robust private consumption as well as investments and improvements in the overall business environment.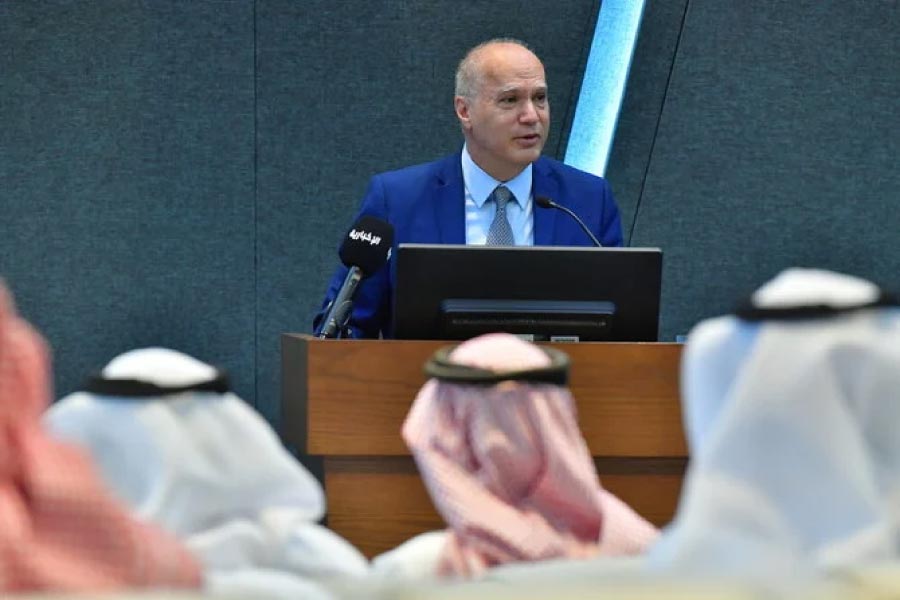 What is the nature of the cooperation between the World Bank and Gulf countries, and what form of support do you provide?
The World Bank Group (WBG) has maintained strong partnerships with Gulf Cooperation Council (GCC) countries for more than five decades. The WBG has delivered transformational and highly relevant knowledge products to support the development agenda of the region. The governments of the Kingdom of Bahrain, the Kingdom of Saudi Arabia, the State of Kuwait, the State of Qatar, the Sultanate of Oman, and the United Arab Emirates have made use of the global knowledge and development expertise the WBG provides through technical assistance programs offered as Reimbursable Advisory Services (RAS). RAS are demand-driven and tailored to the specific country context, and consist of strategic reform and policy advice, implementation support, and capacity building.
Can you tell us more about the green growth opportunities in the GCC?
There is an excellent and timely opportunity to diversify the GCC economies further using a green growth strategy and playing a leading role in the global transition to low-carbon economies.
The region could use the green growth transition to focus policies on developing green technologies and associated skilled labor that would reverse trends in productivity and enable the region to grow faster.
The GCC countries' total GDP is projected to be close to $2 trillion in 2022. As we mention in our latest Gulf Economic Update, if the GCC countries continued business as usual, their combined GDP would grow to an expected $6 trillion by 2050. However, if the GCC countries implemented a green growth strategy that would help and accelerate their economic diversification, GDP could have the potential to grow to over $13 trillion by 2050.
Focusing on green growth in the Gulf region is entirely in line with GCC vision documents that outline an image of the economy of the future that relies increasingly on the private sector playing a leading role in investment, job creation, and value addition. The GCC green growth strategy should focus on major upstream and downstream sectors of the green economy, including renewable energy, green buildings, sustainable transport, water management, and waste management. In addition, green finance would become a critical enabler for new investments in these areas.
For more on the GCC, click here.