A worldwide initiative to promote the safety and security of the industrial sector, was launched today during the fourth edition of the Global Manufacturing and Industrialization Summit, (GMIS), in Dubai.
The 'Global Initiative for Future Industrial Safety' —a fruit of an ongoing collaboration between the United Nations industrial Development Organization (UNIDO), GMIS and LLoyd's Register Foundation— promotes adopting new practices and policies, including universal safety standards, and the utilization of advanced technologies to ensure industrial safety.
The bold initiative aims at reaching its goals through forging a global coalition of stakeholders pushing for prioritizing safety and security in the manufacturing sector and adopting global criteria to create a safer work environment.
"The future of global industrial safety starts with shaping the policy responses of tomorrow, owing to cutting-edge manufacturing capabilities and refined best practices," said Badr Al Olama, Head of the Organizing Committee of GMIS.
"The ambitious co-development of the Global Initiative for Industrial Safety will lead the way for more resilient capabilities together with our partners and global organizations," he said, adding that GMIS has strong ambitions to facilitate the development of safety technologies for all.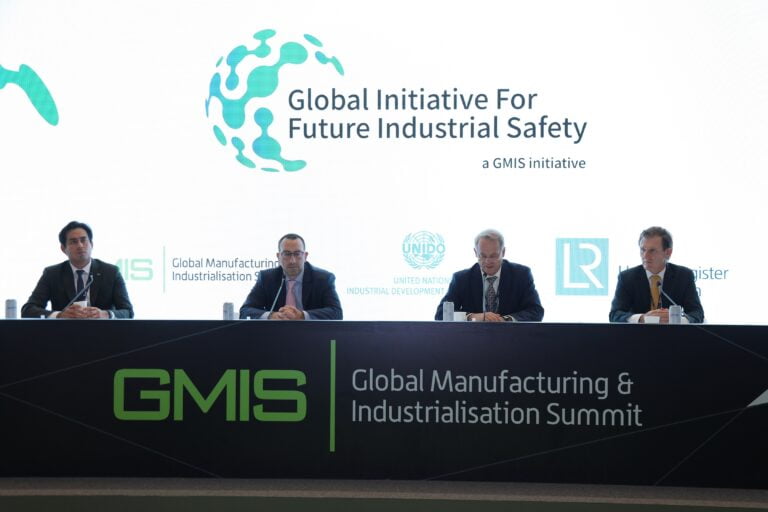 And, at a time and era where the rapid advancement and implementation of new technologies brought by the fourth industrial revolution, often come at the expense of security and safety, it is imperative that emerging technology tools and solutions are adopted by industries safely.
"Currently, 7,500 people die from unsafe working conditions every day globally, whilst 1,000 die from occupational accidents and an additional 6,500 from work related diseases, together representing 5-7% of deaths globally," explained Dr. Ruth Boumphrey, Director of Research & Strategic Programmes for Lloyd's Register Foundation. 
According to participants, the Global Initiative for Future Industrial Safety will act as an international platform would tackle new potential safety challenges brought as a result of emerging technologies such as Artificial Intelligence, Internet of Things (IoT) and Robotics, according to participants. It will also fill gaps in safety-related knowledge and awareness, tackle issues of transparency and openness in the industrial landscape, and gather new safety insights for business leaders and policy makers.
The initiative works towards ensuring that through its three focus areas:
1-Facilitating new evidence, insights and thought leadership;
2-Vouching to disseminate awareness and recognition;
3-Offering resources to convene communities of practice.
"Sharing knowledge and expertise, innovative approaches and technologically driven solutions are critical to enable secure industrial safety globally," said Bernardo Calzadilla-Sarmiento, UNIDO Managing Director, Directorate of Digitalization, Technology and Agri-Business. 
He further described the collaboration with GMIS and other partners as "crucial" towards "addressing industrial safety and security risks, ensuring high productivity and efficiency of enterprises and preventing devastating disruptions, while boosting competitiveness and impacting economies and societies at large."