October 31, 2022 10:43 am
Global leaders to address energy challenges at ADIPEC 2022
Al Jaber: "The energy security is the foundation for economic and social progress"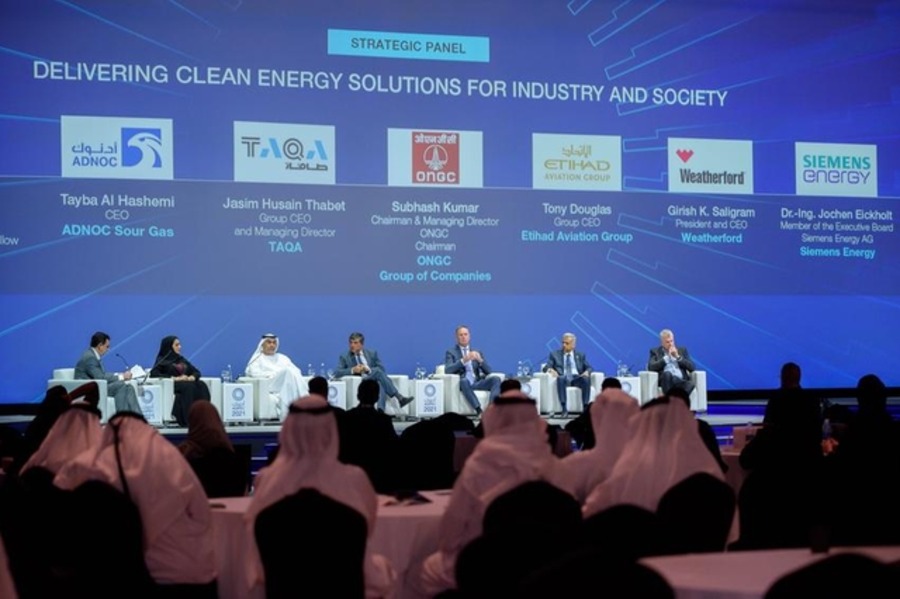 ADIPEC (Image credit: ADIPEC)
The Abu Dhabi International Petroleum Exhibition and Conference (ADIPEC), the world's largest energy forum, kicked off today at the Abu Dhabi National Exhibition Center under the patronage of Sheikh Mohamed bin Zayed Al Nahyan, President of the UAE.
The exhibition will run until November 3 and will feature industry leaders, policymakers, and innovators from around the world discussing the future of energy in Abu Dhabi.
Dr. Sultan bin Ahmed Al Jaber, UAE's Minister of Industry and Advanced Technology, as well as the Managing Director and Group CEO of the Abu Dhabi National Oil Company (ADNOC), emphasized that the world requires more energy with lower emissions to ensure the security and sustainability of its supplies.
Al Jaber stated, "We have no choice but to use oil, solar energy, wind energy, nuclear energy, or hydrogen. We require all of them, as well as clean energies that will be discovered and implemented in the future after ensuring their economic feasibility."
"If we stop investing in hydrocarbon resources," Al-Jaber said during the opening speech of the 38th edition of the exhibition, "the markets will lose 5 million barrels of oil per day from current supplies due to natural decline in production capacity."
Additionally, Al Jaber stressed the importance of energy security as a foundation for economic and social progress, as well as progress in climate action.
Moreover, he pointed out that 30 percent more energy than the world currently produces is required to meet the needs of the population, which has reached billions.
ADIPEC invites various players in the global energy sector to participate and help find effective solutions to the sector's most pressing problems. The theme of this year's edition is "Energy future: sustainable, dependable, and accessible to all."'
ADIPEC 2022 is critical in highlighting the energy sector's current needs in terms of reducing emissions and shaping the future of clean energy.
Moreover, the newest edition emphasizes the importance of taking a balanced approach to energy transition efforts, as well as accelerating efforts to achieve carbon neutrality in current energy resources and diversifying future energy sources.
Exclusives