August 4, 2022 3:55 pm
How is Qatar dealing with Covid ahead of World Cup?
WHO confident in Qatar's ability to host the World Cup successfully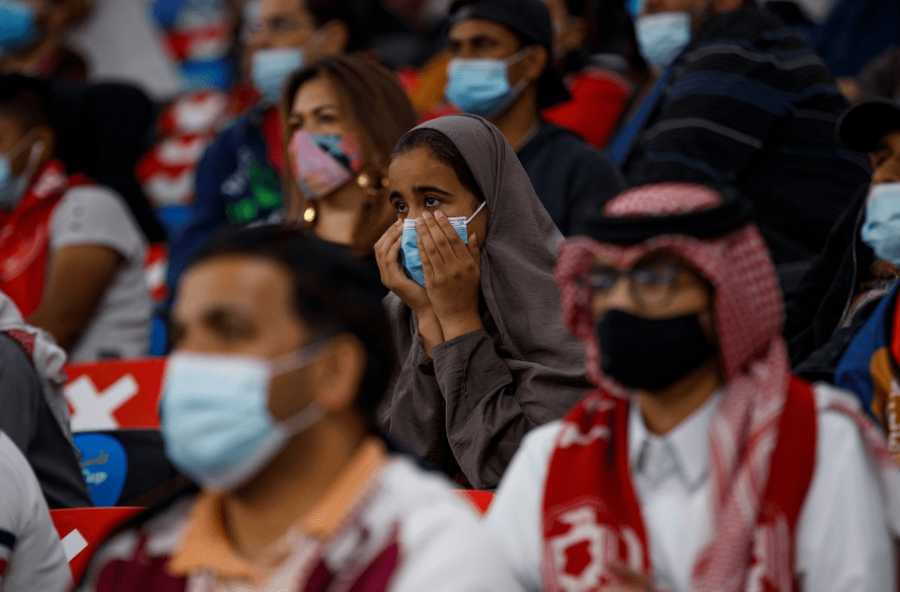 Football fans watching game
Since the start of the pandemic, Qatar has imposed Covid-19 precautionary measures based on indicators including the number of hospitalizations, ICU admissions, and deaths due to the virus.
Qatar World Cup 2022
The British newspaper, The Telegraph, revealed the requirements to come to Qatar to watch the World Cup in July, noting that fans who are not immune to the virus will be required to enter quarantine for 5 days, saying: "The Projects and Legacy Committee confirmed that all visitors coming from outside who are not immune to Corona will have to isolate themselves in a hotel (inside Qatar) for five days."
The Telegraph quoted the International Football Association (FIFA) regarding the guidelines for Covid-19 protection in the World Cup 2022, which stated: "All participants in the Qatar World Cup 2022 must follow all travel guidelines established by the Qatari authorities and the Ministry of Public Health. We will publish full information regarding corona protection ahead of the World Cup."
National team players and technical staff will be unable to break the applicable Covid regulations. If the precautionary measures are maintained, everyone, including the general public, who has not been immunized or has not previously contracted the infection, will be subjected to a five-day quarantine without exception.
People who have not received the third dose or are more than nine months after receiving the second dose must submit a negative PCR test and undergo a five-day quarantine in one of the host country's designated hotels.
WHO
Last June, the World Health Organization (WHO) expressed confidence in Qatar's plans to successfully manage the risks associated with Covid-19 during the country's hosting of the FIFA World Cup at the end of this year.
WHO's director of emergencies, Michael Ryan explained that there is no reason to believe that the risks of a pandemic outbreak will be higher during the World Cup's preparations in November and December than during other major events that have taken place in complete safety in recent months.
"Managed and planned mass gatherings can take place safely," he said on the WHO's Facebook page during a live intervention.
Doha, Qatar's capital with a population of about 2.4 million, is preparing for an influx of football fans from all over the world to attend the finals, which kick off on November 21 and will last until December 18.
Covid-19 Cases
Qatar's Ministry of Health (MoH) reported yesterday 946 new Covid-19 cases, and among them, 835 from the community and 111 were travelers coming from abroad. At present 7,024 active Covid-19 cases are in the country. 
A total of 7,323,161 vaccine doses were administered to date and among those 1,827,792 were booster doses. 
While, according to the weekly Covid-19 report issued by the Ministry on Monday, 762 daily average cases were among the community, and 121 were among travelers. And an average of 1018 people have recovered within a week. One death was reported due to Covid-19 in a week. 
Some 25 people were admitted to the hospital due to COVID-19 but no one was admitted to the ICU. An average of 21,523 COVID-19 tests were conducted within the week. A daily average of 2,760 COVID-19 vaccines were administered. 
Exclusives