November 28, 2022 9:38 am
Hutong, a truly exceptional Chinese cuisine
The Dubai outpost of this fine restaurant brings Northern Chinese cooking to life in the DIFC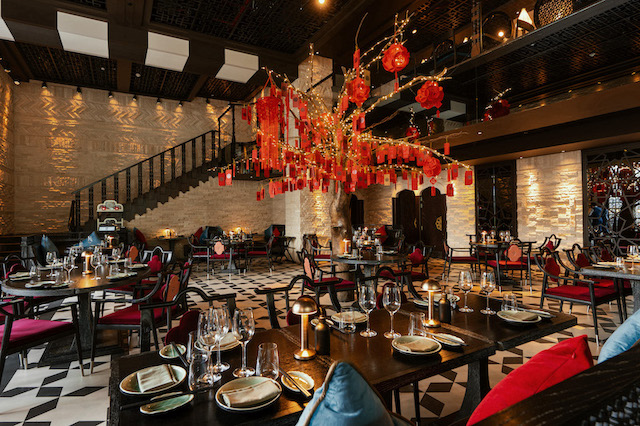 Hutong Dubai
Whether it's your local takeaway or the Michelin-starred dining experience, Chinese cuisine remains immensely popular across the globe.
But one mustn't generalize, China is a very large territory, and each corner brings a different cooking style, and the one we are going to talk about today is Northern Chinese Cooking and one of its finest outposts, Hutong Dubai.
The brand was created in Hong Kong back in 2003 by David Yeo, with the concept of contemporary and Northern Chinese cuisine. It deservingly received a Michelin star. Today there are five Hutongs across the world: Hong Kong, London, New York, Miami, and Dubai, and all operate under the Aqua Restaurant Group.
We dined at Hutong Dubai, which was recently recognized in the Michelin Guide, and, without a doubt, it was one of my most favorable experiences. Not just in Chinese cuisine, but across them all. Everything from the cozy setting to the service was immaculate. In the true spirit of the DIFC culinary scene, there was a live DJ, the cocktails were done to perfection while the dishes were imaginative yet kept true to their origins with bursting flavors. If I were to namedrop a few favorites, the Flaming Whole Peking Duck and Prawn & Chicken Siu Mai are a few not to miss.
The seasoned gourmand can choose from the Ala Carte, Signature Menu, Business Lunch, Dark Brunch, and Imperial Brunch, depending on the day.
I spoke with the General Manager, Maxime Legeard to find out what makes Hutong stand out.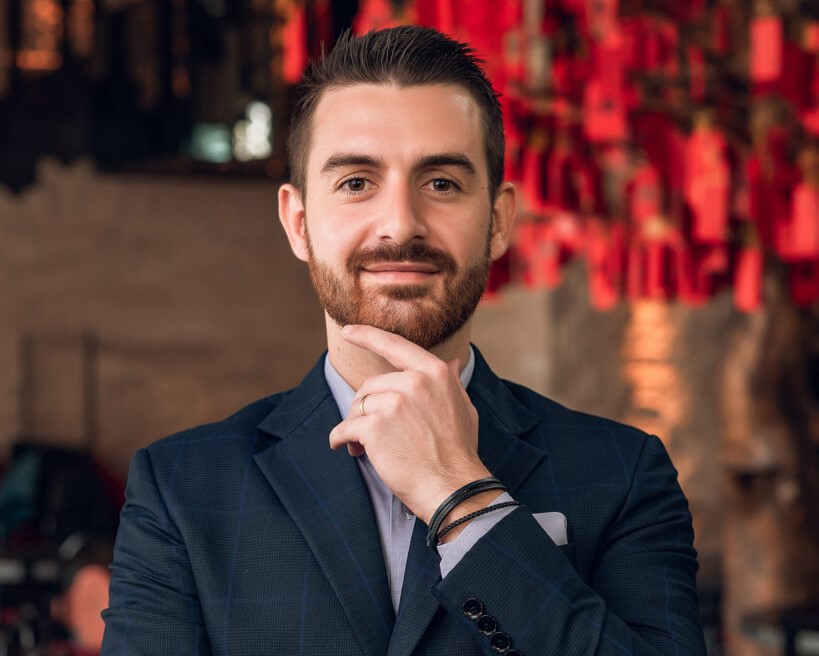 What are some distinct differences between Northern Chinese cuisine and what we know as conventional Chinese? And what are the regional differences in Chinese cooking?
According to tradition, there are four schools from which all Chinese cuisine originated. Hutong takes inspiration from the Lu School (鲁菜), with its roots in the province of Shandong. This School was spread throughout the North and was served in the Imperial palaces in Peking, adopting influences from nearby Sichuan province with its fiery peppers and spices. Hutong's cuisine captures the subtlety and surprises of Lu cuisine with a wide array of produce, including fresh seafood, occasionally influenced by fiery Sichuan spices.
As an example, in the North, Tofu gets eaten with coriander, sauces, and pickled vegetables. But in the south, Tofu Jelly goes with sugar. In the South, Tofu must be sweet, and in the North, Tofu must be salty.
Another interesting fact is the utensils used. In the North, people are using plates to eat, while in the south, people will eat with bowls and place unwanted meals on a plate.
What does Hutong bring that is different?
Our contemporary and occasionally fiery Northern Chinese cuisine is a key differentiator which sets us apart from other brands within the market. Stunning interiors inspired by the Silk Road and the buzzy atmosphere make a dining experience at Hutong unlike no other.
In addition to this, Hutong offers a wide variety of menus and packages to cater to everyone, which sets up apart from other Chinese restaurants in Dubai. We have different offers throughout the day, such as Business Lunch, an unlimited dim sum menu, an evening brunch termed 'Dark Brunch', and a Saturday brunch called 'Imperial Brunch'.
What are your thoughts on the Michelin Guide? How will it influence the local culinary scene?
It is a monumental achievement to be considered for such a prestigious inclusion, especially as this is an honor for the team working so hard to make Hutong memorable. It certainly pushes us to maintain and improve further when it comes to enhancing the guest experience in every way possible.
The international recognition from Hutong's inclusion is another fantastic achievement, allowing us to be seen as the must-try culinary experience for those visiting Dubai.
The Michelin guide will enable Dubai and the UAE to elevate the culinary scene to the best in the world and be on the same level as some of the highest places in the world, such as New York, London, and Hong Kong.
Tell us about Maxime Legeard. I see you are no stranger to Dubai, but can you take us back a little more?
True, I am no stranger to Dubai. Even though I arrived intending to take a few steps in my career and leave after 2 to 3 years, I am still here after seven years!
Coming from Normandie in the North of France, I always wanted to discover the world, meet new people, and learn about different cultures and traditions. That eagerness brought me to the south of France, a bit of the UK, Florida (USA), Luxembourg, and then Dubai. Dubai allows you to discover more concepts and meet different people. I still wish to explore Asia and the African continent for their strong tradition and culture.
Tell us about Aqua Group and David Yeo's involvement with the Dubai restaurant
Aqua Restaurant Group is an international culinary empire of more than 20 ground-breaking restaurants and bars in London, Hong Kong, New York, Miami, and Dubai. Throughout the years, Aqua Restaurant Group's fundamental philosophy has remained unchanged; to prepare exquisite food using the freshest, high-quality products and to prepare it in a way where the authentic flavors shine. This is coupled with approachable, discreet service and always in a jaw-dropping stylish environment, which has become the hallmark of the Aqua Restaurant Group.
As with all the brands within the Aqua Restaurant Group portfolio, David is the creative force behind Hutong Dubai, including everything from our interior design to our menu, which our guests love and enjoy. He provides great support, with his passion and creativity-inspiring us to constantly improve.
Five must-try dishes at Hutong?
Hutong Prawn Roll – This is our best seller from Hong Kong, London, and Dubai. It gives you the light fried crispy dough that is followed by the flavor and softness of the prawn and scallops – also one of my favorites.
Prawn & Chicken Siu Mai – Our unique Siu Mai, like all other dim sums, is homemade, but with the exception of the lightly sweet taste of the black garlic that is mixed magnifically with the savor of the prawn and chicken.
Flaming Whole Peking Duck – Our pecking duck is recognized worldwide as we still use the ancient way of preparing it, which takes more than 24h between the drying, and marinating processes and the slow cooking in the Mongolian oven. The flaming in front of our guests is a finale with a mix of Chinese wine and Rhum and some Chinese spices, which will add another layer of flavor while making the duck skin crispier.
Wok-tossed Beef Tenderloin – The wok is prepared with beef in a laoganma chili sauce, which brings the tenderness and flavor of Ma La spiciness and the soft sweetness of the bean.
Bao & Soy – Our Signature dessert, Bao & Soy, is a must-try that has been created by our Pastry Chef in NYC. It consists of a white chocolate dome filled with sesame ganache and a sesame praline, with a fondant, salted caramel coolant in the middle, and finished with the crispiness of the sesame biscuit.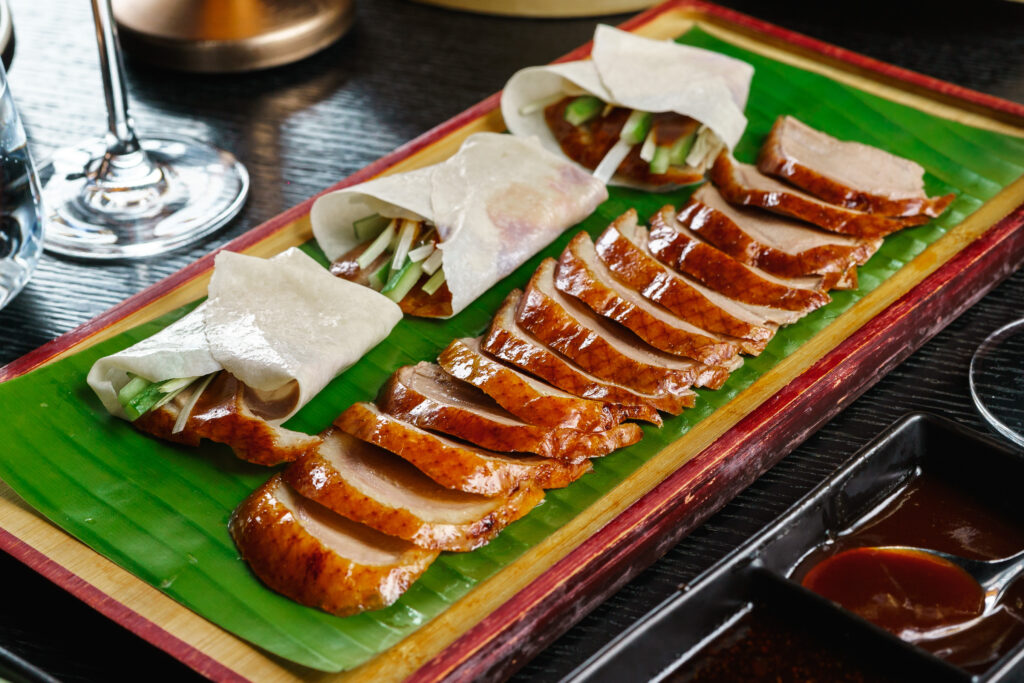 Exclusives