March 1, 2023 12:10 pm
Investopia's 2nd edition kicks off at a very important time globally
Bringing to Abu Dhabi more than 2,000 participants from 40 countries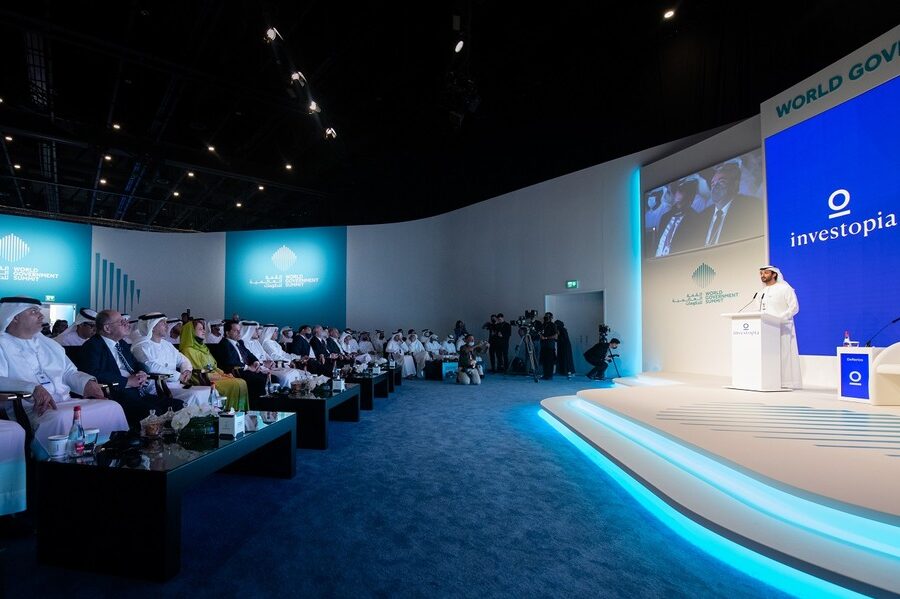 From Investopia's last year edition (Photo Credit: WAM)
The second edition of the global investment platform Investopia kicks off from March 2 to 3, 2023, and will bring together more than 2,000 participants from over 40 countries to Abu Dhabi.
Investors, government officials, thought leaders, and entrepreneurs will gather at Hilton Abu Dhabi in Yas Island to discuss topics including institutional asset allocation, AI, emerging markets, venture investing, digital assets, mobility, biotechnology, and more.
In partnership with the premier global thought leadership forum SALT, the Abu Dhabi Department of Economic Development, and Crypto.com, the event will focus on the theme "Envisioning Opportunities in Times of Change" and three sub-themes: Envisioning Opportunities in Today's Economy, The Future of the Wealth of Nations, and Growth Opportunities in Times of Decarbonisation.
Important time
According to Abdulla Bin Touq Al Marri, UAE Minister of Economy and Chairman of Investopia, the second edition of the conference kicks off at a very important time globally, as we witness structural transformations in markets, global investment trends, and the rapid advancement of fourth industrial revolution technologies, all while moving towards investments in a sustainable and low-carbon economy.
"We, in the UAE, have set an ambitious future vision of creating the optimal environment for conducting business. However, our focus extends beyond merely enhancing our investment attraction capabilities. Our focus is on achieving our aspirations of sustainable development through these investments. Investopia plays a vital role in the UAE's efforts to provide a platform for business leaders and government officials worldwide to engage in global discussions, establish partnerships, and integrate new developmental and technological trends in the world of business and economy, promoting sustainable solutions for a better future," Al Marri added.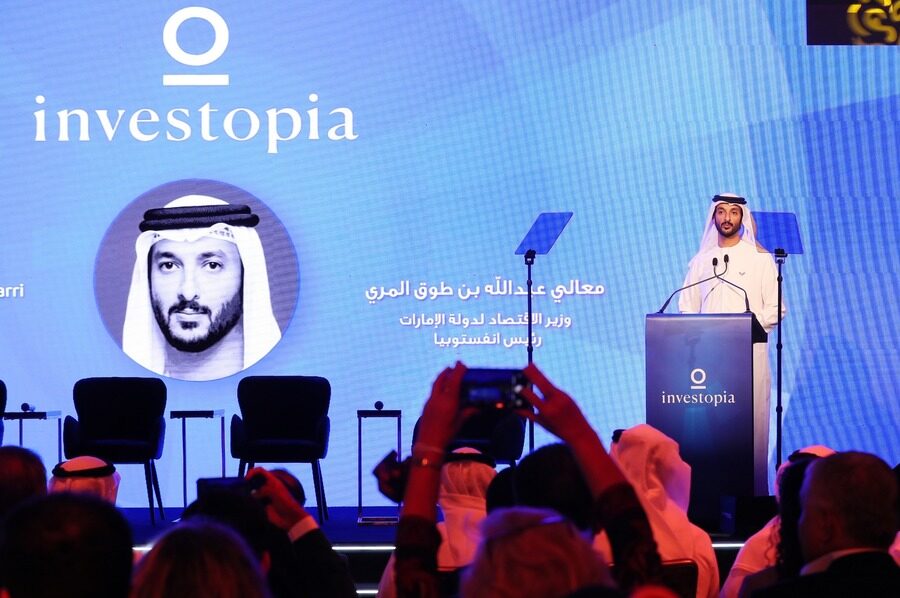 Abdulla Bin Touq Al Marri, UAE Minister of Economy and Chairman of Investopia (Photo from WAM)
Read more: Investopia: UAE's first trademark to be registered internationally
Themes, speakers, and sessions
This year's event will include 35 sessions and roundtables, where more than 100 speakers will take the stage. Government officials and exceptional leaders pioneering their fields into the future in areas such as Technology, Government, Finance, Engineering, Sustainability, and more, will speak during the conference, including: Dr Thani Al Zeyoudi (UAE Minister of State for Foreign Trade), Omar Al Olama (UAE Minister of State for AI, Digital Economy and Remote Work Applications), Khaldoon Al Mubarak (Managing Director and Group CEO, Mubadala), Waleed Al Mokarrab Al Muhairi (Deputy Group CEO, Mubadala), Ahmed Jasim Al Zaabi (Chairman, Abu Dhabi Department of Economic Development), Lieve Mostrey (Chairperson and CEO, Euroclear), Eric Anziani (President & COO, Crypto.com), Helal Al Marri (Director General, Dubai Department of Economy & Tourism), Samaila Zubairu (President & CEO, Africa Finance Corporation), Baroness Joanna Shields (CEO, BenevolentAI), Nardos Bekele-Thomas (CEO, AUDA-NEPAD), Alain Papiasse (Chairman of Corporate and Institutional Banking, BNP Paribas), Dr Gianvito Martino (Professor of Experimental Biology, San Raffaele University).
56% of participants from within the UAE
Some 56% of the participants in Investopia conference 2023 come from within the UAE and 44% from abroad (more than 100 nationalities). Sone 75% will be from the private sector while 13% from the public sector, another 6% will represent academia and students, and  6% will be representing international organizations and diplomatic missions.
For more on the economy, click here.
Exclusives