February 10, 2023 5:09 pm
PwC Middle East signs MoU with DGA, IPA, and Flat6Labs
To accelerate innovation in the public sector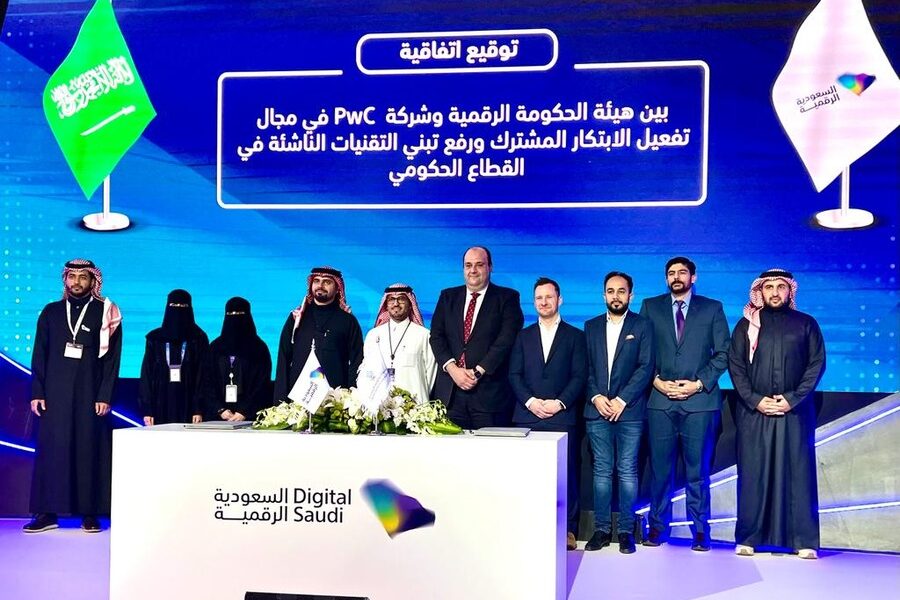 During the signing ceremony (PwC's Twitter account)
 At this year's LEAP, the largest annual technology event in Riyadh, Saudi Arabia, PwC Middle East demonstrated its expertise with a number of key activations and the signing of strategic agreements with prominent entities; DGA, IPA, and Flat6Labs across the four-day event, reinforcing the firm's commitment towards supporting the Kingdom's digital economic growth and Vision 2030.
As LEAP's 'Digital Consulting Partner' for the second year running, PwC Middle East highlighted some of the latest emerging technologies, including virtual reality simulations in the sports, tourism, ESG, and financial sectors, while emphasizing the importance of leading technologies such as Artificial Intelligence (AI), Metaverse and Digital Twins, in accelerating the Kingdom's digital economy and economic growth.
Read more: Adapt and Adopt: Shifts facing incumbent regional banks
Exhibiting at this year's LEAP, PwC Middle East explored trends and applications in clean technology, future energy, and Digital Twins, as well as discussed world-class sustainable development practices to address growing urbanization challenges in the Kingdom. This comes during a number of key panel discussions, workshops, and showcasing disruptive solutions at the firm's interactive booth.
Commenting on PWC's presence in this year's LEAP, Riyadh Al Najjar, Chairman of the Board and KSA Country Leader: "Saudi Arabia is making ground-breaking advances in tech adoption including big data, AI, and advanced mobile technology."

PwC signs MoU with Flat6Labs
Flat6Labs, IPA
Moreover, PwC also signed an MoU with Flat6Labs, the MENA region's leading seed and early-stage venture capital firm, to develop corporate innovation programs and offer mentorship and opportunities under PwC's Technology Consulting practice. Additionally, our MoU with IPA aims to support government and private entities in their digital transformation journey in Saudi Arabia.
For more on tech topics, click here
Exclusives