September 26, 2022 8:48 am
Markets anticipating a hot week…Lagarde testifies in Brussels today
Jerome Powell also speaking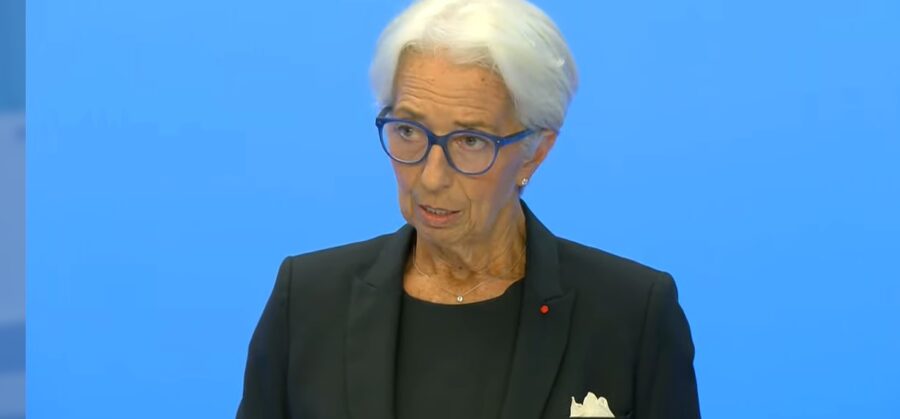 Lagarde is participating today in a hearing before the European Parliament
It's going to be a really hot week steaming with data and scenarios that markets eagerly anticipate.
Today, European Central Bank (ECB) President Christine Lagarde is scheduled to participate in a hearing before the European Parliament's Economic and Monetary Affairs Committee in Brussels.
This testimony comes after the historic victory of the extreme right in the Italian elections, and it was expected that the head of the right-wing "Brothers of Italy" party, Georgia Meloni, would head the government.
Italy's fall into the grip of the extreme right raises Brussels' concern at this stage of the important reforms before the European project.
European Commission President Ursula von der Leyen has indicated that the EU has "tools" to punish member states that violate the rule of law and its common values.
From here, Lagarde will certainly be asked what Meloni signaled during the election campaign that she would try to renegotiate Italy's plan to spend EU recovery funds.
Rome is the largest recipient of the European Union's COVID-19 recovery fund, which is worth 800 billion euros. €200 billion of EU funds have been allocated to Italy alone, which is vital to restarting the country's economy.
In addition to this issue, European lawmakers will ask Lagarde questions to explain the monetary policy objectives of the ECB and the ceiling it intends to reach after raising interest rates by 1.25 percent so far in order to stem the rise in inflation.
On Friday, inflation data for the Eurozone is due to be released. A Bloomberg survey suggested that inflation in the eurozone reached a new record last month at just under 10 percent.
In America
On the other hand, ahead is a full agenda of economic statements and data awaits in the US.
This week includes a large number of conversations with Federal Reserve (FED) officials directly, with FED Chairman Jerome Powell speaking on the issue of digital finance this Tuesday. He is expected to repeat the same messages he made about the FED's decision to fight inflation at all costs, even if it causes "some pain."
On Wednesday, the FED raised the benchmark lending rate by 75 basis points for the third consecutive meeting.
The week concludes with the August Personal Income and Expenditure report on Friday, which includes a reading on the Fed's preferred inflation measure.
An update on the US personal consumption expenditures index may keep the US dollar high as the report is expected to show steady inflation.
The spending portion of the report should help determine the pace of economic growth in the third quarter, while income data will provide insight into consumers' financial health.
Japan
The Japanese government's stance towards intervention in the yen market will also be in focus after the Bank of Japan's decision to stick to ultra-low interest rates last week.
Today, Governor Haruhiko Kuroda will deliver a speech on the central bank's vision at this stage.
Exclusives