December 5, 2022 11:57 am
Masaood: Expanding the manufacturing of industrial success, sustainably
Diversification is a strategic move that can help us develop and expand
Hani El Tannir, CEO of Al Masaood Group Industrial
From its early foundations as a small trading house some 50 years ago, Al Masaood has become one of the largest integrated industrial, commercial, and service organizations in the Middle East.
With activities spanning most key economic sectors, the Al Masaood Group represents the collective business interests of the Al Masaood family. The following is an exclusive interview with Hani El Tannir, CEO of Al Masaood Group Industrial, where Economy Middle East sought to shed more light on UAE's industrial sector, the group's newest factory products, sustainability and manufacturing solutions, and more.
1- What are Al Masaood's plans and initiatives to support the growth of the industrial sector in Abu Dhabi and the UAE?
We have been successful in building and solidifying our position in various sectors over the past fifty years, and our objective is to maintain our leadership going forward. For this, we will be steering our product offerings towards sustainability and renewables as well as reinforcing our relationship with our various stakeholders.
In order to better serve the needs of Abu Dhabi's and the UAE's industrial sector, we are looking to expand our local manufacturing and assembly of industrial products in line with the government's 'Make it in the Emirates' initiative, as well as increase local production of steel products for the oil and gas industry, introduce new industrial applications, and move toward onsite services.
We are also aiming to boost our in-country public-private partnerships to open the door for fresh and attractive economic opportunities that will further support the industrial sector in Abu Dhabi, the UAE, and beyond. We at Al Masaood firmly believe that diversification is a strategic move that can help us develop and expand. Whether with vertical or horizontal diversification, we will continue to look for ways to apply our current capabilities to serve a larger range of sectors and markets.
Read: Al Masaood Group: Success is never final
2- What are your sustainability solutions in sectors such as Energy, Power, Petrochemicals, and Utilities towards reducing carbon footprint?
Sustainability has been prioritized as a key business goal by our industrial divisions. For instance, Al Masaood Power Division has revamped its product offerings to embrace sustainability, following the global trend of providing environmentally-friendly solutions. As a long-standing power solution provider in the local market, we are aware of our role in the UAE's transition to clean energy that does not compromise energy security and cost. Therefore, we have introduced various energy solutions in the market that are helping with the transition to sustainable and green energy in line with the UAE Net Zero 2050 strategic initiative.
Recently, Al Masaood Power launched SHAMS+, a smart solar charging solution, which has applications for Marine, EVs, Hydrogen, and all forms of standalone power generation requirements, as it runs on solar energy and doesn't require any grid connection. Similarly, the division collaborated with Sunstream International and launched the next-generation plug-and-play solar solution, the 'Oryxbox', at the International Exhibition for National Security and Resilience (ISNR Abu Dhabi). This solution can be used in the agriculture, oil and gas, mining, and construction sectors, and we have jointly set up a Solar Park to display the range of solutions that we have.
Meanwhile, Al Masaood Bergum has introduced the latest innovative solutions like Hybrid Modular Solutions (HMS), Cross Laminated Timber (CLT), and Ultra–Fold Prefinished Modules in its endeavor to foster sustainable modular construction practices. These solutions have helped in reducing carbon emissions and labor requirements during construction.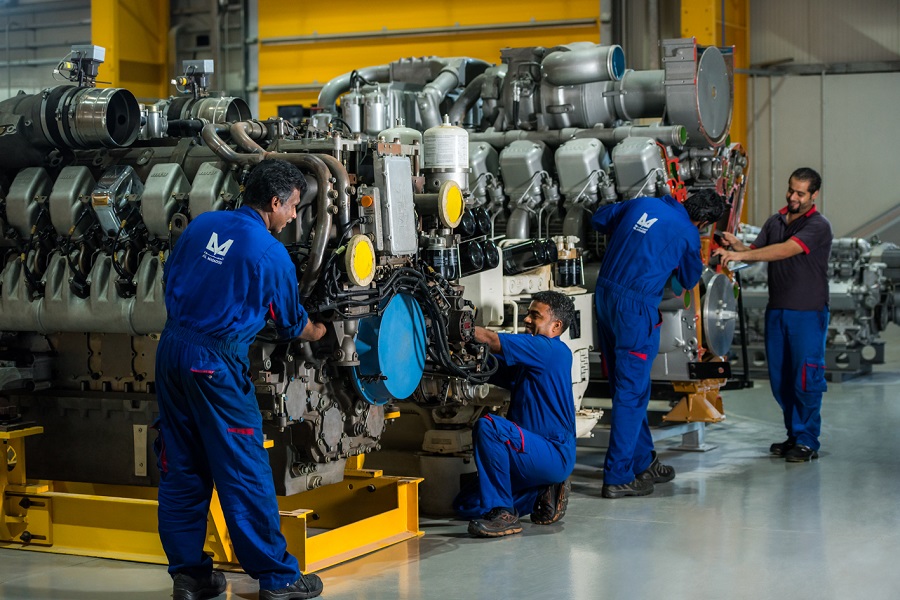 3- Can you describe Al Masaood's new direction towards technology and local manufacturing and support the 'Make it in the UAE' initiative by the Government?
Al Masaood is expanding into the manufacturing sector to develop products and services that are specifically tailored to meet the demands of our customers. This supports the UAE's industrialization strategy and the "Make it in the Emirates" campaign, which aims to provide sustainable options for the nation's manufacturing sector. Currently, we are focusing on enhancing our local manufacturing and assembly of products and solutions, manufacturing steel products for Oil and Gas, creating industrial applications, and moving towards the provision of onsite services. The locally produced products and services will also help in our expansion plans in the region and beyond.
Our Power Division's SHAMS+ solution, which is the first to be fully built in the UAE, is a perfect example of locally manufactured products. We are also planning to join the Ta'ziz initiative that was launched by ADNOC and ADQ, and intend to promote and facilitate the growth of the Ruwais Industrial Complex and Abu Dhabi's chemical, manufacturing, and industrial sectors. As one of the first Emirati-owned private companies to be a part of this project, we are studying the provision of light industrial services, including maintenance support, industrial processes, and facilities management solutions for the services and healthcare sectors.
4- How did Al Masaood grow and evolve its Logistics business to meet the needs of its diverse clients?
At Al Masaood, we have always focused on building a strong relationship with our partners to ensure the availability of quality services and products for our customers. On the logistic front, our Commercial Vehicles and Equipment division is the authorized dealer of Renault Trucks, UD Trucks, UniCarrier Forklifts, TCM, and other well-known brands of heavy equipment and ancillary products. The division's proactive work has helped us to gain several new partnerships with government departments, civil defense, armed services, oil companies, and industrial and commercial organizations.
The division has also established a specialized manufacturing facility that creates a variety of products designed to meet the requirements of the oil and gas industry. A variety of effective and secure oilfield service tools, such as blending equipment, centrifugal pumps, high-pressure pumps, and servicing simulation tools, will be designed and manufactured by the department. Additionally, our Tyres, Batteries & Accessories division is the authorized Distributor of Bridgestone Tyres and solutions, as well as TOTAL Lubricants, and runs a network of vehicle service and accessorizing centers.
5- What major wins and deals did you achieve from your participation at ADIPEC?
ADIPEC has been a significant platform for Al Masaood, and our participation in the event for the 23rd consecutive year is a milestone for us. At this year's event, we represented nine global companies specializing in utilities, maintenance, supply, and other services. The principals that were present with us during ADIPEC 2022 were: GSW, S&W, 4IR Solutions, BBV, KSB, KSB Supreme Serv, Schroedahl, Quartzelec, and Nidec Leroy-Somer. During our participation, we sealed new partnerships with global companies like the Saudi firm Gulf Specialised Works (GSW) and the Korean firm S&W. These collaborations will definitely enable us to boost our services and introduce global expertise to the Abu Dhabi as well as to the UAE market.
6- Your group recently received 4 awards at the GCC leadership awards. How is Al Masaood fostering a healthy working environment, advancing leadership and performance excellence, and gender equality?
Winning the 'GCC Best Employer Brand Award' recognizes our open and progressive organizational culture that has always focused on building a healthy work environment, where our staff feels valued and understood. Our employee engagement and talent management strategy places employees center stage and supports them to effectively hone their skills and develop professionally in their careers.
Our gender equality approaches and efforts to advance the status of women in the company as well as in society were also recognized in the awards. We always strive to maintain equality among all Al Masood employees, and value their integral contributions towards the growth of Al Masaood, regardless of gender, age, or nationality. And we have just launched our Mechatronics Training program within our Power Division, specifically aimed at training young Emirati engineers within an apprenticeship format. This is a demonstration of our commitment to Emiratization with hands-on experience and specific skill training.
Exclusives