May 18, 2022 2:16 pm
Smarties announces marketing winners of first NFT awards
The NFT format is titled 'SMARTIES MENA INTO THE METAVERSE'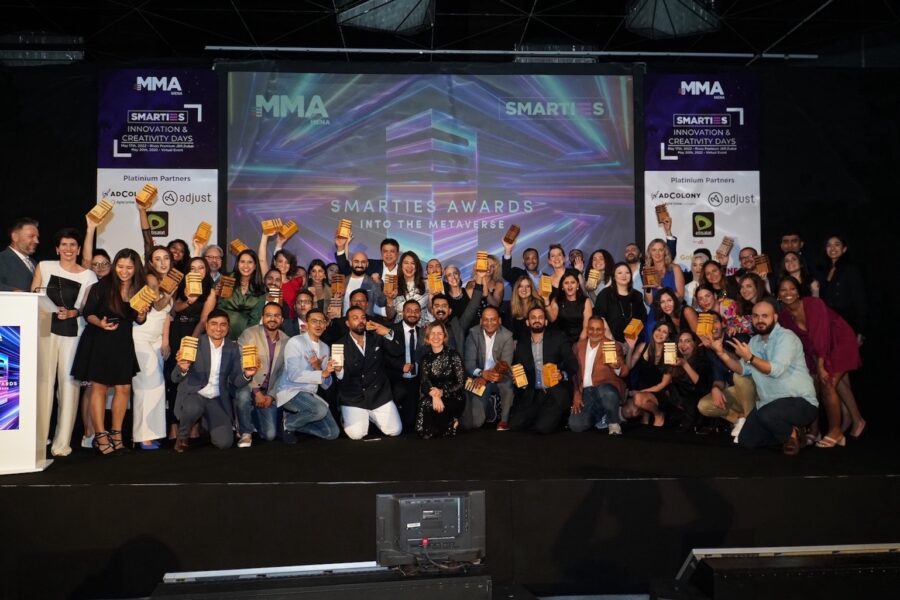 A photo from the ceremony
MMA SMARTIES honored the most innovative marketing campaigns that ran across the MENA region during 2021 at the Awards Ceremony held after the inspiring MMA MENA SMARTIES Creativity & Innovation Days Event. 
This year SMARTIES MENA Awards were given in an NFT format known as 'SMARTIES MENA INTO THE METAVERSE', the first tokenized awards in the region. 
MMA MENA SMARTIES Creativity & Innovation Days 2021 brought together marketing thought leaders, tech experts, and researchers. 
The all-day event hosted MENA thought leaders from leading brands of the marketing ecosystem. Asma Shabab, from Accenture, made an introduction about 'The Metaverse Imperative: Exploring marketing's future on the internet of tomorrow' for the event opening.
'Embrace the Art of Marketing Science' session held by Tony Evans, Meta, discussed learning the keys to developing modern marketing mix models that accurately capture the value of one's digital efforts and what the future holds for marketers after the IOS 14 changes have been made attributing value more difficult.
Moreover, the event hosted an interactive session titled 'The Creative Effectiveness Formula' panel led by subject matter experts who discussed their views on how brands can take the relationship between effectiveness and creativity and use it to lead different areas of thought, innovation, and earn their way into the cultural conversation.
Gold, Silver, and Bronze SMARTIES MENA 2021 Industry Awards were presented to the winners at the Awards Ceremony at Rixos Premiıum JBR in Dubai and honored as the most successful Media Agency, Technology Enabler, Ad Network, Advertiser, and Best in-show.
EMO-BOT- Emotional Robot took the golden trophy for machine learning and AI, while 'Start Fresh' won the consumer's promotion golden award.
Also among the winners, e-Direct, a new way to shop Laundry won the golden award for being the e-commerce company pivoting during the pandemic.
Exclusives