December 14, 2022 11:04 am
Naim Maadad, championing mental health and sustainability
He's an entrepreneur with a game plan for the greater good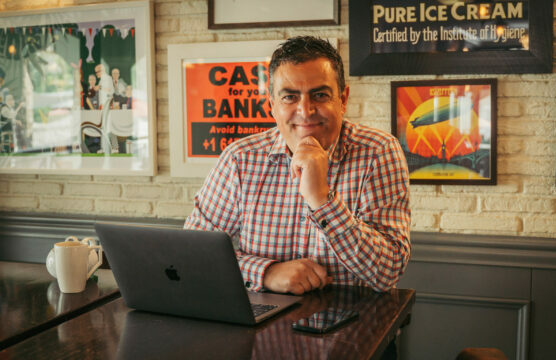 Naim Maadad, Founder & CEO, Gates of Hospitality
Although he did want to become a politician at one point, a native of Australia, Naim Maadad has hospitality DNA running through his veins. After deciding to join his family's culinary business, Naim went to Le Cordon Bleu, effectively starting his hospitality career. His first international posting in Japan was something he describes as 'A massive cultural awakening, and an amazing experience'.
Today, he is the Chief Executive & Founder of Gates Hospitality, an infinitely successful business stretching across hotels & resorts, food & beverage, and holistic wellness. He has also created some of the sustainability practices that have been embraced by the greater world of hospitality.
We sat down with him at his executive office, where Naim not only divulged more about himself but also how he has championed mental health and wellness, adapting it into his business.
Tell us more about Gates Hospitality
After an extensive career in the hotel world, I reached a stage in my life where I decided that I can do this on my own and created Gates Hospitality in 2010.
We have three businesses: the first is Hotels & Resorts, the second is food and beverage, and the third is holistic well-being. Under these three headers we have three business silos: invest, operate, and advisory. Fast forward to today and all these business models are operating across Oman, UAE, central London, and Australia. I can proudly say we are leaders in the hospitality sector across the three business models.
What part of the business performs better, and which part do you foresee more growth in, market by market?
That is a difficult one as different parts of the world have different maturity levels, audience demographics, and political stability and therefore every little pocket of the world has different performance criteria. It is all lifestyle driven. Places, where we operate, tend to be peaceful and safe havens to conduct business in a professional environment.
Let's take a step back to your corporate career. You pioneered very successful sustainability initiatives. Tell us more about them
During my time at Six Senses Zighy Bay, the organization was really leading in terms of sustainability practices. It was in our DNA, starting with the construction of the project, all done in a sustainable manner. Take the flooring inside the villas, for example, and the stones that you find across the resort. Everything was sourced locally, not flown in halfway across the globe. I'm proud to say that we've led from the front, we're leading those initiatives under the company banner, and it continues.
Sustainability today is not about doing sustainable things here and there but has more to do with education. We need to make sure that the rest of the globe embraces sustainability at every level.
How are those sustainability practices embraced at Gates Hospitality?
For us, the most important chapter is the educational part. People need to be educated sufficiently in a manner to execute sustainability. It's important to get everybody excited and let them see the benefits for years to come. Whilst the rest of the industry is still talking about plastic straws, we've advanced to the level where we have gone to our supply chain partners and given them a three-month time frame: No more plastic bags, no more plastic bottles, etc. And we make sure to engage with businesses that have sustainable practices in place. Both our guests and team members embrace and practice it.
Does using sustainable practices help you make more money?
Absolutely, commercially it makes a lot of sense. We are fortunate enough that the younger generations are embracing sustainability. They are leading on sustainability issues and choosing partners who have the same ethos as themselves. It's a naturally wide audience that we're speaking to. From a commercial perspective, I think the shift is always the hard point to move from where you are into sustainable methods. Once you embrace sustainability and once you have methodologies and train the staff to execute how it is done commercially, it's very viable because suddenly, you're sustainable, which means business is solid. It's also important to educate your team on how this all contributes to your community and society.
We're also witnessing this with the supply chain as well. Companies and manufacturers are coming up with solutions that are affordable because it's no longer a monopoly or a duopoly.
Let's talk about mental health issues in the workplace and how Gates is addressing those
I think mental health is not unique to any sector of hospitality. I'm glad that it is much more widely discussed nowadays. I'm very proud to say that we're fueling all of that eagerness for individuals to open up and share their experiences. I genuinely believe every challenge has a solution. There is no need to get embarrassed. This is not about shaming, and this is not about making someone feel bad about their experience. This is about finding solutions for better mental well-being. Because if you're mentally stable, your performance is better, your attitude is better, your relationship level is better, and your etiquette is better in life.
Within Gates, I think it starts with defining the culture. If people feel at ease, if there is no fear, if there is no shame, they can then speak to you, come forward, and share their challenges. I'm not suggesting for a minute we have solutions for everything but let's talk about it, in the right place, the right forum with the right individuals.
How do you encourage them to come forward?
Overall, this is led by Human Resources, however, it has to also be managed by each cluster. What I mean by that is, typically, in the restaurant's group, where you have a general manager and a culinary director, these are the leaders of that business, and they have to keep an eye out for their staff. They need to be driving in their briefings, in their meetings, and in their social skills. You see people coming into our organization, into a shift, going around high-fiving one another. We're not saying casualness is the right thing. What we're saying is that we need to make sure people are at ease. Because if you are confident and at ease, the way you behave and the way you operate as a human is a lot more productive.
For more on Economy MIddle East's F&B coverage, click here.
Exclusives