As demand boomed for its specialized server chips for artificial intelligence, Nvidia revenues rose 101% over the same period last year to $13.5 billion in the July quarter of 2023.
Although known for its graphics processing units (GPUs), Nvidia produces whole AI machines with memory chips from other suppliers.
Nvidia doesn't operate its own chip production and relies on outsourced manufacturing provided by Taiwan Semiconductor Manufacturing Co. and Samsung Electronics Co.
That frees it from huge expenditures and associated risks of investing in manufacturing.
Shares rose nearly 10% following the announcement to over $500 and a buyback of $25 billion in stock. It has since leveled off to $471 at the time of publishing.
Data center chip revenue reflecting business focused on powering AI, made up 76% of revenue, rising 141% to $10.32 billion in the quarter ended July 30.
Revenues of Nvidia's gaming segment rose to $2.49 billion.
Free cash flow in the July quarter jumped to $6 billion compared to just $824 million in the same quarter a year earlier.
The October-ending current quarter looks even more impressive as Nvidia projected 170% revenue growth to about $16 bn.
CFO Colette Kress said the supply of the company's AI chips will ramp quarter over quarter as a GenAI boom fueled demand for its chips which enjoy hegemony over the market.
Nvidia shares have already tripled this year, making the company the first-ever $1 trillion-dollar chip business.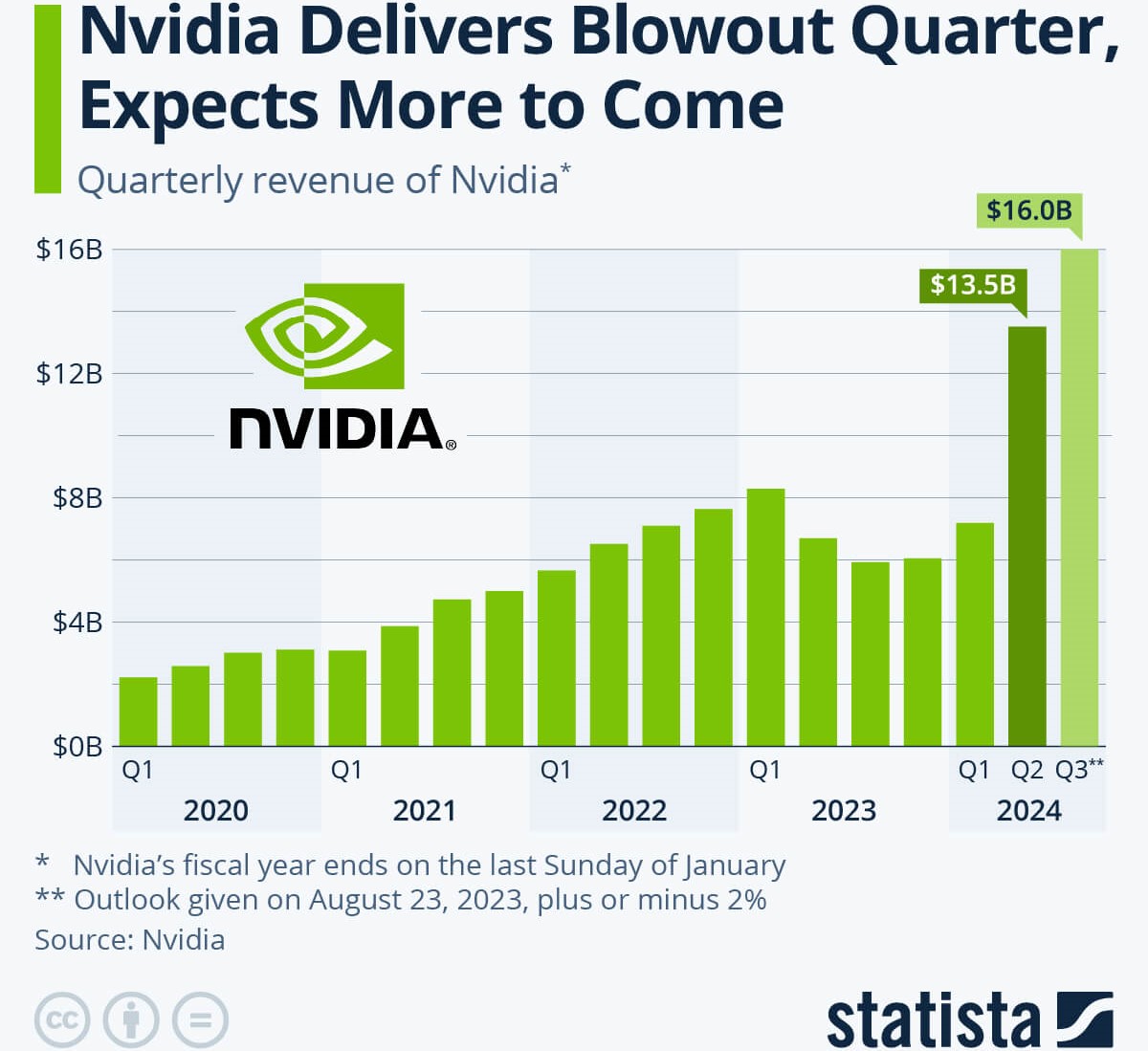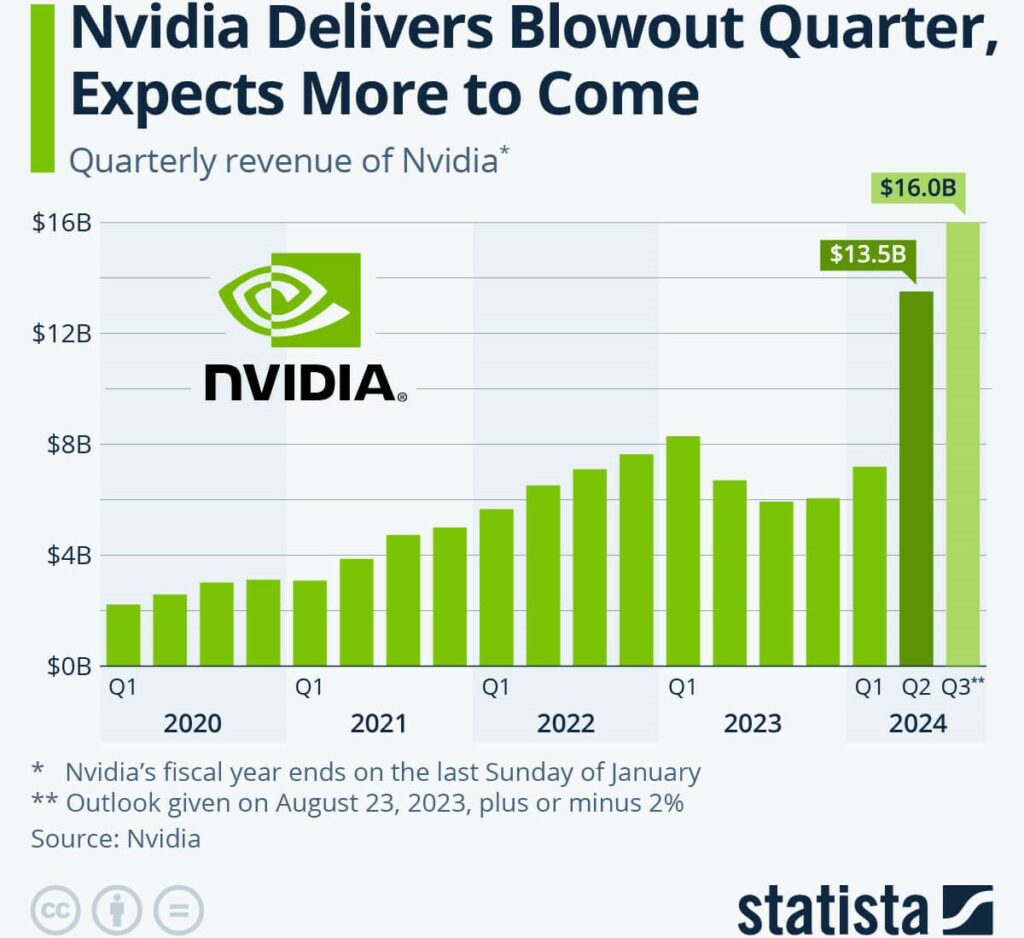 Hanging on Nvidia's coattails
Nvidia's reported figures uplifted the shares of other Big Tech stocks and AI-related companies, with Microsoft jumping 1.9 percent, Meta Platforms up 2.1% and Palantir Technologies surging 4.6% in extended trading on Wednesday.
The ripple effect for the tech space is expected to last for the entire year.
AI startups, major cloud service providers, and GCC countries like the UAE and Saudi, are all looking to get holdof additional Nvidia chips.
Saudi purchased at least 3,000 of Nvidia's H100 chips through the King Abdullah University of Science and Technology (KAUST). The $40,000 chip is designed mostly for generative AI.
Meanwhile, the UAE recently purchased thousands of chips for its open-source large language model (LLM) project called 'Falcon'. The Technology Innovation Institute in Masdar City, Abu Dhabi developed the project using 34 A00 Nvidia chips.
Chinese companies are placing rush orders to stockpile chips before any further U.S. export curbs come into action.
Read: Gartner forecasts worldwide AI Chips revenue to reach $53 bn in 2023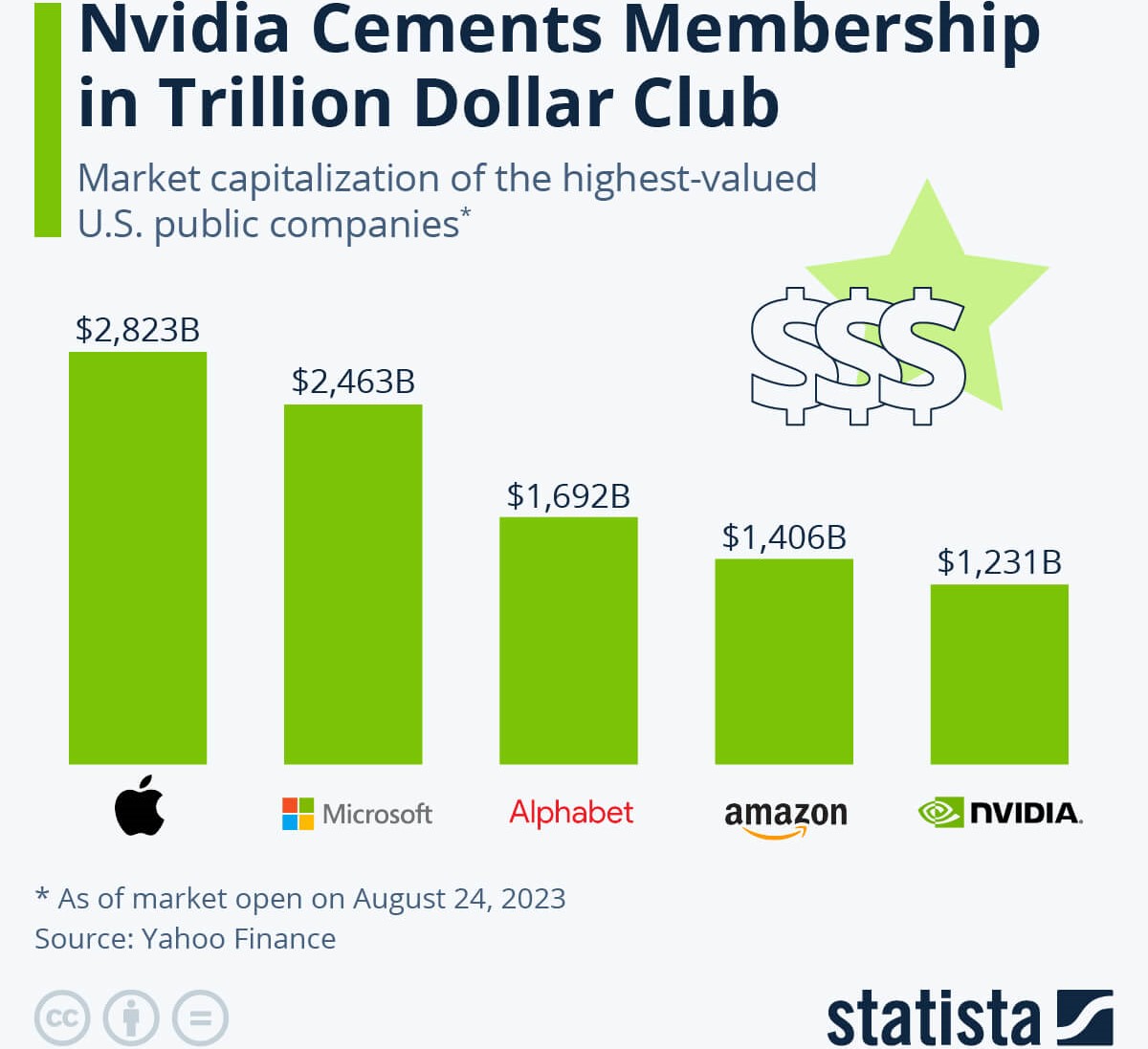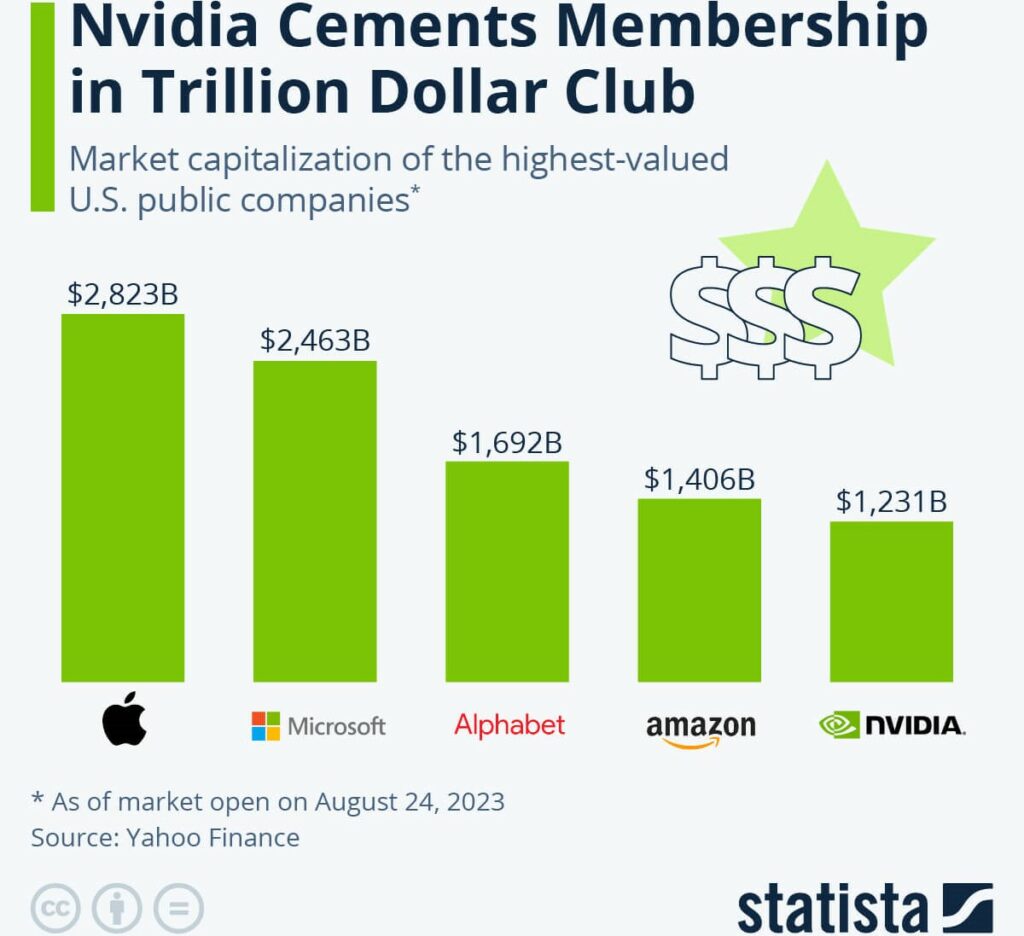 Demand and supply
Analysts have suggested that demand for Nvidia's prized AI chips is exceeding supply by no less than 50%, adding that the severe differential will remain in place for many quarters to follow.
Nvidia is spending big to secure supply with a 53% jump to $11.15 billion of inventory commitments from the previous quarter.
Analysts expect revenue from Nvidia's data center segment to grow by at least $40 billion for the 2025 fiscal year, Refinitiv estimated.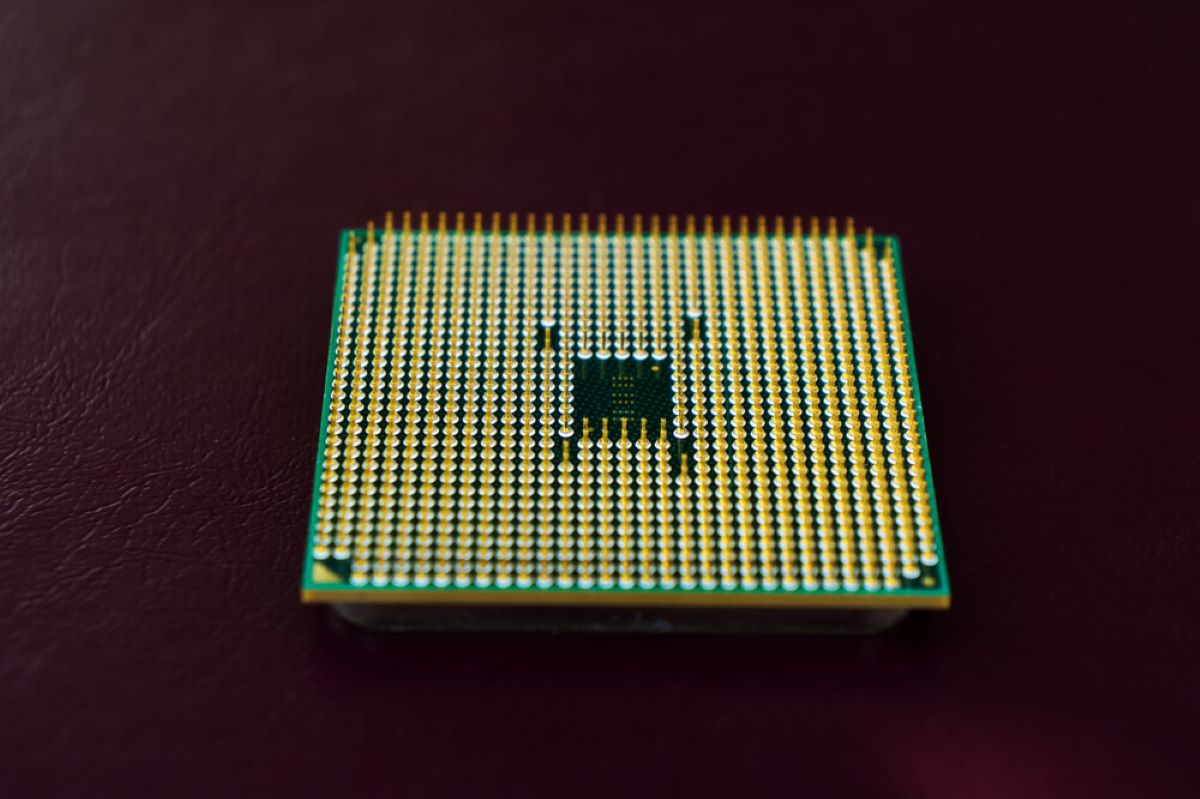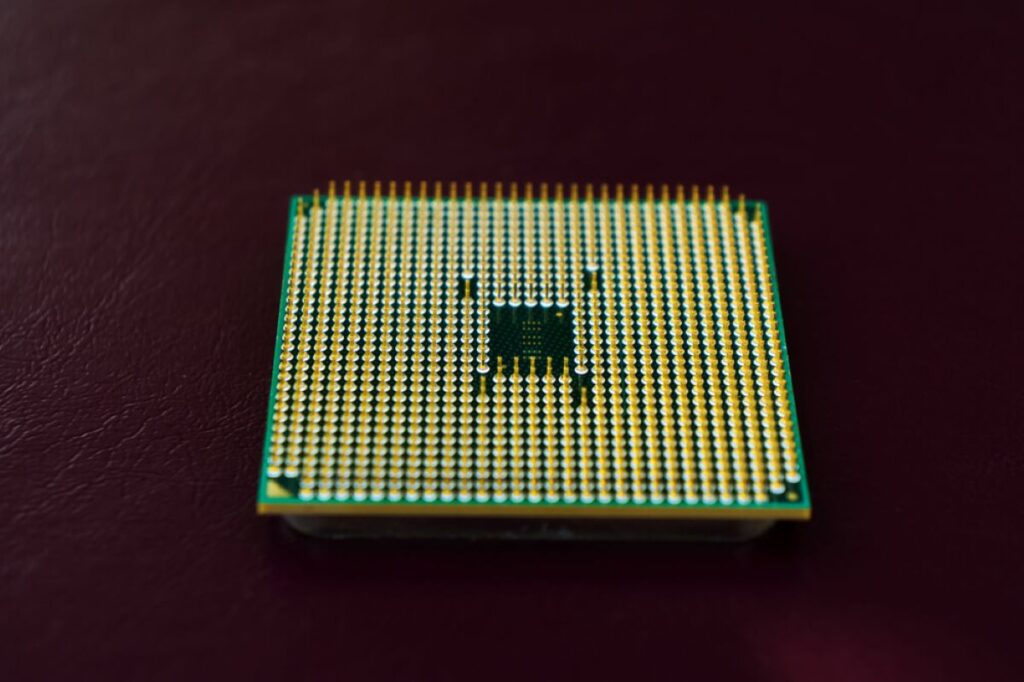 Nvidia competition
Nvidia was co-founded in 1993 by Jensen Huang who became CEO as of 2023. He's successfully parlayed a business making graphics chips for video games into a dominant market for accelerators, or chips that help train AI software by bombarding it with data.
Nvidia's powerful processors and accompanying software have left rivals trailing behind. The company also boasts an impressive lineup of customers that includes Microsoft Corp and  Google.
AI has been the hottest topic for tech investors this year. Other chipmakers are striving to catch up with Nvidia in AI processors, including top PC chipmakers Advanced Micro Devices (AMD) Inc. and Intel Corp.
New startups are competing with alternative designs for AI chips they claim work better and more efficiently than Nvidia's GPUs.
Some startups are targeting Nvidia's app-writing software.
Young companies such as d-Matrix and Rain Neuromorphics are pitching their chips and software as a way for companies to reduce the costs of training and running machine-learning models.
Tiny Corp and Modular are developing alternatives to Cuda, an Nvidia programming language that lets developers speed up their applications and that only works with Nvidia's GPUs.
Qyber, Modular, and MatX were founded by engineers who previously worked at Google.
For more tech news, click here.