September 12, 2022 4:55 pm
Ooredoo launches Arabic song for Qatar 2022
Crossing 5 million views across Ooredoo's social media platforms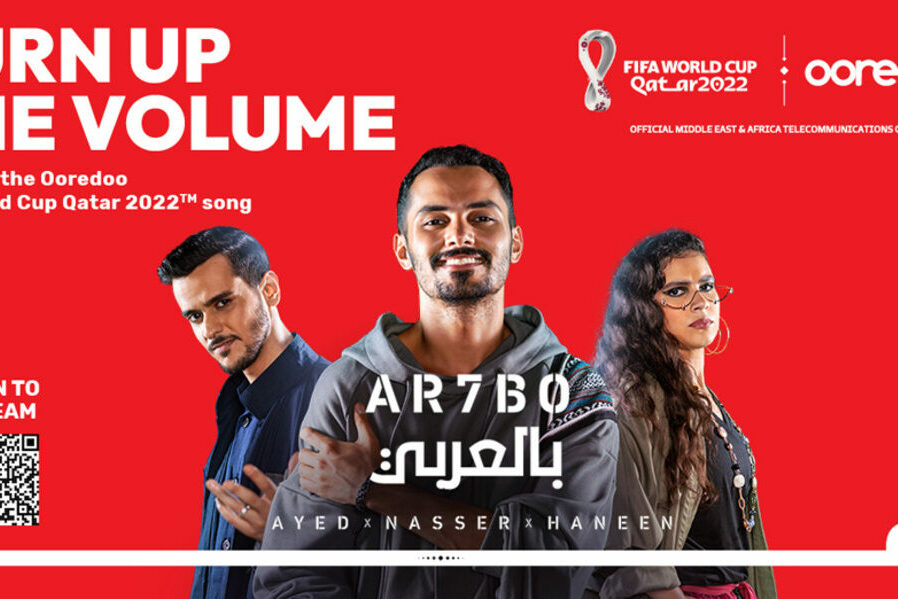 Song poster (Image credit: Ooredoo)
Ooredoo, the official Middle East and Africa Telecommunications Operator of FIFA World Cup Qatar 2022 launched its official song for the tournament.
The song went viral from the first day of its launch, crossing 5 million views across Ooredoo's social media platforms in record time.
The track, titled 'Arhbo', featuring renowned singers Nasser Al Kubaisi, Ayed, and Haneen Hussein, was shared with the world at the launch of Lusail Stadium, during the Lusail Super Cup match between Saudi team Al Hilal and Al Zamalek from Egypt.
Nasser Al Kubaisi, Ayed and Haneen Hussein performed the song live at the stadium launch to celebrate the opening of the FIFA World Cup Qatar 2022 venue.
The song will be shared via Ooredoo's social media channels in the run-up to the tournament, and at the matches, for fans to enjoy.
Sabah Rabiah Al Kuwari, Director PR at Ooredoo, said: "We were absolutely delighted to launch our official FIFA World Cup Qatar 2022 song at the launch of Lusail Stadium. It's a huge privilege for Qatar to host such a prestigious global event and for Ooredoo to partner with FIFA as the official Middle East and Africa Telecommunications Operator, and we can't wait to hear our song on the airwaves as we all look forward to this incredible event."
Exclusives