December 1, 2022 12:26 pm
Powell: Fed preparing to slow pace of interest rate hike in December
Markets welcome move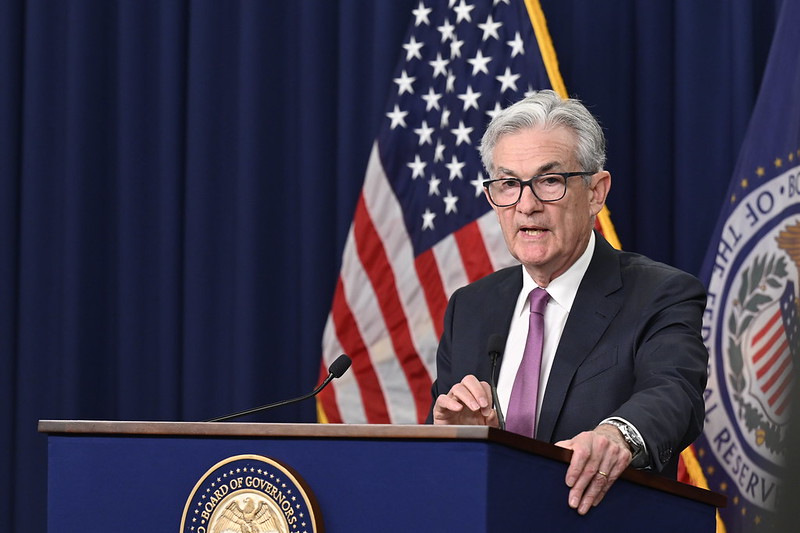 Jerome Powell
Federal Reserve Chairman Jerome Powell stressed Wednesday that smaller interest rate increases are likely to be in the future even as he sees progress in fighting inflation as largely insufficient.
Echoing recent comments from central bank officials and comments at the Federal Reserve meeting in November, Powell said at the Brookings Institution in Washington that he saw the central bank in a position to reduce the size of rate hikes as soon as next month.
But he cautioned that monetary policy is likely to remain constrained for some time until there are real signs of progress on inflation.
If the Fed was looking for any further signs that its rate hike strategy has slowed inflation, it got one on Wednesday. Jobs in the United States fell by 353,000 to 10.3 million in October.
The monthly statement from the US Department of Labor suggests that demand for workers, while still strong, is declining, which in turn could help reduce inflation.
This is the sixteenth consecutive month that the number of vacancies has remained more than ten million, remaining 40 percent higher than before the COVID-19 pandemic.
In its second estimate of third-quarter gross domestic product, the government said gross domestic product increased 2.9 percent year-on-year. This was revised up from 2.6 percent recorded last month.
The economy contracted 0.6 percent in the second quarter.
In his remarks two weeks before the FOMC meeting, Powell said: "Despite some promising developments, we still have a long way to go to restore price stability."
He noted that policy moves such as increasing interest rates and reducing federal bond holdings take time.
"Therefore, it makes sense to reduce the pace of our price increases as we approach the level of restraint that will be sufficient to reduce inflation. "The time may come to adjust the pace of rate increases at the December meeting."
Economists at the Federal Reserve expect the central bank's preferred core PCE price index in October to be released on Thursday, to show inflation moving at an annual pace of 5 percent. That would be down from 5.1 percent in September, but still ahead of the Fed's long-term 2 percent target.
"It will take significantly more evidence to confirm that inflation is indeed falling," Powell said. By any standard, inflation remains very high." "I would simply say we have more space to cover."
Traders now largely expect the U.S. central bank to raise interest rates by 50 basis points at its next meeting.
The state of markets after Powell's remarks
Wall Street applauded the remarks. The Dow Jones Industrial Average closed up 737 points, or 2.18 percent, ending a three-session losing streak. Tech stocks performed better, with the Nasdaq Composite rising 4.41 percent.
The dollar index, which measures the performance of foreign currency against six major currencies, fell 0.40 percent to 106.41. The euro rose 0.32 percent to $1.0364. The dollar fell 0.17 percent against the yen to 138.43 yen.
Gold prices jumped to a two-week high in early Asian trading on Thursday. Spot gold rose 0.4 percent to $1,775.77 an ounce after touching the highest level since Nov. 16.
U.S. gold futures rose 1.7 percent to $1,788.90 an ounce.
Exclusives