March 8, 2023 5:07 pm
Qatar appoints new head to the $450 bn Sovereign Wealth Fund
The change came after Qatar's Prime Minister was replaced earlier Tuesday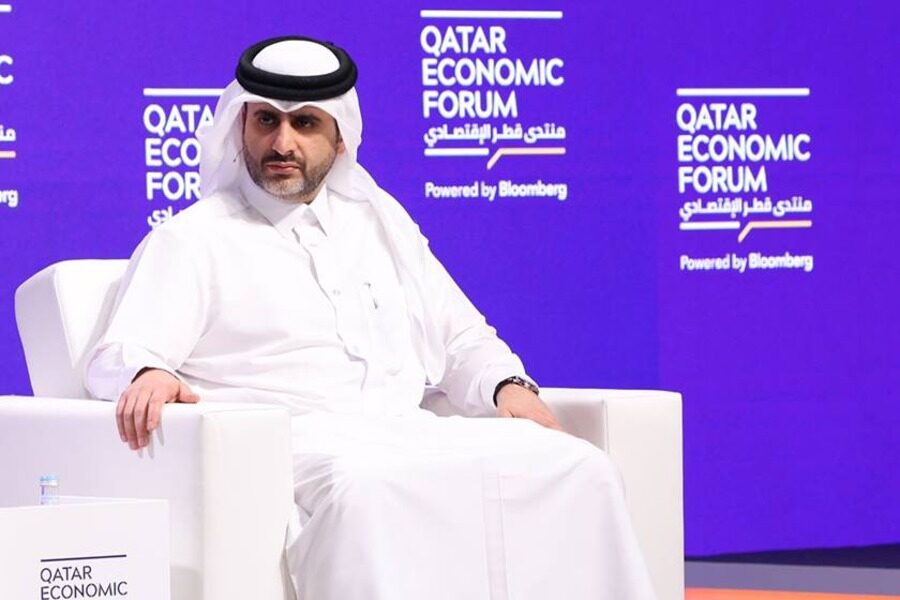 Sheikh Bandar bin Mohammed bin Saud Al-Thani during his participation in the Qatar Economic Forum (Photo Credit: QNA)
Qatar's ruler Sheikh Tamim bin Hamad Al Thani appointed Sheikh Bandar bin Mohammed bin Saud Al-Thani, governor of the central bank, as chairman of the Qatar Investment Authority (QIA), according to Qatar News Agency (QNA)
The change at the country's $450 billion sovereign wealth fund came after Qatar's Prime Minister was replaced earlier Tuesday.
Who's Sheikh Bandar?
Sheikh Bandar has spent most of his professional life in the financial and regulatory sector, before assuming his position as Governor of the Qatar Central Bank, according to Qatar Financial Centre Regulatory Authority (QFCRA). Prior to this appointment, he was Head of the State Audit Bureau during the period 2015-2021. Sheikh Bandar was elected President of The Arab Organization of Supreme Audit Institutions (ARABOSAI) and Chairman of the Executive Council of the Organization. Sheikh Bandar also held several senior positions in the Qatar Central Bank, where he started his career in the Credit and Banking Supervision Section and joined the Investment Department as head of trading and managing the foreign exchange reserves at the Qatar Central Bank. He also played a key role in establishing the Qatar Credit Bureau.
As CEO of Qatar Credit Bureau, the responsibility and leadership of the Banking Risk Department were assigned to him in 2014. In addition to these responsibilities, he was also appointed as a member of the Qatar Projects Board of Directors and a member of the Executive Committee representing Qatar Central Bank.
Sheikh Bandar holds an Executive Master of Business Administration (EMBA ) from the HEC Paris. He also has a Bachelor's degree in Business Administration, majoring in Finance, from the American University, Washington, according to QFCRA.
Read more: Qatar's sovereign fund deposits $1 bn with Egypt's Central Bank
Qatar's Ruler makes top diplomat his new Premier
Qatar's top diplomat has been sworn in as the country's prime minister, replacing another member of the ruling family who had held the post since 2020, QNA reported.
Sheikh Mohammed bin Abdulrahman Al Thani was sworn in as the new head of government by Qatar's Emir Sheikh Tamim bin Hamad Al Thani.
Sheikh Mohammed replaces Sheikh Khalid bin Khalifa bin Abdulaziz Al Thani, who had served as prime minister and interior minister — responsible for domestic security — since 2020.
For more on economy, click here.
Exclusives