Cristiano Ronaldo has remarked that reaching the milestone of 500 club goals for his career was "a great feeling" after scoring all four goals for Al Nassr in a 4-0 victory over the home team, al-Wehda, on Thursday in the Saudi league.
The Portuguese superstar, who turned 38 on Sunday, has now scored 503 goals for five different teams in five leagues.
Read more: Has Saudi strengthened its 2030 World Cup bid with Ronaldo signing?
He netted 103 goals for Manchester United, 311 goals for Real Madrid, 81 goals for Juventus, three goals for Sporting Lisbon, and five goals for Al Nassr as of right now.
He bagged his 500th goal on Thursday in the 21st minute with a left-footed shot.
"Great feeling to have scored four goals and reached my 500th league goal in a very solid win by the team," he tweeted shortly after his victory.
Before the interval, he added a second, and eight minutes into the second half, he scored his hat-trick from the penalty spot.
The five-time Ballon d'Or winner agreed to a two-and-a-half-year contract with Al Nassr in December. Later, he was named the team's captain.
In January, in a grand ceremony staged upon his arrival in Riyadh, Ronaldo was formally welcomed into Al Nassr with his family by his side.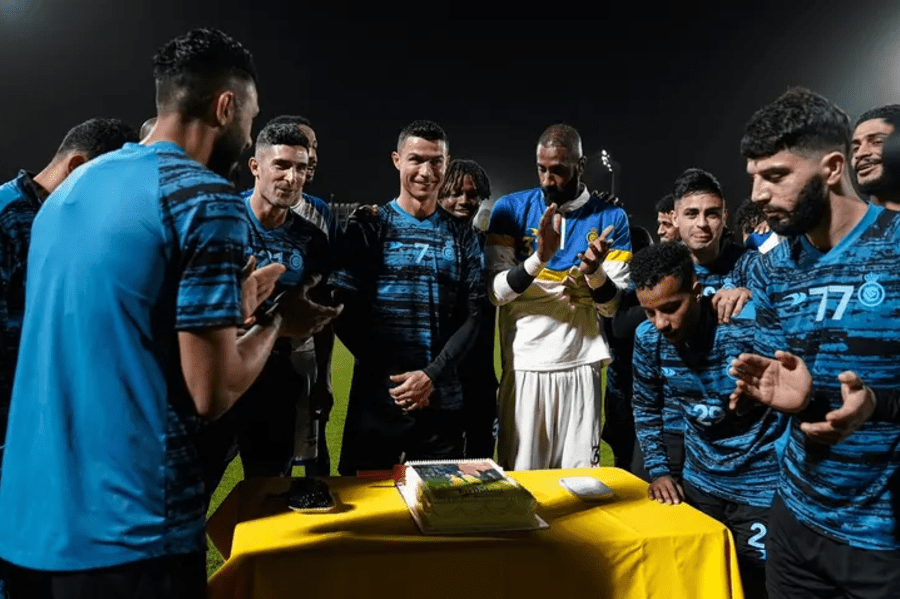 On February 5, Ronaldo's birthday was celebrated for the first time in Riyadh after relocating to the Saudi capital in January to join the Al Nassr soccer team.
On Monday, the club shared images and a video of Ronaldo's teammates singing him "Happy Birthday" on Twitter. Then Ronaldo cut a cake that had an edible portrait of him, his partner Georgina Rodriguez, and their kids on it.
For more on Cristiano Ronaldo, click here.