There are currently peace efforts to bring an end to the expensive war in Ukraine and this can only bode well, not only for Russia and Ukraine but also for the rest of the world.
The war in Ukraine cost the global economy "well over $1.6 trillion" last year, according to a study released this February by the German Institute of Economics. It estimates global production losses could amount to another $1 trillion in 2023,
Peace means lifting of sanctions on Russia, oil and gas flowing back to Europe, and an abrupt end to inflation, meaning a return to normal for global economies, well, albeit one that will be geared to tackle global debt, and major economies flirting with a recession.
But until that happens, if it happens and hoping the world is spared a nuclear escalation, the Russian economy continues to show weaknesses, but are these enough to drift the economy into negative growth?
EU Sanctions impact
Since Russia's invasion of Ukraine in February 2022, the EU Council adopted 10 packages of sanctions against Russia and Belarus aimed at undermining Russia's ability to finance the war, but not targeted at Russian society, as food, agriculture, health, and pharmaceuticals were excluded.
These restrictive measures have had an impact on the Russian economy.
Read: What is the fate of the Ukrainian-Russian grain agreement?
The World Bank, the International Monetary Fund (IMF), and the Organisation for Economic Cooperation and Development (OECD), all agreed that in 2022, Russia's GDP, at best, dropped  2.2% while the worst-case scenario showed a 3.9% GDP drop.
The OECD and the World Bank project an ever dimmer view in 2023. Russia's worst-case scenario for its economy projects a decline by 5.6% according to the OECD and by 3.3% according to the World Bank.
As for the IMF, it had a more upbeat analysis, predicting Russia's GDP to grow at 0.3% in 2023.
And although 2.6 percent less than IMF's anticipating a global average GDP growth of 2.9%, the organization slingshots Russia's economy in 2024, believing its GDP will increase by as much as 2.1%.
The IMF is also optimistic about other economies with the exception of the UK.
Its forecast for China was upgraded from 4.4% to 5.2% and the projection for the US jumps from 1% to 1.4%. The IMF believes Germany is expected to grow by 0.1%. Britain is expected to finish the year with a drop in GDP of 0.6%.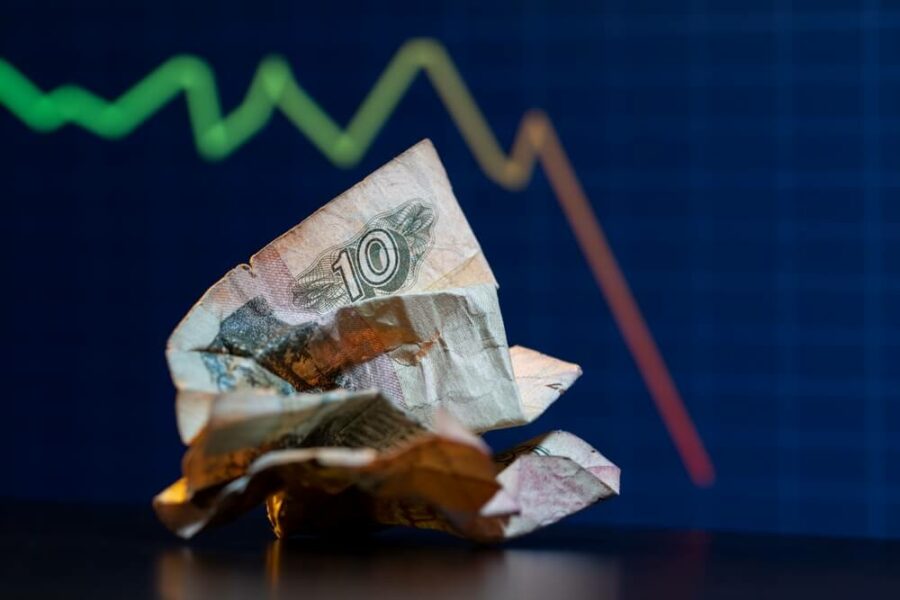 Expectations for Russia's economy
Both the World Bank and the IMF estimated that in 2023, exports will continue to decline, while imports are expected to be higher than in 2022.
This year, MOEX, Moscow Exchange's main index, fell by 23% as of March 23, 2023.
Russia's economy will feel the strain of reduced demand from other economies, a global economic slowdown, and the escalating conflict in Ukraine putting pressure on public finances.
GlobalData's latest report, "Macroeconomic Outlook Report: Russia," revealed that more than 14,000 new sanctions were imposed on Russia that had battered the economy in 2022.
The EU prohibited seaborne export of Russian oil to it as of December 5, and the ban on petroleum products was effective from February 5th, 2023.
However, a resourceful Russia increased its oil exports to India and China. In 2022, India, China, and Turkey together accounted for 70% of all the Russian crude flows by sea.
Russia though still has to deal with inflation rates that restrict consumer spending. According to the Rosstat federal statistics agency, the inflation rate in Russia was 11% in February 2023, much higher than the Bank of Russia's target of 4%. GlobalData forecasts the inflation rate to ease to 5.7% in 2023 from 13.7% in 2022.
Financing public expenditures
To finance public expenditures heavily dented by war overheads and economic sanctions, Russia resorted to debt borrowing in the form of domestic bond issues.
To overcome a recession and ensure sustainable growth from early 2024 onwards, Russia unveiled a plan in 2022 to develop the economy up until 2030. Headlining these are the development of transport and logistics infrastructure, ensuring technological independence, and digitalization. Against this backdrop, GlobalData forecasts the Russian economy to register a growth rate of 1.9% in 2024.
for more on Russia, click here.