Saudi National Day, celebrated annually on September 23, marks the unification of Najd and Hijaz into the Kingdom of Saudi Arabia.
In light of this, the Ministry of Human Resources and Social Development has declared the 93rd Saudi National Day a public holiday so that people could enjoy festivities all weekend long.
Check out these events to celebrate this important day with the people of Saudi Arabia.
Saudi National Day 2023 events
Azimuth in AlUla
This spectacular music festival will run from dusk to dawn, featuring a lineup of renowned artists.
Scheduled headliners include Jorja Smith, Chet Faker, and Saint Levant. Moreover, other performances to be anticipated are from Shkoon Live, Thievery Corporation, Âme & Dixon, and Tinariwen.
Furthermore, the Australian indie rock sensation Dope Lemon and the intriguing Australian singer, RY X, will also showcase their talents at this music festival.
Moving beyond the international acts, the festival will play host to 13 confirmed regional performers. These include Cosmicat, Dish Dash, Baloo, Vinyl Mode, Kayan, Dorar, Sokkary, Zone+, NOMAD, Anmarz, BluePaper, Narkbeat, and DJB10.
Read: Saudi takes second place globally in international tourist growth rate
Folk Dance Performances
The vibrant folk dance stands out as a distinctive feature during Saudi National Day. Each dance performance represents one of five unique forms from different regions of Saudi Arabia. 
Dancers, wearing traditional clothes, express the nation's cultural heritage through their movements. Consequently, the inclusion of these diverse regional dances enriches the national celebration.
Art Shows
Immerse yourself in Saudi Arabia's artistic side during National Day. Observe artists skillfully presenting various art forms, including music and traditional paintings. 
These cultural expressions make the celebration more significant and memorable, allowing you to experience Saudi heritage at its finest. Art shows have been scheduled in various malls and public areas that are open to the public.
Saudi Hawks Air Show
Additionally, you simply cannot miss the highly anticipated and thrilling Saudi Hawks Air Show. This impressive event features spectacular jetfighters and civil aircraft soaring through the sky, leaving streaks of vibrant Saudi colors in their wake.
Furthermore, as the largest air show in Saudi history, it is a spectacle best observed from prime locations such as Khobar Corniche and Um Ajlan Park in Riyadh. These venues provide unparalleled views of this breathtaking display.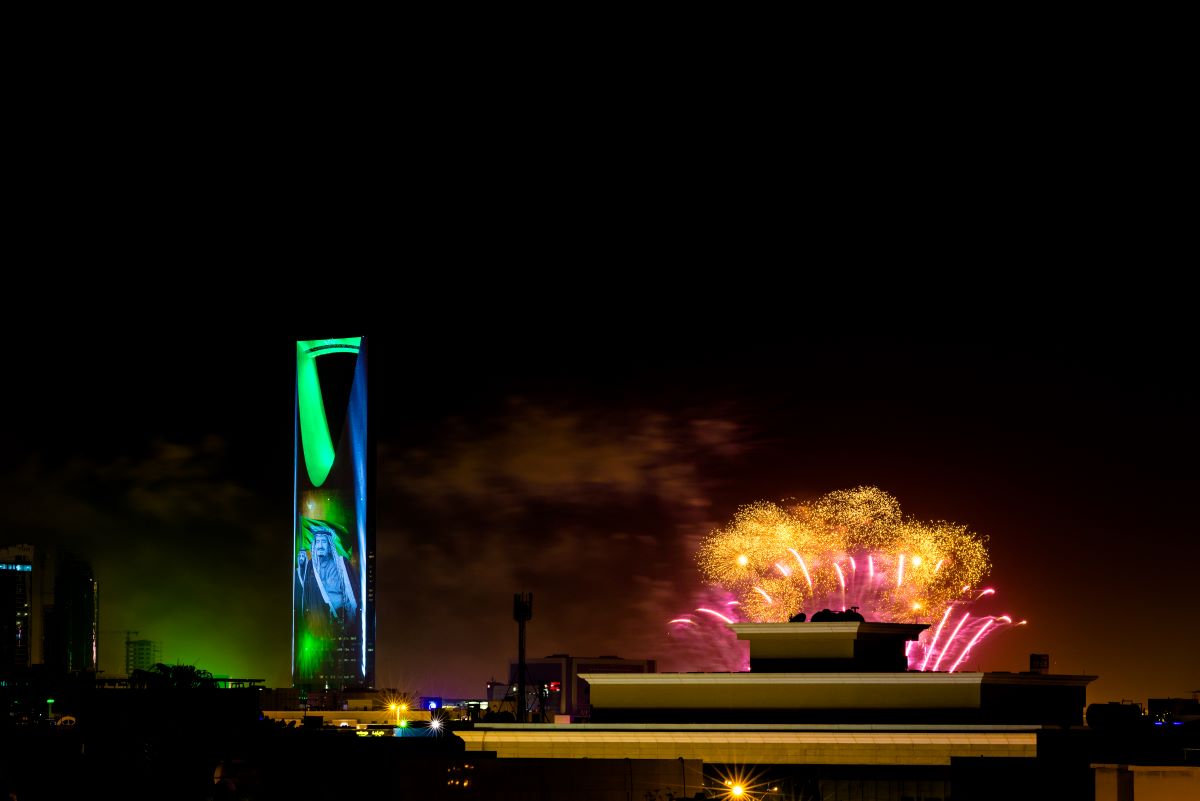 Poetry Recitations
In Saudi Arabia, poetry serves as a deeply revered love language, and this affection gets magnified during Saudi National Day. Representing Arabic culture and literature, soothing recitations resonate throughout the day. 
Following the rhythm, these recitations are not only expressions. More so, they have become a heartfelt testament to their love for the country. 
Fireworks
Among the multitude of events unfolding in Saudi Arabia, the fireworks show captures everyone's eager anticipation. Glistening with vibrant, multicolored lights, the night sky celebrates National Day in spectacular fashion, perfect for relishing with loved ones. 
Moreover, the communal act of gathering to watch this spectacle is a potent symbol of the unity and shared connection among spectators.
Horse Jumping Competition
The esteemed Almortataz Equestrian Center in Riyadh hosts this event, guaranteeing an adrenaline-filled experience. Enjoy as champion horses fiercely vie for the winning spot, and even find your favorite to cheer on. Indeed, this intense and high-energy competition is another unmissable highlight of the national festivities.
Looking ahead
These Saudi National Day celebrations encapsulate the rich and diverse culture, the shared patriotic sentiment, and the sheer joy of celebrating a significant event. Make sure to mark it on your calendars; it is an event not to be missed.
For more stories on hospitality and tourism, click here.