January 26, 2023 12:08 pm
Saudi, South Korea partner to construct modular homes in Kingdom
And to explore developing innovative technologies in real estate sector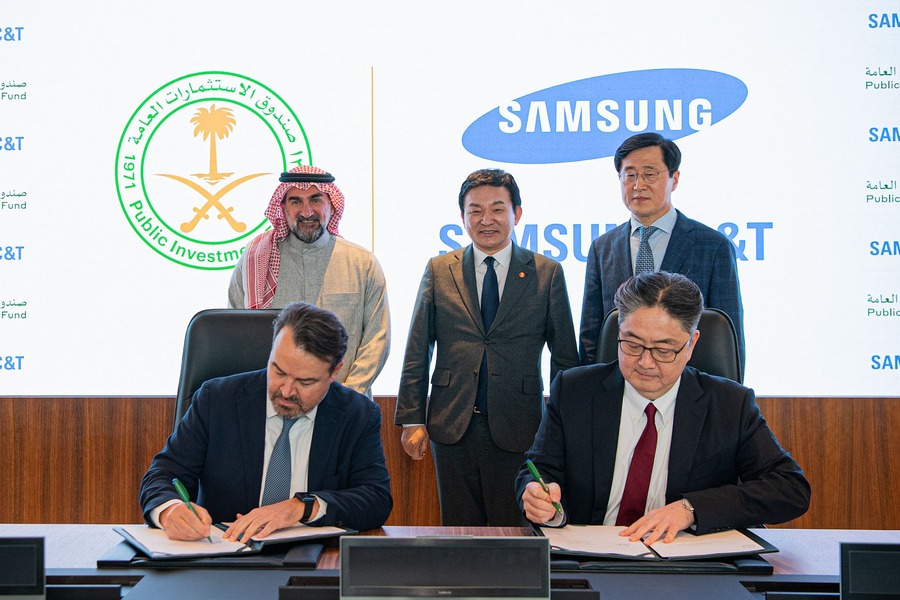 (Standing from left) PIF Governor Yasir Othman Al Rumayyan and South Korea's Minister Won Hee-ryong (Image courtesy: Saudi PIF)
Saudi Arabia's Public Investment Fund (PIF) announced in a tweet that it has signed a memorandum of understanding (MoU) with South Korea's Samsung C&T Corporation Engineering & Construction Group.
As part of the deal, Samsung C&T will be building modular homes in Saudi Arabia in a joint investment with PIF. These residential units will either come up in the Saudi futuristic city Neom or in Riyadh, reported The Korea Economic Daily, citing a senior Korean minister.
Additionally, the MoU seeks to identify opportunities for joint collaboration in the adoption and development of innovative technologies to support PIF's real estate and construction projects.
Read more: Saudi PIF ranks 5th among the world's top SWFs
The deal was signed by South Korea's Minister of Land, Infrastructure, and Transport Won Hee-ryong at a meeting hosted by PIF Governor Yasir Othman Al Rumayyan in Saudi Arabia.
Currently, the Fund is working on a number of ambitious construction projects. The futuristic planned mega-city NEOM in the northwest is perhaps the most well-known. NEOM's plans include The Line, a 170-kilometer (105-mile) linear smart city, Oxagon, a floating port, flying taxis, and more.
Furthermore, PIF also announced a new tourism project in Diriyah, near Riyadh, earlier this month. For the project, the fund will build new hotels and event infrastructure.
In January 2022, PIF signed an MoU with South Korea's Posco and Samsung C&T to develop a new green hydrogen production plant.
"Samsung C&T will be a close partner to Saudi Arabia, with aims to help position the Kingdom to be one of the largest hydrogen exporters globally," said Oh Se-chul, President and CEO of Samsung C&T.
For more economic news, click here
Exclusives