August 15, 2022 4:22 pm
Saudi's Tanmiah delivers 31% increase in annual revenues
Supported by strong product demand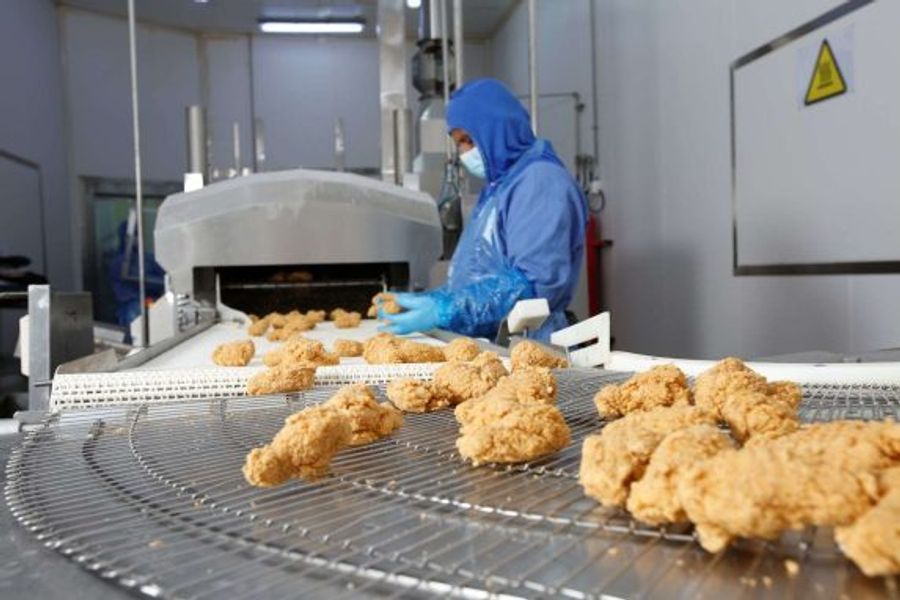 Worker in a fried chicken kitchen
Saudi-listed food franchise operator Tanmiah Food today announced its results for the first half ended 30 June 2022, with a 31 percent year-on-year (YoY) growth in revenues to 965.9 million riyals, up from 734.9 million riyals. 
Gross margin improved to 23.3 percent from 22.8 percent in H1-2021, while earnings before interest, taxes, depreciation, and amortization (EBITDA) of 107.5 million riyals (+30 percent YoY), yielded a margin of 11.1 percent.
Net income increased 43 percent YoY from 22.2 million riyals to 31.7 million riyals, on the back of the robust topline performance and gradual price increases in the fresh chicken category. 
Top-line growth was driven by strong performance across all segments, in particular fresh poultry and further processed products, reflecting a combination of both price and volume effects. 
Fresh Poultry sales, comprising 69 percent of total revenues, increased 31 percent YoY to 666.2 million riyals from 510.7 million riyals in a similar period last year. Fresh poultry revenue growth was driven by a continued expansion of capacity, leading to sustained volume growth, in line with the rising popularity of Tanmiah's products, as well as a gradual increase in prices across the fresh chicken category. The Group had ended 2021 with a daily capacity of 370,000 birds and increased it to 420,500 birds per day (net of rental capacity), marking a 13.6 percent growth, following the upgrade of Tanmiah's facility in Majmah, north of Riyadh. 
Processed Products revenues grew by 31 percent YoY to 199.0 million riyals during H1-2022. This increase in sales comes on the back of growth in demand from the food service channel, and a gradual revision of prices for key foodservice customers during contract renewals. 
Feed and animal health revenues of Tanmiah grew by 26 percent to 91 million riyals in H1-2022, predominantly due to the increasing demand for animal health products and equipment. 
Moreover, the company's revenues amounted to 9.8 million riyals in H1-2022, with Q2 reflecting the second full quarter since the launch of the food franchise verrticals.
Zulfiqar Hamadani CEO of Tanmiah, commented: "The recent completion of refurbishment projects at our Majmah facility to reach a capacity of 420,500 birds per day (net of rental capacity) will further boost revenues and profitability in the upcoming quarters and is a major milestone in our goal to reach a production capacity of 1.2 million birds per day by 2025."
"Despite the volatility in global commodity prices, our strong market positioning, and the increasing preference by customers for our diversified product offerings have enabled us to mitigate this impact by carefully managing price, thus resulting in margin improvement during the period," he added.
Exclusives