February 3, 2023 11:15 am
Technology can support delivery of ESG in construction
Awareness of ESG essential as ethical investment interest grows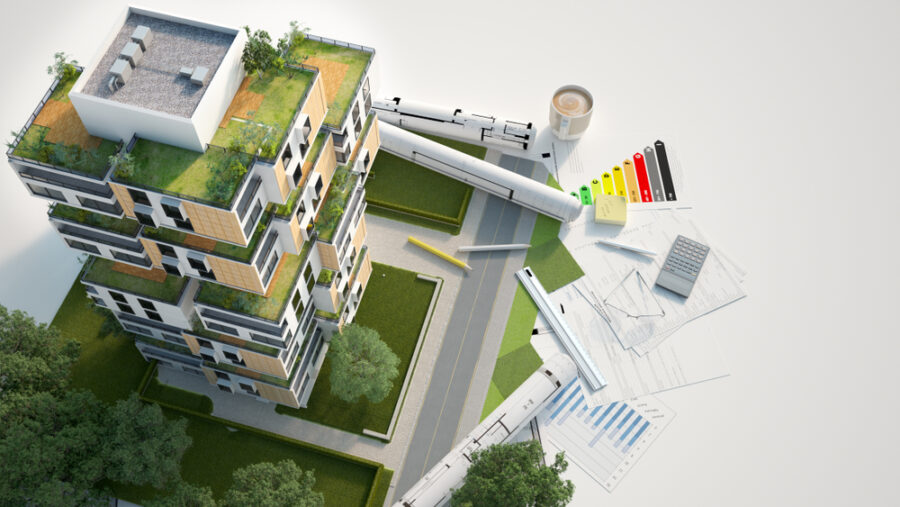 Technology could support adherence to ESG goals in construction.
Technology will emerge as a key ingredient to achieve compliance to ESG in construction as 'ethical' investing gains traction in the Middle East.
Access to finance is undoubtedly critical for the regional construction industry. The Royal Institution of Chartered Surveyors' (RICS) Global Construction Monitor survey in Q3 2022 found 85 percent of respondents citing financial constraints as holding back construction activity in the Middle East and Africa.
Improving supply chain management, and investments in automation, data and digitalization were also listed as regional priorities. 
More construction companies are now adopting technology to achieve productivity gains. Significantly, it can also help unlock financing from 'ethically conscious' investors.
Environmental gains
The greatest benefit of digitalization is its production of measurable and trackable data. This information can also be analyzed for opportunities to improve existing performance and standardize future processes.
This pursuit of improvement is essential if the construction sector is to reduce its environmental footprint. Buildings account for 40 percent of global energy consumption, a quarter of global water usage, and a third of greenhouse gas emissions, according to the United Nations Energy Program.
READ MORE: ESG could unleash investment wave in UAE real estate
Using technology can help incorporate environmental sustainability into the early stages of a project too. Carbon impact measurement tools in pre-construction environmental impact assessments can help to mitigate a project's carbon emissions during delivery – including through equipment, transportation and material supply.
"In all likelihood, there will be an increase in the use of digital twins and scenario modeling, at scale, to determine the effect of the different decarbonization solutions on ESG results, and to choose optimal green solutions," Deloitte said in its ESG Trends in Construction 2022 report.
"In the tendering and early planning stages of projects, construction companies and their supply chains, will be expected to demonstrate their ESG credentials and innovation."
Worker welfare
The health and safety of construction workers has traditionally been an underserved area of investment. But in recent years, safeguarding worker wellbeing and mental health has become a greater priority globally.
A GlobalData survey in July 2021 found 72 percent of respondents citing health and safety as the most significant ESG issue of concern.
Protecting worker rights and better risk management was a focus for 36 percent of respondents. Minimizing the effect of construction activities on local communities was the focus for only 10 percent of respondents.
READ MORE: Majid al-Futtaim raises $1.25bn loan to promote ESG targets
Technology can help to manage the critical worker-welfare element of ESG mandates. 
Wearable technology such as smart helmets and watches can help to monitor employee safety metrics such as fatigue and alert workers when a break is necessary. 
Geolocation-enabled telematics platforms can help ensure driver safety standards are followed, and augmented and virtual reality solutions are starting to be used as part of global worker training programs. 
The use of digital tools to precisely manufacture building components off-site is finding takers as well. Modular construction can help to raise quality assurance as well as reduce worker exposure to traditional site risks such as noise, dust and exhaustion. 
"The construction industry is facing ever-increasing scrutiny of its ESG record," Deloitte said. "Construction companies and projects will need to identify, plan and deliver ESG strategies that […] benefit the communities they operate in."
ESG in construction outlook
ESG-compliant investment is projected to grow in the Middle East. Forty-one percent of regional investors want to implement an effective ESG investing policy, HSBC found in a 2020 poll. Regional businesses are especially prioritizing diversity, climate change and safety, a PwC analysis in May 2022 showed.
Regional real estate companies must reorient development plans with ESG components at the center of operational and management strategies.
READ MORE: Digital technology reducing impact of built environment
Displaying a commitment to supporting ESG-focused construction partners could go a long way in helping developers secure project finance.
For construction companies, it will be imperative to increase investments in making their projects greener and workers safer. Technology adoption could help deliver these positive ESG outcomes if building industry collaboration is ramped up. 
Exclusives