October 10, 2022 8:25 pm
The IMF, World Bank, warn of a growing risk of a global recession
The IMF would cut global growth forecast by 2.9% in 2023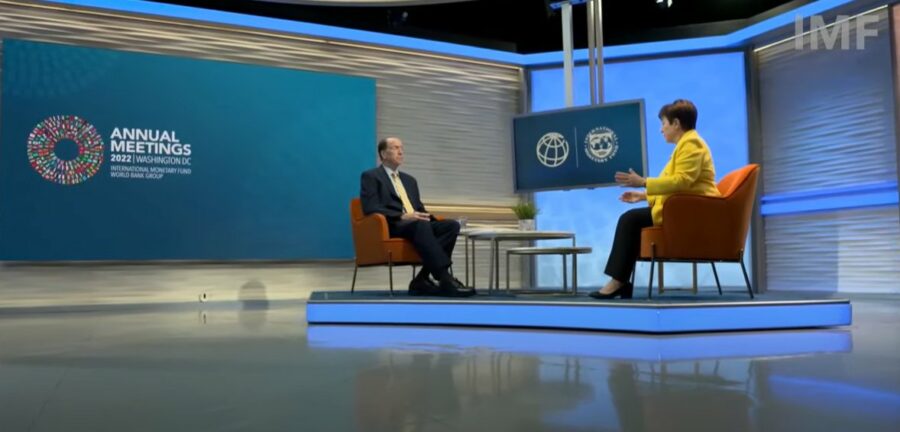 Georgieva and Malpass
The IMF and the World Bank have warned of a growing risk of a global recession and said inflation remains an ongoing problem after the Russian-Ukrainian war.
In an interview with IMF President Kristalina Georgieva at the start of the first in-person meetings of the two institutions since the coronavirus pandemic, World Bank President David Malpass said: "There is a danger, a real risk of a global recession next year."
He pointed to slower growth in advanced economies and currency depreciation in many developing countries, as well as ongoing inflation concerns.
Georgieva expressed deep concern about a large-scale recession that would be painful for developing countries affected by tighter financial conditions and a lack of capital to help them. This is in addition to the debt crisis as "the high cost of borrowing is beginning to have a very negative impact on poor countries."
Georgieva announced last week that the IMF would cut its global growth forecast by 2.9 percent in 2023 when the World Economic Outlook comes out on Tuesday.
Speaking at a joint conference with Malpass in the morning, Georgieva said international financial institutions were facing increasing economic challenges and disasters as a result of climate change with no financial resources available to address them.
She explained that a third of the world's economies will witness two consecutive quarters of negative growth during the rest of this year and the beginning of the next, and the slowdown of the economy will cost $4 trillion until 2026.
Georgieva pointed to $30 billion to adapt to negative impacts and disasters related to environmental change, while what the world needs is between $3 trillion and $6 trillion.
Malpass warned of an economic downturn over the next year as Europe's advanced economies slowed and the debt burden on developing countries increased. "We have estimated that an additional 70 million people will go into poverty," he said.
He noted that in 2022 poor countries will have to pay 44 billion to creditors. "We are in the middle of a wave of debt crisis and I think we need to focus on debt reduction so that we can reach the point of having more fiscal space to face other limitations," he said.
Exclusives