Twitter is not just threatening to sue Meta over the Threads app. It already did. While not privy to the content of the case, the suit alleges that the company stole "trade secrets."
Has the mixed martial arts (MMA) fight between Mark Zuckerberg and Elon Musk already started off the octagon?
See you in court
Last Thursday, Alex Spiro, a Twitter lawyer, sent a letter to Mark Zuckerberg accusing Meta of "systematic, willful, and unlawful misappropriation of Twitter's trade secrets and other intellectual property," according to a report from Semafor.
The lawyer also alleges Meta had recruited several former Twitter employees to help build Threads and implied that these employees continue to have access to Twitter's trade secrets and other confidential data.
In a Threads post by Meta communications director Andy Stone, he said: "No one on the Threads engineering team is a former Twitter employee—that's just not a thing."
Threads goes viral
In the span of a few hours, the tech platform Threads went from millions of new users to now over 50 million, on the strength of an algorithm that predicts exactly what you want to read from your friends. Meta is using its vast machine-learning knowledge to predict what discussions will be the most engaging to users, similar to what it is also applying to Instagram.
When you open the app, a prompt pulls you into a comment you want to read. That's the magic behind it.
Twitter focuses more on whom you follow and is used as a news reader by following news accounts and keeping up with their tweets.
News for the sake of capturing attention to developing stories is not what Threads is about as a social media platform. It's more geared towards information that will entertain us and keep us engaged.
Read: Meta stock jumps following launch of Threads
Twitter troubles
Threads users can write posts up to 500 characters long with the option to include photos, links, or short videos.
Meta is one of several companies looking to peel away Twitter users who are dissatisfied with the app. The Threads debut puts more pressure on Twitter owner Elon Musk, who made a recent decision to limit the number of posts users can read on Twitter, something that has alienated many users, who already had issues with the no-longer free blue checkmark account verification.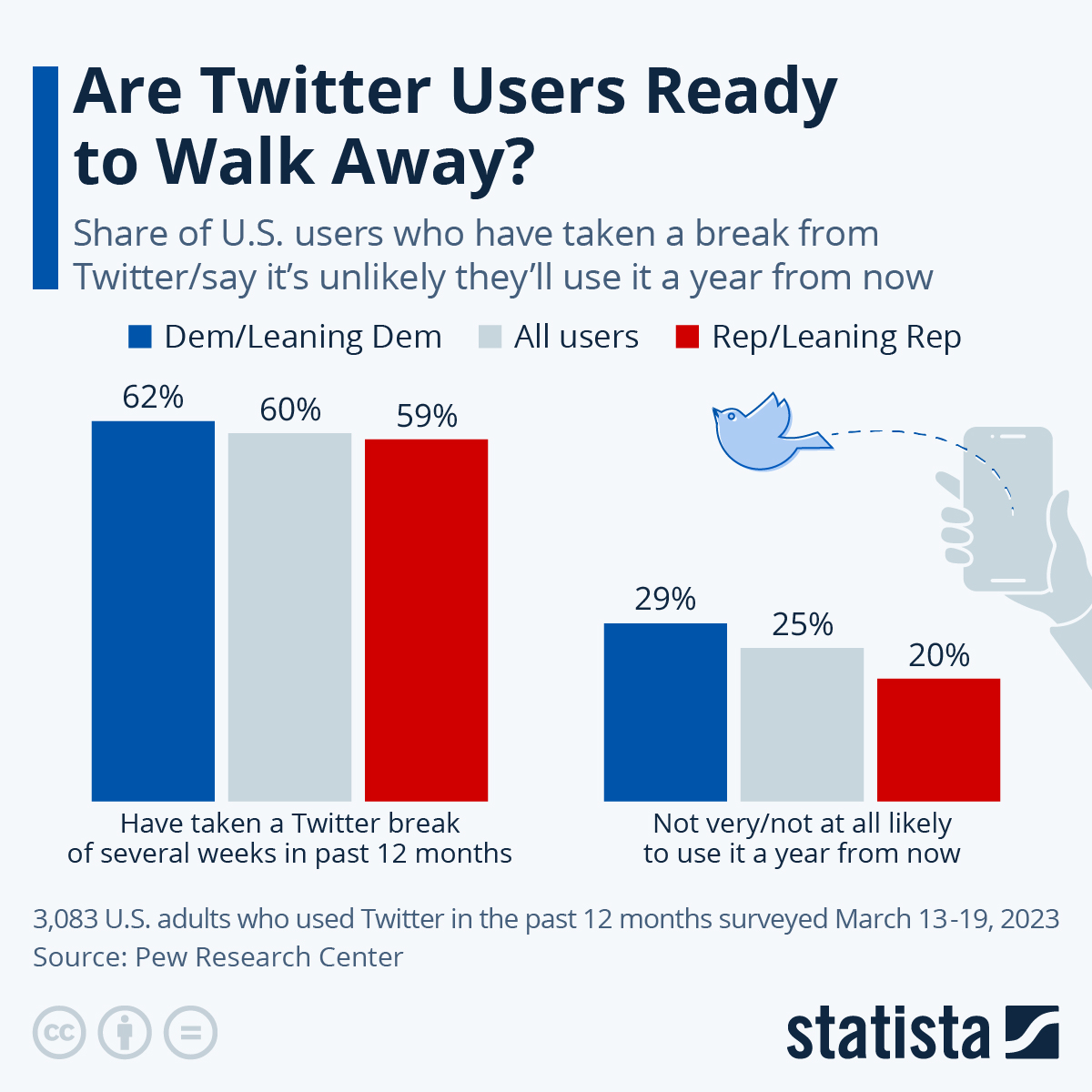 Statista reported that problems at Twitter have led many users to take a break from the platform. According to the Pew Research Center, 60 percent of roughly 3,000 surveyed users in the U.S. said that they had taken a Twitter break of at least a couple of weeks in the past 12 months. But only 25 percent of respondents said that they didn't see themselves using the platform a year from now. That was before Threads made it to the scene.
Threads isn't the first app to go after Twitter. Mastodon, Bluesky, Truth Social, and Spill have not had the success Threads is having and this is mainly due to Instagram having a huge user base as Threads users can import their follower lists over from Instagram's 2 billion-plus users.
Risks threads has to tread
While a lawsuit was something Meta expected, EU's antitrust authorities' incoming Digital Markets Act will pose a problem for Threads, particularly the new law's ban on "gatekeepers", like Meta, who mix data between core services without the user's explicit consent, in this case mixing Instagram and Threads.
Threads, for example, shows you recommended posts from accounts and brands like Facebook that you don't necessarily follow, paving the way for potential heated discussions on privacy issues.
For more tech news, click here.