International schools in Riyadh are renowned for their commitment to delivering high quality education. These schools have become a leading choice for parents who want the best for their children while living in Saudi Arabia.
Nestled in the heart of Saudi, Riyadh boasts a diverse selection of prestigious international schools. In addition, according to ISC Research, Riyadh is among the cities in the Gulf region with the greatest potential for growth. About 42 new international schools are expected to open across the GCC in 2023 and 2024 and enquiries for new schools continue on an almost daily basis. Three new international schools in Riyadh in the academic year 2022-2023, with existing ones considering campus expansions.
Here are some of Riyadh's top international schools. 
Despite being one of the older international schools in the city, Al Yasmin International School Riyadh remains dedicated to advancing its teaching and learning methods.
The school places great emphasis on delivering a comprehensive education that promotes academic excellence, character development, and critical thinking skills. Moreover, Al Yasmin is highly praised for its commitment to fostering a supportive and inclusive learning community.
Al Faris International School Riyadh is a leading co-educational private school founded in 2004. It caters to students from PreK to Grade 12. In addition, the school holds full authorization as an IB World School, offering the following:
Primary Years Program,

Middle Years Program

Diploma Program
Additionally, it is licensed by the Saudi Ministry of Education.
Read: Riyadh inaugurates global AI research center
The British International School Riyadh provides a British-style education known for its academic rigor and opportunities. BISR consists of five campuses.
The school takes pride in its 40 years of educational provision for children aged 3-18. Furthermore, it caters to English-speaking boys and girls within this age range and follows the National Curriculum of the United Kingdom.
With highly qualified teachers, modern facilities, and a focus on research and innovation, BISR creates a dynamic learning environment.
Dar Al-Fikr School was founded in 1985 to provide high-quality education to the children of Jeddah. Specifically, the founders aimed to create a distinctive educational experience taking inspiration from the schools in the United States and Britain.
The school sets itself apart with its exceptional bilingual educational program that merges Arabic and English. This unique approach to language learning sets the school apart and has made it a popular choice among parents.
Daratassalam International, Delhi Public School enjoys high esteem as an educational institution in Saudi Arabia. The school nurtures its students to excel in public speaking, earning recognition for their proficiency in both prepared and spontaneous speeches.
In 2023, they won the 3rd Excellence in Education Awards in the category of Education Philanthropy.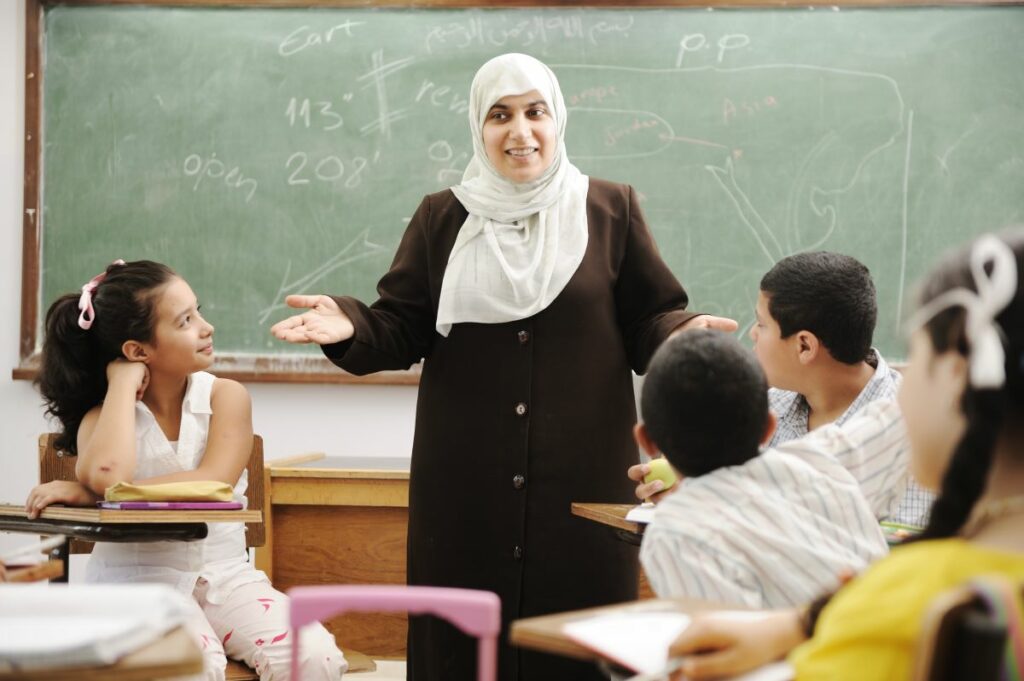 Few years since its creation, the school underwent a renaming and became known as International Indian Public School.
The school holds an affiliation with the Central Board of Secondary Education and operates with a license from the Ministry of Education. Likewise, it operates under the Patronage of the Ambassador, Embassy of India, Riyadh, Kingdom of Saudi Arabia.
Established on August 10, 1985, the International Philippine School in Riyadh originally operated as the Philippine Embassy School in Riyadh.
Initially, it was created to serve the educational needs of the children of Philippine Embassy officials and staff. However, over time, the school began accepting the children of overseas Filipino workers in Riyadh.
It is recognized by the Philippine Department of Education, with Government Permit No. 002 issued on November 18, 1986. The Ministry of Education-Directorate of Foreign Education also granted the school a license on January 29, 1996.
Reigate Grammar School Riyadh operates under the esteemed Royal Commission for Riyadh City International Schools Programme.
In collaboration with Reigate Grammar School UK (RGS-UK) and ADECO, the education arm of Ethra Holdings, RGSR officially opened its doors in September 2022. The school embraces a similar ethos, teaching and learning philosophy, and student welfare model as its UK counterpart.
Situated east of Riyadh, RGSR currently educates around 1,000 students aged 3 to 18. It welcomes both international and local students, representing over 50 nationalities within its diverse community.
Riyadh International School was established as a stock corporation in April 1998. The school is classified under Category 4 of educational institutions and has a strong focus on value-oriented education.
The school aims to shape its students' behavior to align with the school's fundamental objectives of promoting total personality development. In addition, it actively works to develop each student's full potential by providing a comprehensive, well-rounded education.
The American International School Riyadh is an independent, non-profit, co-educational learning community founded in 1963. In particular, the school provides an enriched American curriculum with an intercultural perspective for students from pre-kindergarten to grade 12.
Furthermore, it offers the International Baccalaureate Diploma Program and is accredited by the New England Association of Schools and Colleges and the Council of International Schools (CIS).
On top of that, CIS awarded the school with the Global Citizenship Certification.
Looking ahead
Choosing the right school is an important decision to make for parents. Other equally significant considerations include their children's individual needs as well as cultural considerations.
With the right school decision  comes opportunities to earn quality education that can pave the way for future success.
For more stories on the economy, click here.