March 3, 2023 11:18 am
UAE President, Dubai Ruler praise successful launch of UAE space mission
SpaceX launches US, Russia, UAE astronauts to space station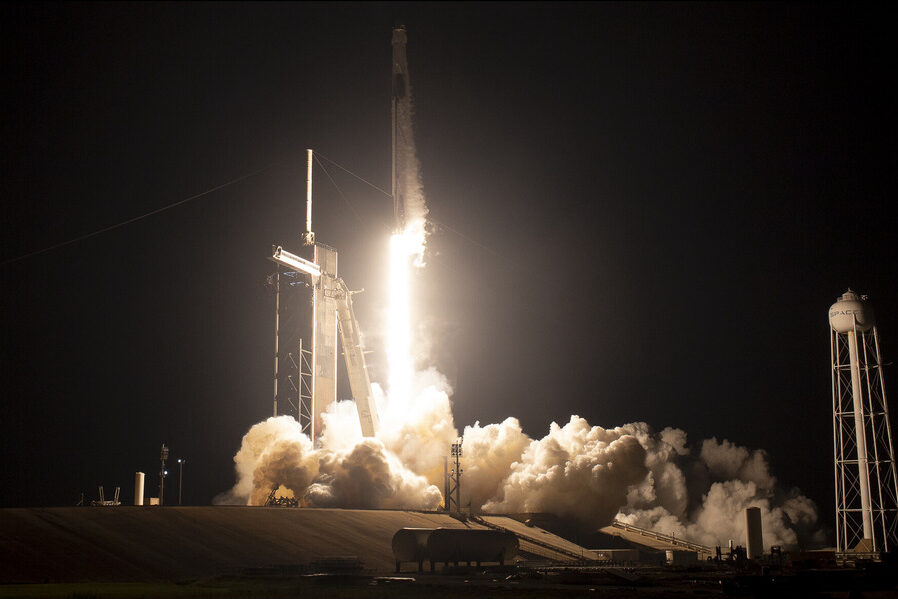 UAE space mission launches (Photo Credit: NASA)
UAE President Sheikh Mohamed bin Zayed Al Nahyan praised the successful launch of the UAE space mission, state news agency WAM reported.
Sheikh Mohamed said: "The participation of Emiratis in this mission is seen as a step closer towards achieving our vision of ensuring a better future for generations and strengthening their participation in building the future."
Sheikh Mohammed bin Rashid Al Maktoum, Ruler of Dubai, said the mission furthered the ambitions of the UAE in the space sector.
"Our ambition in exploring space sciences is limitless, and we are keen to strengthen our position in this promising sector."
UAE astronaut Sultan al-Neyadi successfully blasted off into space on Thursday in what will be the Arab world's longest space mission.
NASA's Kennedy Space Center in Florida launched the spacecraft shortly before 9:40 a.m. GMT on Thursday, prompting an outpouring of applause at NASA's Space Control. The Falcon rocket lit up the night sky as it made its way up the East Coast.
Read more: New launch date set for delayed UAE space mission
Nearly 80 UAE spectators gathered at the launch site to watch astronaut al-Neyadi — only the second Emirati to fly into space — blast off on his mission.
The capsule is now traveling at about 7,500 km per hour.
NASA confirmed shortly after 9:50 a.m. that the Falcon 9 and the Dragon carrying the astronauts separated as planned. Soon after, al-Neyadi posted a message from space on the live feed, saying, "Thanks to my parents, family, leadership…thank you for everyone who trained us and got us ready for this mission."
Schools and offices in Dubai and other parts of the UAE broadcasted the launch live.
After resolving a technical issue with the Falcon 9 rocket that prevented the first Crew-6 launch attempt on Monday, NASA and SpaceX approved the launch date on Thursday.
NASA launches 6th crewed mission of Elon Musk company
SpaceX launched four people to the International Space Station from Florida as Elon Musk's company begins the final of the original six missions it was awarded by NASA.
Known as Crew-6, the mission for NASA will bring the group up to the space station for a six-month stay in orbit. The mission is SpaceX's sixth operational crew launch for NASA to date and the company's ninth human spaceflight to date.
NASA awarded SpaceX with additional missions, for a total of 14, compared with Boeing's six.
For more on space news, click here.
Exclusives