October 18, 2022 1:34 pm
UAE rejects statements pushing to politicize OPEC+'s decision
"OPEC+'s recent decision was taken unanimously, based on a vote"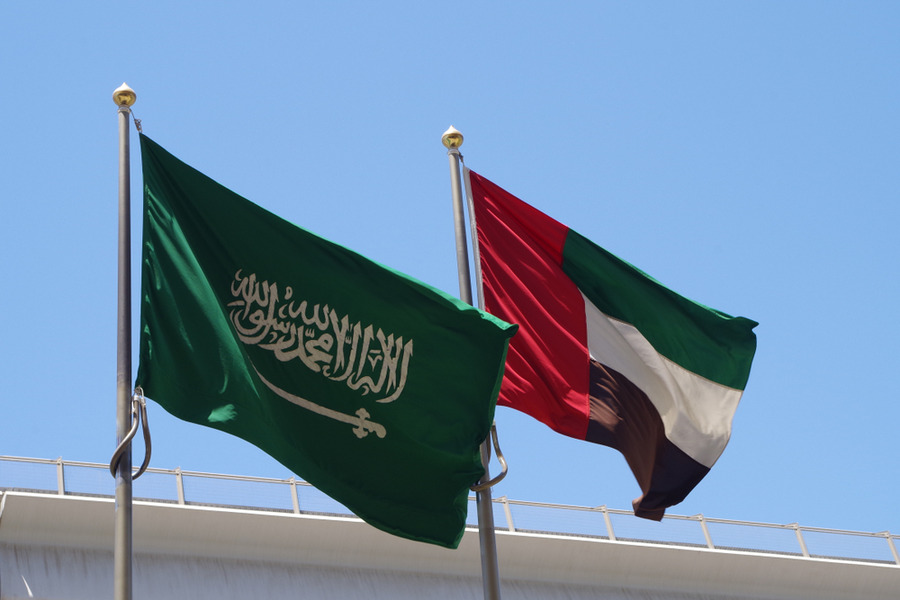 Saudi and UAE national flags
The UAE supported the Saudi Ministry of Foreign Affairs' statement on reviewing oil market conditions and reducing production, noting that the decision was "taken unanimously" and was made based on the vote of the OPEC+ group and within these parameters.
On Sunday, countries from OPEC+ expressed their support for the production cut decision approved earlier this month, after the US claimed that Saudi pushed some countries in the group to make the decision, escalating a verbal spat with Riyadh.
King Salman bin Abdulaziz, Custodian of the Two Holy Mosques, stated on Sunday that Saudi is working hard to support stability and balance in the oil markets, including "the establishment and continuation of the OPEC+ agreement."
The UAE Ministry of Foreign Affairs and International Cooperation stated today, Tuesday, that the UAE, as a member of the group and a partner of Saudi, emphasizes the technical nature of the decision and rejects statements that seek to politicize it. The ministry also stressed the importance of constructive dialogue in the interests of all countries.
The ministry reaffirmed the UAE's full support for the sisterly Kingdom of Saudi Arabia in its efforts to promote energy stability and security in a way that benefits producers and consumers while also promoting global economic growth and development.
On Sunday, UAE Energy Minister Suhail Al Mazrouei tweeted that OPEC's recent decision to cut output by two million barrels per day was a purely technical decision reached unanimously, not a political decision as some have claimed.
Bahrain
Similarly, the Bahrain News Agency reported that the Ministry of Foreign Affairs expressed "the Kingdom's full solidarity with Saudi Arabia, and its categorical refusal to politicize the decision of the OPEC Plus group or consider it as bias in international conflicts."
The Bahraini Ministry of Foreign Affairs issued a statement expressing "Bahrain's appreciation for Saudi's wise policy and balanced initiatives to consolidate security and peace in the region and the world, as well as to support global economic stability and balance in the international oil market."
Egypt
Moreover, Egypt expressed its support for Saudi on Monday in response to the OPEC + alliance's decision earlier this month to reduce oil production by two million barrels per day.
According to the Egyptian Foreign Ministry, "Egypt is closely following with interest the echoes of the recent OPEC + decision, and the tensions that arose around it."
Egypt "supports the position expressed by the sisterly Kingdom of Saudi Arabia in outlining the technical considerations of the OPEC + decision, as it aims primarily to achieve oil market discipline, and in a manner that ensures strengthening the ability of the international community to deal with the current economic challenges," said the statement.
Exclusives