SPACs, or special purpose acquisition companies, offer a quicker, more leisurely approach to raising investment money.
Going public promises riches and global attention but the cost doesn't have to be too high. But companies going for an IPO know how hard it is and how long it takes to raise funds.
And the UAE, late in January 2022, officially approved the first framework for these companies in the GCC.
Saudi is also preparing its own aggressive SPAC plans.
What's a SPAC?
A SPAC has the sole aim to raise money through an IPO in order to take a private company public in a quicker way. The key is that it already satisfies all the requirements needed for an initial public offering.
SPACs are a team of institutional investors from the world of private equity or hedge funds.
Eyeing an opportunity to merge or acquire a private company, these entities put all of their resources to raise money for that entity.  Once they secure those funds,  voila! The deal is done.
It's no surprise they're called "blank check" companies.
SPAC attack
In 2015, 20 SPACs raised $3.9 billion in funds globally, and 4 years later 59 deals amassed $13.6 billion, at an average deal size of $230.6 million.
One year later in 2020, 248 similar deals raised $83.4 billion, and continued in 2021, with 471 of those raising up to October $133.2 billion.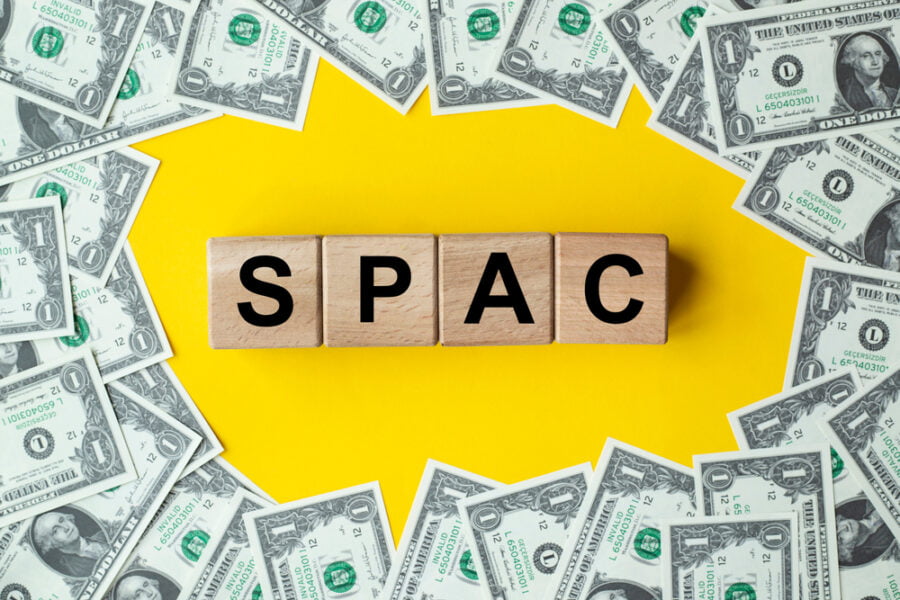 SPACs and the UAE
Karim Jetha, chief investment officer at Longdean Capital, an emerging markets asset management firm based in Dubai, told CNBC.
"The (UAE) decision to allow SPACs should enhance the ability of latter-stage growth companies to access financing and bring about further diversification."
The UAE announcement arrives after Dubai revealed public listings of government-related companies in 2021, and Abu Dhabi-listed stocks having a stellar year, gaining 68.2%.
Relevant is the fact that UAE-based music streaming service Anghami listed on the Nasdaq in New York last year, thanks to a merger with a SPAC called Vistas Media Acquisition Company Inc.
That SPAC raised $100 million before going public in August 2021.
When the merger is complete, following the meeting of closing conditions, the combined entity's common stock will trade using the ticker ANGH.
Swvl, a Dubai-headquartered provider of mass transit solutions, announced plans last year to list on Nasdaq through mergers with SPACs. At a valuation of approximately $1.5 billion, Swvl became the first $1 billion-plus unicorn from the Middle East to list on the US Nasdaq.
Dubai-based securer of waste-disposal services, Averda, is reportedly in talks to go public via a merger with Better World Acquisition Corp, a SPAC.
Conditions to list
The UAE regulations governing SPACs allow sponsors abroad to apply for approval and list their SPACs on the Abu Dhabi Securities Exchange (ADX), Reuters reported.
ADX said it will list its first SPAC this year.
" (SPAC) will provide international investors with access to unique growth opportunities," ADX said.
"Sponsors will need to raise a minimum of $27 million in the IPO and units sold will comprise warrants that give investors and sponsors the right to convert them into shares," ADX also said.
SPACs must place 90% of IPO proceeds in an account bearing no interest, it added.
Saudi readying for SPAC
In 2021, Saudi Arabia's Tadawul received 50 IPO requests from companies to list in 2022.
The country is studying opportunities related to listing SPACs, according to Saudi Tadawul Group chief executive, Khalid al-Hussan, saying recently.
The exchange is reviewing business models and assessing appetite for these companies in the kingdom, he said, and added that the UAE has not yet proposed any legal framework.
"We are looking very closely to this recent development and we absolutely look forward to adding this element to our market," Hussan said.
"We have to make sure that this vehicle is in demand by the investors as well as by the issuers," he said.
As well, Egypt is set to see its SPAC framework launched by or in February.
Risks involved
SPACs are not risk-free. Several  of them were created in the last two years failed to close deals and, reportedly, investors lost money.
Critics say that the attractive nature of SPACs can dilute the quality of targeted companies on an exchange and invite speculation.