January 17, 2023 5:57 pm
UNOX: A business recipe cooked just right
SPEED-X is revolutionizing the food service industry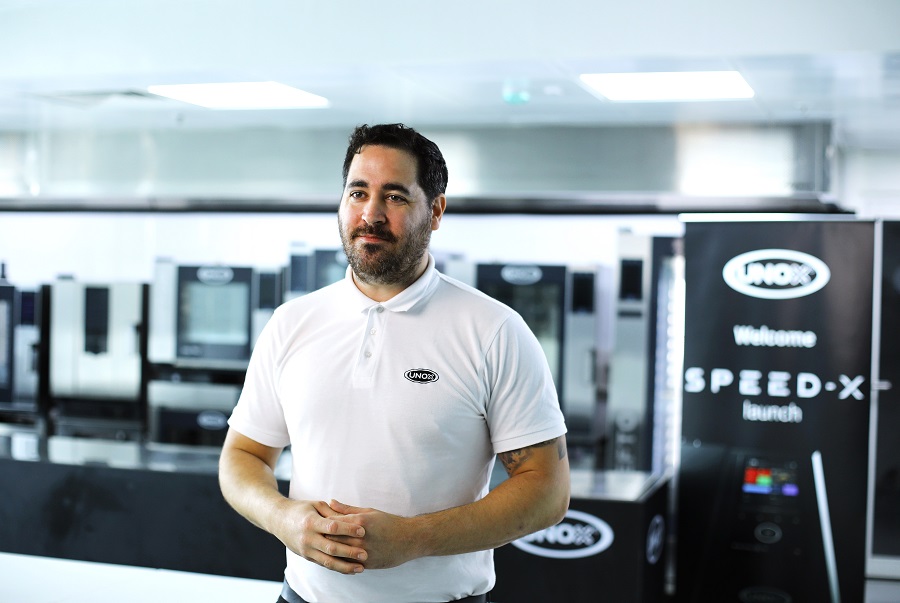 Matt Roberts, Managing Director of UNOX MENA
UNOX, founded in 1990 in Padua, northern Italy, designs, manufactures, and markets professional ovens for the catering, retail, pastry, and bakery sectors, with a turnover of 182 million euros in 2021 and continuing to grow. Over the years, the company has grown to become a leading manufacturer of professional ovens in terms of the number of units sold.
Matt Roberts, Managing Director of UNOX MENA, has nearly 15 years of experience in the food service manufacturing industry. Born and raised in a popular food service hub in Liverpool, Matt spent his summers working at his father's building company and eventually went on to become a project manager, to whom he credits his ability to problem solve.
In this interview with Economy Middle East, we asked:
Kindly describe your journey from sales to the food service industry.
I am from Liverpool, UK, and it just so happens to be a hub for catering equipment manufacturers. I joined my first role as Sales Support for Counterline Ltd and realized that this was an industry I wanted to build my career. The mix of business and food service suited me perfectly as I have a background in business studies, while my passion is cooking.
How would you describe your leadership style as the Managing Director?
As the Managing Director, I like to lead by example and want everyone on the team to feel comfortable in giving each other their honest feedback, even me. To do this, I sit with my team and encourage open feedback. This helps them to be more accountable and results in better performance for everyone.
Read more: Edible forks, knives, plates, and straws are saving oceans
What is UNOX's vision for sustainability in the region and globally? How are you looking to quantify your success as you look ahead to your 2030 net-zero commitment?
Our vision, simply put, is to be sustainable and make a positive impact on the environment by minimizing our carbon emissions as much as possible. Globally, UNOX has introduced the multi-million Euro initiative to be 100% carbon neutral by 2030. UNOX MENA has implemented changes such as introducing electric vehicles for the sales team, and the new office will be as environmentally friendly as possible with LED smart lights, insulated glass, etc. We will only use recycled materials for our packaging, and we insist on a zero-plastic policy. For example, each employee has received an insulated water bottle that can be filled with our cooled filtered water. Even with these initiatives, we know there will still be some electrical (carbon-related) requirements, and therefore, anything we use in the UAE will be offset in Unox City Padua with our solar farm. 
As you look ahead into the future, what are you hoping to achieve with the openings in Saudi Arabia next year?
Saudi Arabia is a brilliant market for the future, with a rapidly expanding economy, and it is with great pleasure that we have plans to support this market in the years to come. We already have sales and service teams in Jeddah, Riyadh, and Damman, with more to follow in the north and south. We also have a new experience center opening in Riyadh, which gives the market an opportunity to try our units in the demo kitchen and attend masterclasses from our chefs.
Explain a bit about the revolutionary Speed-X which launched at Gulf Host in November 2022.
The SPEED-X is revolutionizing the food service industry. In a short period of time. It has made a significant impact and earned numerous awards, including the Red Dot Design award Best of the Best and a spot on Time Magazine's 2022 Innovations of the Year list. Its ability to produce high-quality food in half the time is transforming how chefs cook and significantly reducing food waste.
Do you have any upcoming product launches on which you can give us some insight on?
We have an upcoming development that we're thrilled about, but at this time we're unable to share details. Stay tuned for more information.
What is your vision for UNOX MENA in 2023?

Last year, we experienced significant growth in both revenue and team size and this year will be no different. We plan to continue expanding our team by hiring additional staff in sales and support roles, including inside sales and technical positions. To maintain sustainable growth, it is crucial that we continue providing our customers with the exceptional support they have come to expect.
More on Dubai restaurants can be found here
Exclusives