December 15, 2022 3:38 pm
World Cup 2022 delivers record-breaking TV viewership
We got your finals winning odds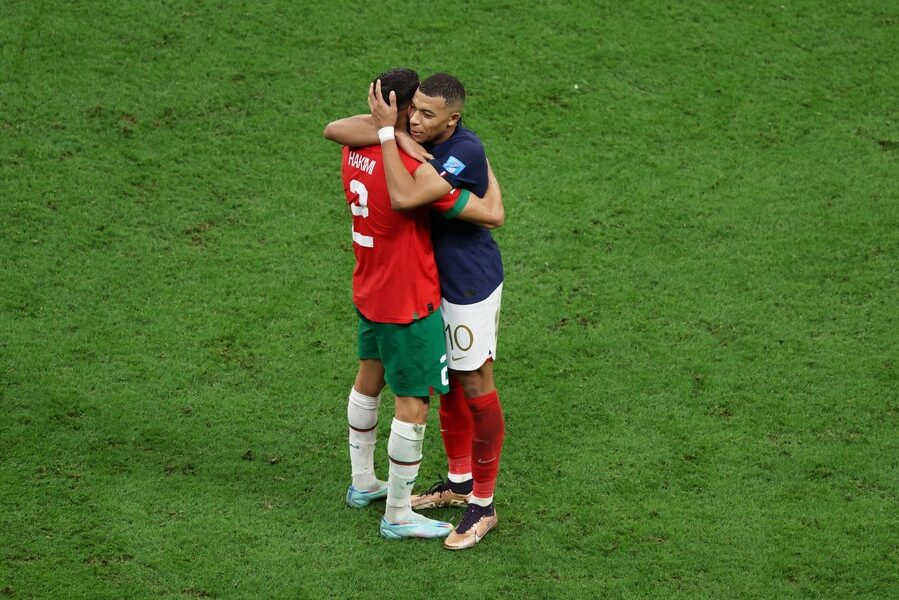 French player Kylian Mbappe and Morocco defender Achraf Hakimi (Photo credit: Ben Jacobs' Twitter account)
World Cup organizers — particularly FIFA — see the event as an outright success: a record TV audience, happy fans, and a burnished brand.
FIFA President Gianni Infantino praised the unexpected results of the eight group matches, as well as setting records in terms of the number of viewers inside stadiums and on television around the world, as well as the record number of those who attended the Fan Festival in Doha.
"The number of television viewers has reached an all-time high, surpassing two billion, which is incredible. Every day, 2.5 million people crowd the streets of Doha, and a few hundred thousand flocks to the stadiums to cheer on and support their favorite teams. The atmosphere is fantastic, and the goals are a fantasy and excitement," said Infantino.
Top-selling football shirt
On the other hand, Soccer Top revealed Argentina legend Lionel Messi edged out France's Kylian Mbappe in shirt sales.
Findings revealed that up to seven fans can swap their 2022 Cristiano Ronaldo shirt for a Lionel Messi one.
Meanwhile, Messi has confirmed Qatar 2022 is "his last World Cup" after his performance helped Argentina beat Croatia 3-0 to reach Sunday's final.
France is returning to the World Cup Final with the goal of becoming the first nation to win the tournament twice in 60 years. After defeating 2-0 over Morocco in the semifinal at Al Bayt Stadium, France might be making a second trip.
Morocco bowed out gracefully
It was the first time Morocco had trailed in the tournament.
After France's World Cup victory over Morocco, French player Kylian Mbappe demonstrated his class by helping Morocco defender Achraf Hakimi to his feet.
Despite playing as rivals, the two Paris Saint-Germain stars maintained their camaraderie.
Mbappe consoled Hakimi after the defeat. The two then removed their jerseys and exchanged them as a token of appreciation.
Fans loved the moment and shared it on social media.
Read more: Who will win the 2022 World Cup?
This World Cup, Morocco's defense and goaltending have been outstanding. Up until the semifinal, Morocco had not allowed a single goal from a rival during the competition. Powerhouses of European soccer like Croatia, Belgium, Spain, and Portugal were eliminated. Canada is the only team credited with a score – but it was an own goal, put in the net by a Moroccan player.
Morocco vs Croatia
Despite the defeat, Morocco still has one more World Cup match to play – a third-place match against Croatia on Saturday at 5:00 PM Eastern European Time (EET).
Croatia and Morocco will play the third-place match at the Khalifa International Stadium which has a maximum seating capacity of 44,089 people.
After the final whistle, it wasn't all doom and gloom, as some fans gathered outside and expressed pride that Morocco had reached such heights.
France and Argentina World Cup history
France had reached the World Cup semifinals for the seventh time. It had lost the first three games (Brazil in 1958, West Germany in 1982, and 1986). However, it won the next four (Croatia 1998, Portugal, 2006, Belgium 2018, and Morocco 2022).
France has won two World Cups, one in 1998 and another in 2018. 
Meanwhile, Argentina won two World Cups: in 1978 and 1986. Argentina has been runners up three times: in 1930, 1990, and 2014. In 18 World Cup tournaments, Argentina has 47 victories in 87 matches.
This will be the fourth time the two sides have played in a World Cup match. Argentina beat France in the group stage in 1930 and 1978, while France came out as the victors in a round of 16 games four years ago. 
The final takes place on Sunday at 5:00 PM EET at Lusail Stadium, with France facing Argentina and their star Lionel Messi, who is vying for his first World Cup title.
Who is the favorite to win the game?
In essence, no one knows. Argentina has gradually bubbled and risen to its peak as the tournament progressed, while France has shown enough class to reach the final game. Messi versus Mbappé; Europe versus South America; present versus future.
Lionel Messi's Argentina is +185 (24/13) while France is +180 (9/5). That's tight. The draw will take place at +215 (28/13).
Exclusives