January 19, 2023 10:27 am
Stats to remember from an unforgettable Qatar World Cup
5 billion engaged with the world's biggest sporting event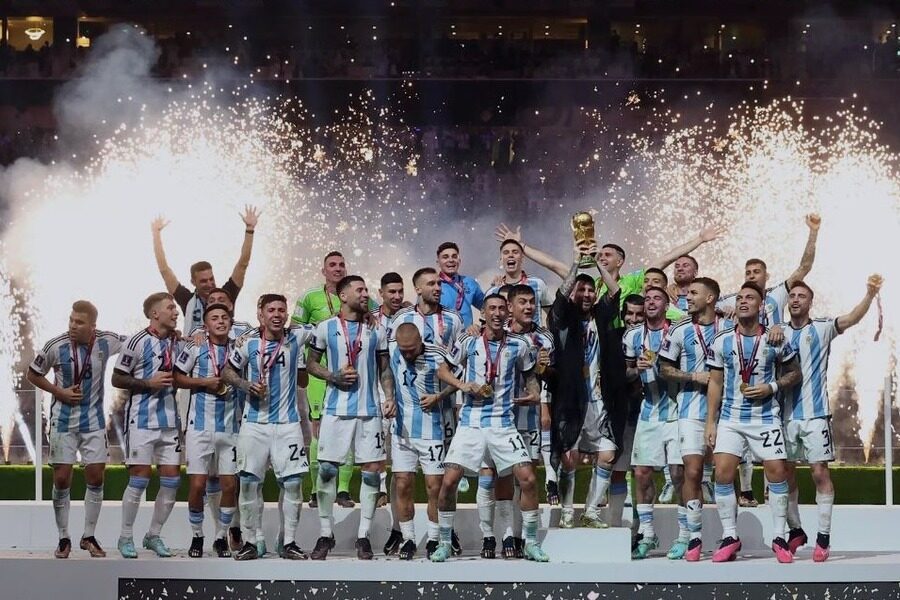 Argentina National Football Team celebrating win at Qatar World Cup 2022 (Photo Credit: FIFA World Cup 2022)
There were 88,966 people in Lusail Stadium, and nearly 1.5 billion people around the world watched the tense final between Argentina and France. One month after Lionel Messi, Lionel Scaloni, and La Albiceleste lifted the trophy, FIFA examines some facts and figures from on and off the field that reflect the magnitude of the world's largest single sporting event.
Read more: World Cup 2022 delivers record-breaking TV viewership
Early estimates suggest that approximately 5 billion people have followed the FIFA World Cup Qatar 2022 content across various platforms and devices across the media universe. According to data analytics company Nielsen, 93.6 million posts across all platforms, with a total reach of 262 billion and 5.95 billion engagements.
The FIFA World Cup Qatar 2022 was attended by 3.4 million spectators – an increase from 3 million in 2018 – who were treated to a historic tournament. Qatar 2022 became the highest-scoring FIFA World Cup in history, with 172 goals, surpassing the previous high of 171 in both 1998 and 2014.
Three matches, including the Final, attracted the highest attendance for a FIFA World Cup match since 1994 when Brazil faced Italy in front of 94,194 at the Rose Bowl in Pasadena.
Other notable achievements
For the first time, the FIFA Fan Festival in Doha had its own anthem – "Tukoh Taka" was one of the nine songs on the first-ever FIFA World Cup Official Soundtrack, which received 450 million views on YouTube.
Morocco's incredible campaign brought the Middle East and Arab world together in Qatar 2022, marking the first time an African team had reached the semi-finals.
For more on World Cup, click here
Exclusives