Saudi Arabia's real GDP grew 3.9 percent year-on-year in the first quarter of this year compared to the same period last year, driven by growth in non-oil activities.
According to a statement by Saudi Arabia's General Authority for Statistics on Sunday, this growth is due to a 5.8 percent rise in non-oil activities in the first quarter compared to a year ago, and a 1.3 percent growth in oil activities. Government services activities grew 4.9 percent, it said.
Growth is the lowest achieved in seven quarters. Growth in the fourth quarter of last year was 5.5 percent, 8.7 percent in the third quarter, 11.2 percent in the second quarter, and 10 percent in the first quarter. In the fourth quarter of 2021, growth was 8.3 percent, and 6.7 percent in the third quarter.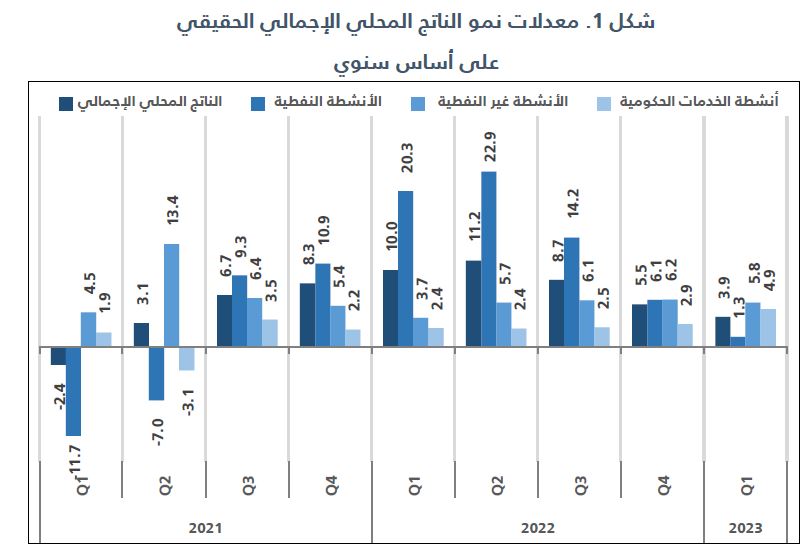 Data from the General Authority for Statistics show that seasonally adjusted real GDP contracted 1.3 percent in the first quarter of this year compared to the previous quarter due to a decline in oil activities by 4.8 percent. It is the first contraction of the Kingdom's GDP since the first quarter of 2021. Non-oil and government service activities grew by 1.5 percent and 1.1 percent, respectively.
Read: Careem, Saudi Tourism Authority collaborate to offer exclusive tourism deals
However, although the growth of oil activities was negative in the first quarter of this year on a quarterly basis and slowed on an annual basis, non-oil activities constituted a milestone in the released data, which showed an accelerated growth rate on an annual basis to record 5.8 percent compared to 3.7 percent in the first quarter of last year.
Non-oil activities are a key factor in reducing unemployment rates, which at the end of last year reached their lowest level since 1999 at 8 percent, close to the 7 percent targeted under the Kingdom's Vision 2030.
Hence, the released data confirms Saudi Arabia's success in its plan to diversify the economy, which was pointed out a few days ago by the Director of the Middle East and Central Asia Department at the International Monetary Fund, Jihad Azour, when he said that the growth of the Saudi economy comes with the support of the non-oil economy.
The Saudi government expects the non-oil sector to grow by about six percent over the next three to five years, supported by investments in massive infrastructure projects and a drive toward privatization and job creation for citizens
Azour explained that the Saudi economy was the most growing among the Group of Twenty last year and more than expected, and this growth came as a result of reforms and measures to diversify the economy, raise productivity, and diversify sources of income.
He stressed that it is necessary to continue economic transformation and diversification, open new sectors, and ensure that investments are for the benefit of the private sector because its role is to be the leader in the economic movement.
A monthly survey showed days ago that non-oil business activity in Saudi Arabia accelerated sharply in April, buoyed by an increase in new business that is primarily  benefiting from domestic demand.
Saudi Arabia's seasonally adjusted PMI jumped to 59.6 in April from 58.7 in March is continuing to move away from the 50-point threshold separating growth from contraction. The reading was slightly lower than the eight-year high recorded in February.
The International Monetary Fund says Saudi Arabia's economy grew 8.7 percent last year, but expects the kingdom's gross domestic product growth to fall to 3.1 percent this year.
Saudi Arabia said last month it would cut oil output by 500,000 bpd from May as part of other OPEC+ producer cuts of about 1.16 million bpd.
For more on Saudi, click here.