August 3, 2022 10:45 am
IMF issues 7 warnings that pose a danger to global economy
Worst-case scenario would be to reduce growth to 2% by 2023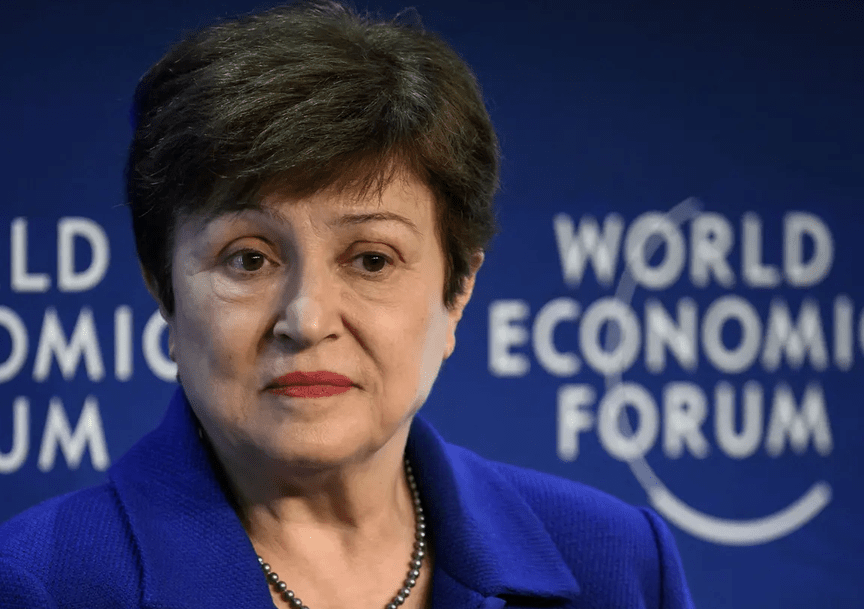 Kristalina Georgieva, the head of the International Monetary Fund (IMF)
The IMF has warned that seven factors are eroding growth prospects. The worst-case scenario, according to the International Monetary Fund (IMF), would reduce global economic growth to 2 percent in 2023, the lowest level in more than five decades.
Russo-Ukrainian war
Following the Russian invasion of Ukraine, gas exports from Russia to Europe are now only 40 percent of what they were in 2021.
Governments in the European Union have charged Moscow with restricting supplies as revenge for Western sanctions.
The IMF expects a further reduction in gas supplies.
If Moscow completely stopped exports, inflation would rise and European growth would slow down even more.
Inflation
Food and fuel prices have increased significantly, contributing to inflation, once more prompted by the turmoil in Ukraine. In an effort to reduce demand, governments have responded by increasing the cost of borrowing.
As costs continue to rise and incomes remain static, there is a risk that economies could stagnate.
Low unemployment may lead to wage-price spirals, as described by economists when workers demand higher wages.
Recession
In 2023, "the danger of recession is particularly evident," the most recent IMF report states.
Recently, interest rates were increased by a number of central banks in an effort to reduce demand. However, if they don't strike the right balance and raise the cost of borrowing, people will stop buying and economies would stagnate.
Borrowing
Governments in advanced economies can expect to weather the storm as people use their savings as borrowing costs rise and economic growth slows.
The situation is far more problematic for emerging economies, which are expected to experience a flight of foreign investment capital. As a result, several national currencies may be forced to depreciate as food and fuel prices continue to increase.
60 percent of low-income nations are reportedly "in or at high danger of government debt distress," according to the IMF.
China
The world economy continues to suffer as a result of China's ongoing battle to control the Covid outbreak.
The high level of debt accumulated by some of the top operators in the Chinese real estate market continues to raise concerns.
In China, home sales have decreased for 11 straight months, which has caused a significant economic sector to decline.
Social instability
The IMF report cautions that "higher food and energy prices are reliable predictors of instability."
Fragmentation
The Fund issued a warning that the conflict in Ukraine has splintered international politics and produced geopolitical blocs that are no longer able to coexist peacefully.
Currency conversion and cross-border payments are now more challenging.
The IMF believes that the food crisis could get worse as a result of decreasing multilateral cooperation amongst blocs, which is perhaps the worst possible outcome.
Exclusives