Populations across the globe are aging at an unprecedented pace, making many countries increasingly reliant on migration to realize their long-term growth potential, according to a 2023 report from the World Bank titled: "Migrants, Refugees, and Societies".
Wealthy and middle-income countries are usually the main sources of migrants, but today they are faced with shrinking populations, creating a fierce global struggle for workers and talent.
About 17 percent of migrants (31 million economic migrants) live in Gulf Cooperation Council (GCC) countries. Nearly all of them are temporary workers with renewable work visas. They represent, on average, about half of the population across the GCC.
On the other side of the spectrum, many low-income countries are expected to see rapid population growth, forcing these nations' leaders to create more jobs for younger generations, within national borders or internationally.
"Migration can be a powerful force for prosperity and development," said World Bank Senior Managing Director Axel van Trotsenburg. "When it is managed properly, it provides benefits for all people, in origin and destination societies." 
Shrinking working-age adult groups
In the coming decades, the share of working-age adults will drop sharply in many countries. Spain, with a population of 47 million, is projected to shrink by more than one-third by 2100, with those above age 65 increasing from 20% to 39% of the population. Countries like Mexico, Thailand, Tunisia, and Türkiye may soon need more foreign workers because their population is no longer growing.
Climate change coming into play
The number of refugees almost tripled over the last decade and climate change will be playing a big factor that threatens to fuel more migration.
About 40% of the world's population, or 3.5 billion people, lives in places highly exposed to climate impacts and faced with extreme weather and impact on employment, food resources, and investments, job seekers will look elsewhere and en masse.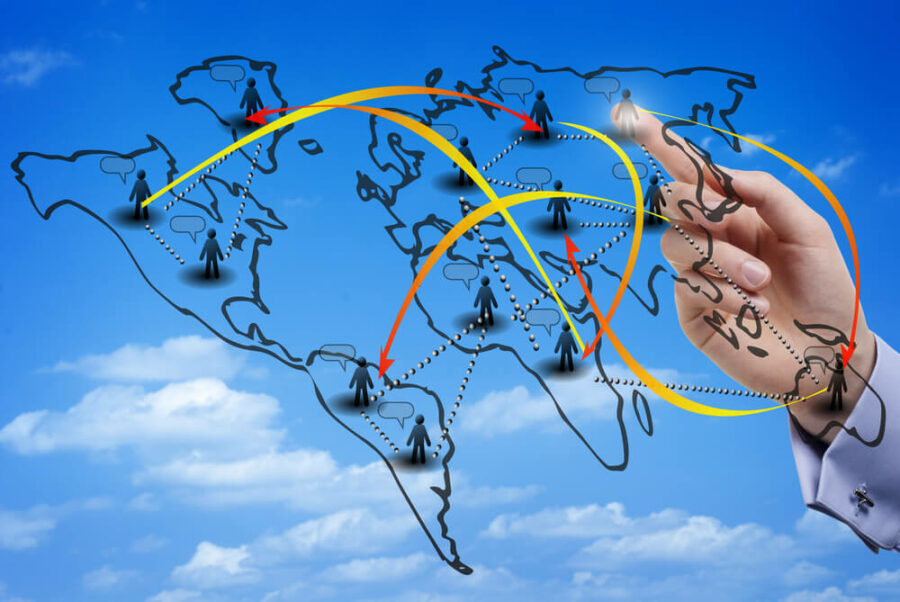 Migration management
About 2.5% of the world's population or 184 million people, including 37 million refugees, now live outside their country of nationality. The largest share, or 43%, lives in developing countries.
According to the report, the aim of policymakers should be to strengthen the match of migrants' skills with the demand in destination societies, while protecting refugees and reducing the need for distressed movements.
"A simple but powerful framework to aid the making of migration and refugee policy," said Indermit Gill, Chief Economist of the World Bank Group and Senior Vice President for Development Economics. "(is) when such policies can be made unilaterally by destination countries when they are better made plurilateral by destination, transit and origin countries, and when they must be considered a multilateral responsibility."
The report said origin countries should lower remittance costs, facilitate knowledge transfers from their diaspora, build skills that are in high demand globally so that citizens can get better jobs if they migrate, mitigate the adverse effects of "brain drain," protect their nationals while abroad, and support them upon return. Origin countries can also improve educational opportunities often in collaboration with destination countries, including language skills.
It added that destination countries should facilitate migration inclusion, and address social impacts that raise concerns among their citizens. They should let refugees move, get jobs, and access national services wherever they are available.
Read more: Migrants still sending billions home despite pandemic hurdles
Match and Motive
The report guides policy-making based on how well migrants' skills match the needs of destination countries and on the motive for their movement. The match determines the extent to which migrants, countries of origin, and countries of destination gain from migration, while the motive may create international law obligations for the destination country.
When the match of migrants is strong, the gains are large for themselves and their countries of origin and destination.
For refugees, when the match is weak, the costs need to be shared and reduced multilaterally, according to the report.   The policy objective should be to lower the hosting costs while maintaining adequate standards of international protection.
When the match is weak and people are not refugees, it is the prerogative of destination countries to regulate the entry of these migrants, but deportation and refusal of entry can lead to inhumane treatment.
Migrant Challenges and Rights
The financial costs of moving are very high for migrants in some situations, and these people have to work for years to repay them.  Tens of millions of migrants are separated from their families, and many are at risk of social isolation in unfamiliar settings.
The benefits of migration are larger when migrants have legal status and formal employment rights in line with international labor standards. Examples are the right to decent work, fair recruitment, and the ability to change employers when new opportunities arise.
Once they have such rights, migrants' wages and the quality of their jobs converge with those of nationals much faster than if they are undocumented, and they face less pressure to take on lower-skilled and lower-paying jobs than their skills warrant.
They can travel more easily, and, as a result, they can better maintain connections with family members in their country of origin. They are also less vulnerable to abuse and discrimination.
By contrast, in destinations where legal protection is inadequate, or where migrants cannot access it because of information and language barriers, they are at increased risk of exploitation.
To access additional economic reports, click here.