Saudi Arabia's New Murabba project in Riyadh underscores the country's commitment to transforming its capital city into an urban design center.
HRH Crown Prince Mohammad bin Salman bin Abdulaziz launched the New Murabba Development Company (NMDC) on 16 February 2023.
READ MORE: Largest Riyadh downtown project to add $48 bn to Saudi GDP
NMDC will develop the New Murabba project, planned to be the world's largest modern downtown.
The New Murabba project has the potential to play a pivotal role in Saudi Arabia's bid to host Expo 2030.
New Murabba was launched on the same day that Saudi Minister of Economy and Planning Faisal bin Fadhil Alibrahim met with Dimitri Kerkentzes, secretary general of the Bureau International Des Expositions (BIE).
Saudi Arabia submitted its bid for Riyadh to host Expo 2030 in October 2021. Busan, Rome, and Odesa are among the other contenders. BIE is likely to name the winning bid in November 2023. 
NMDC's launch plans for the New Murabba project appear to incorporate several of the project design elements that the Riyadh Expo 2030 bid envisions.
New Murabba project details
The New Murabba project will be located on a 19 sq. km. area at a 20-minute drive from the airport.
A museum, technology and design university and multipurpose theatre each have been planned for the project, in addition to 80 entertainment and culture venues.
The New Murabba project will also feature a Najdi design-inspired structure named Mukaab and get its own internal transport system.
These design plans could eventually make New Murabba an essential component of the Riyadh Expo 2030 premises. 
Saudi Arabia has proposed a 600ha site located near King Khalid International Airport for the expo.
It plans to 338ha of experiential spaces, 262ha for supporting amenities, and 432,000 sq.m. for national pavilions.
Beyond 2030
Should Saudi Arabia win the bid to host Expo 2030, it will mark a global validation of the social and economic reforms that have been introduced in the country since 2015.
A victorious bid would also provide further impetus to achieve the goals of the Vision 2030 diversification program championed by the crown prince. 
But the New Murabba project's launch is significant to achieve Saudi Arabia's wider goals to expand Riyadh too. The crown prince said in January 2021 Riyadh aims to more than double its population to 15-20 million by 2030.
Investments are underway to develop the real estate, infrastructure and jobs needed to support this goal.
READ MORE: Is Saudi a step closer to hosting World Expo 2030?
According to Fahd Al-Rasheed, president of Riyadh's royal commission, the city's expansion plans have a budget of about $800 billion. The estimated $8 billion needed to build the expo site is still lower than the $400 billion of construction investment active in Riyadh.
"We are building the largest transport network and the largest airport in the world, and over 30 mega-projects as we speak are being constructed," Al-Rasheed said on the sidelines of the World Economic Forum in Davos in January.
"The city is a hive of economic activity," he continued, adding investments in Riyadh will target tourism goals regardless of Saudi Arabia's expo bid.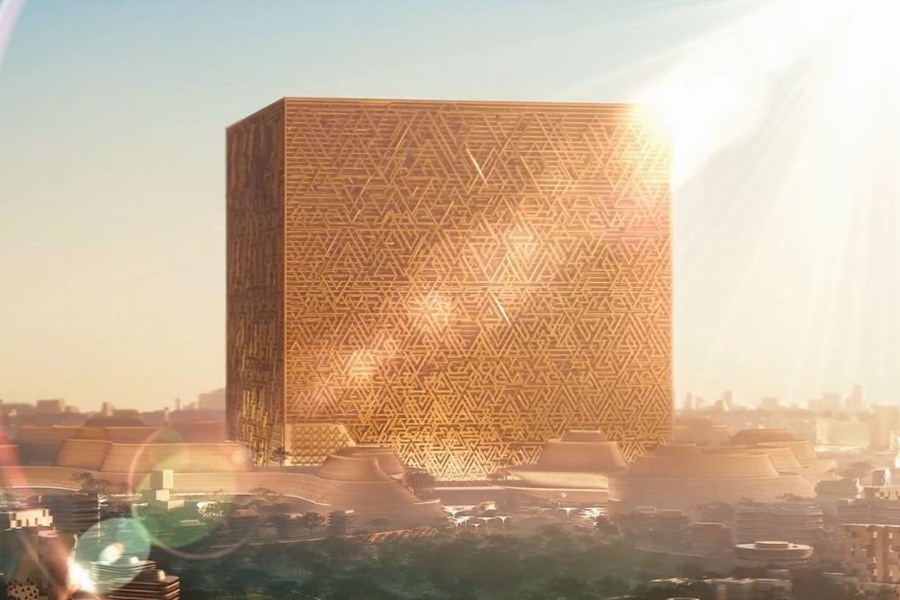 Future-building
Demand for construction services is steadily growing as Saudi Arabia simultaneously develops large-scale projects. Local capacity challenges have emerged as a potential near-term challenge.
Consequently, the Public Investment Fund recently acquired stakes in four construction contractors through a $1.3 billion transaction. The move is also expected to help strengthen contracting resource availability.
Upon completion in 2030, the New Murabba project will add $48 billion (SR180 billion) to Saudi non-oil GDP.
READ MORE: 2027 Asian Cup in Saudi Arabia to boost local property market
Moreover, it will complement ongoing schemes such as Diriyah Gate Development Authority's and Qiddiya Investment Company's Riyadh gigaprojects.
New Murabba's launch indicates that there is ample support to invest in positioning Riyadh as a global metropolis. Saudi Arabia's local supply chain must be empowered to build the country's ambitious future.