January 9, 2023 9:21 am
Where are oil prices heading in 2023?
Markets await US inflation data this week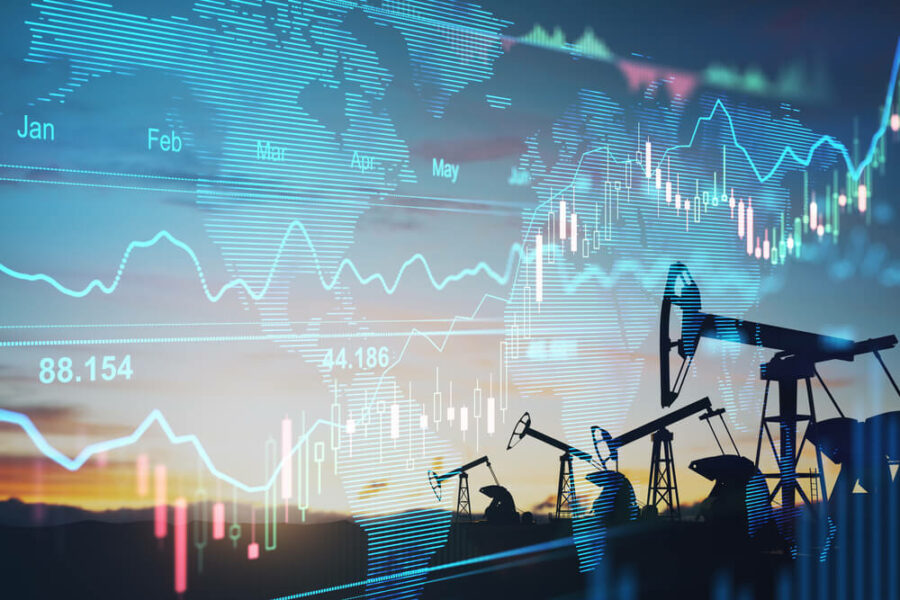 Oil prices
Where are oil prices heading in 2023? A question worth asking at a time when energy markets started the year with their biggest weekly drop in years due to fears of a global recession.
At the beginning of 2023, several factors are playing a role in determining the short- and medium-term direction of oil prices this year.
Among the factors weighing on oil prices are continued tightening monetary policy to fight inflation, expectations of a material slowdown in economic growth, and a possible recession, supply and demand concerns, and the reopening of China.
Energy prices rose last year on fears that Europe would freeze due to Russian fuel shortages.
In the first week of this year, oil prices fell about 9 percent in the first two trading days, the worst start to the year since 1991. The price of Brent crude fell below last year's levels for the first time in two years.
The annual change in the US index, WTI, has also turned negative several times over the past two months.
Read: Oil prices fall ahead of impending crises
BVM analyst Stephen Brennock told Reuters: "The oil market may regain some calm after big changes earlier this week, but upside prospects remain limited, at least in the near term. The economic outlook is hazy."
In parallel, energy futures for crude oil, refining products, and natural gas fell in the new year. U.S. natural gas fell 18 percent in the same period, the biggest default recorded at the start of any year, according to Refinitiv data. The 12 percent drop in refining derivatives futures was the biggest drop to start the year since 1991.
West Texas Intermediate, Brent, and U.S. gasoline futures suffered their biggest weekly decline at the start of the year since 2016, with WTI crude down 7.4 percent, Brent crude down 7.3 percent, and U.S. gasoline down 7.3 percent, according to Reuters data.
This week's US inflation data is expected to remain consistent with the gradual easing of cost pressures and will help determine the magnitude of the next Fed rate increase.
According to Bloomberg, the consumer price index, excluding food and energy, known as the core CPI and seen as a better core indicator than the main measure, is expected to rise 0.3 percent in December.
While just over November, it will be well below the 0.5 percent average seen from January to September amid the highest inflation rate in a generation.
The Federal Reserve, however, will not abandon its tightening and fight against inflation this year, which was clearly expressed in the minutes of the Federal Monetary Policy Committee meeting released last week. "No participant (i.e., state Fed heads at the meeting) expected that it would be appropriate to start lowering the federal funds rate target in 2023. Participants generally noted that the restrictive policy stance should be maintained until incoming data provided confidence that inflation was on a sustained downward trajectory to 2 percent, which was likely to take some time.
Federal Reserve officials stressed on Friday that more rate hikes were needed to tame inflation, despite signs that price pressures were receding.
Atlanta Federal Reserve Chairman Rafael Bostic said inflation remains very high and said he prefers to raise interest rates above 5 percent, compared to the current level of just under 4.5 percent. Richmond Federal Reserve Chairman Thomas Parkin said in separate remarks that "we still have work to be done" to return price gains to the Fed's target.
In another speech, Fed Governor Lisa Cook highlighted several signs of easing inflationary pressures, including slowing wage gains, while emphasizing that inflation remains high.
St. Louis Federal Reserve Bank President James Bullard said the odds of a soft downturn for the U.S. economy have increased compared to fall 2022, thanks to a strong and resilient labor market. "The rate of politics is not yet in a region that could be considered sufficiently restrictive, but it is approaching," Pollard said in a presentation Thursday.
However, concerns about a recession remain. The current weak oil demand in both the US and China adds to the downward outlook for oil prices.
For more on oil prices, click here.
Exclusives