July 21, 2022 10:18 am
Rishi Sunak and Liz Truss in final race for British premiership
Johnson: Whoever wins will take on the role of ' household cleaning'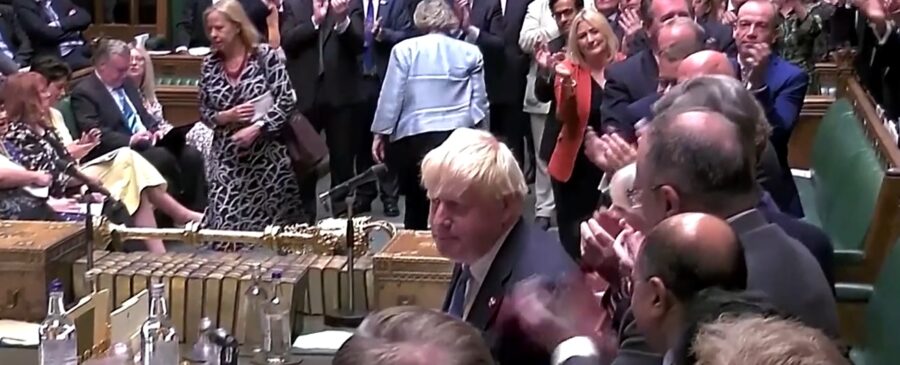 Johnson last speech in the the House of Commons
Members of Parliament from the ruling Conservative Party have chosen former Finance Minister Rishi Sunak and Foreign Minister Liz Truss to qualify for the final stage, when about 200,000 party members will vote to choose a new leader for the party on the fifth of next September.
The two conservative rivals will face off in the coming weeks to win the post of next prime minister. After several stages of the selection process, the two candidates reached the final round, which runs from July to September. During this period, Sunak and Terrace have to convince the Conservative Party members who will choose the new leader and prime minister after a series of nationwide rallies. The result will be announced on the 5th of September.
But Britain will have its first prime minister of Asian descent or the third woman in office.
Sunak's resignation as finance minister this month helped oust outgoing leader Boris Johnson after months of scandals.
The former Finance Minister again topped the scene by obtaining 137 votes in the fifth and final poll. Secretary of State Liz Truss narrowly won the race for second place with 113 votes 8 votes more than former Defense Secretary Penny Mordaunt's 105 votes.
The two opponents offer different views of Britain's response to the multiple crises it faces. Ex-Finance Minister Sunak builds on a middle ground of fiscal rectitude with "green fees" to fight climate change.
Announcing his new policy directions, he pledged to draw up an "ambitious new energy independence plan for the UK" by 2045 to avoid any future acceleration of energy-related inflation, after Russia's invasion of Ukraine drove up fuel prices.
Trace wrote in the "Daily Telegraph" on Wednesday that her plan to revive the economy would be "based on tax cuts, deregulation and drastic reforms."
During the Prime Minister's final question session in the House of Commons on Wednesday, Johnson hinted at support for Truss' plan to cut taxes, urging his successor to "cut taxes and liberalize the economy where possible to make this place the greatest place to live and invest".
But whoever wins the Conservative race will do "some household cleaning, and they'll mop" the opposition Labor Party, Johnson said.
As for Sunak, the BBC plans to organize a televised debate on Monday between the two candidates, and according to polls, Sunak won the previous two debates.
Exclusives