October 20, 2022 10:06 am
Truss's government's stumbling.. How long will the "warrior" last?
Premier's position weakens with departure of another leadership figure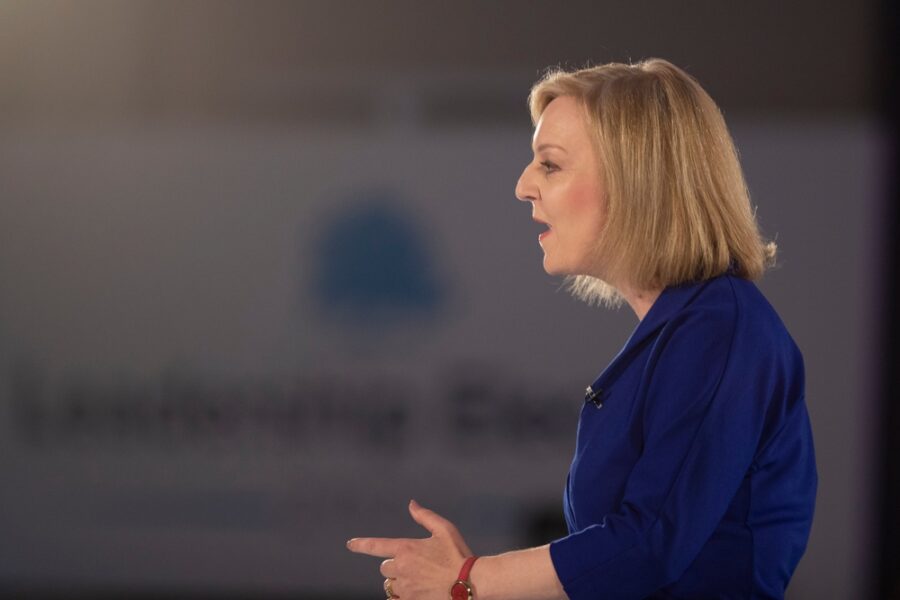 Truss defended herself against a torrent of criticism and calls for her resignation
British Prime Minister Liz Truss's government is teetering on the verge of collapse despite a statement of defiance launched on Wednesday when she described itself as a "warrior" following major opposition and anger from her Conservative Party over her failed economic plan.
The conservative leader, whose popularity has deteriorated, has confirmed that she wants to stay in office despite abandoning her economic program, which has caused turbulence in financial markets, and despite inflation accelerating to reach 10.1 percent in September, the highest level in 40 years.
But her situation appears to have become weaker with the departure of another leadership figure from her cabinet less than a week after she had to fire the Finance Minister and her close friend Kwasi Kwarteng.
Interior Minister Suella Braverman announced her resignation after violating rules by sending an official document from her personal email account.  She used her resignation letter to blame Truss, saying she had "concerns about the direction of this government."
In a letter to Truss posted by Braverman on Twitter, the "sacked minister" said she had sent an official document from her personal mail, noting that she had informed members of parliament of the content of the document.
Downing Street soon announced her replacement with Grant Shapps, 54, Boris Johnson's former transportation secretary.
Some lawmakers have also reported that Conservative Party President Wendy Morton, who is responsible for party discipline, and her deputy have resigned. But the office of Truss later said both remained in their jobs.
Accountability
On Wednesday night in the House of Commons, Truss defended herself against a torrent of criticism and calls for her resignation from the Labor opposition after being forced to back down from her economic program.
Truss said in a defiant tone: "I'm a warrior, not someone who resigns."
Labor opposition leader Keir Starmer asked: "What's the point of a prime minister whose promises don't hold up for a week? He listed all the measures that Truss had to reverse under pressure from markets and her camp.
Five MPs from the Truss party urged the prime minister to leave. For lack of a clear candidate to replace her, Conservatives seem reluctant to go through a new and lengthy appointment process and are seeking consensus on a name.  Thus, the problem is about who will succeed her and not whether she should resign.
Despite defying parliament, Truss faces another challenge in convincing the public and her party that it can address the cost-of-living crisis as mortgage interest rates rise and inflation returns to its highest rate in 40 years.
Opinion polls show the Conservative Party's popularity is down about 30 points from the opposition Labor Party, and Truss's popularity is in a very difficult situation.
Causes of the crisis
The crisis dates back to the introduction of the "mini-budget" at the end of September by then-Truss Finance Minister Kwasi Kwarteng which included significant tax cuts and strong subsidies for energy bills, raising fears of a decline in state budgeting.
The pound fell to its lowest levels and long-term government borrowing soared. The Bank of England was forced to intervene to prevent the situation from deteriorating into a financial crisis.
In an effort to calm the economic and political storm, the prime minister was forced to appoint a new finance minister, Jeremy Hunt, tasked with reforming her economic program and reassuring markets about the government's budget plan.
Hunt announced the return of all the cuts promised by the prime minister.
Where is the crisis headed?
Under the rules of the Conservative Party, Truss is safe for a year, but the rules can be changed if enough lawmakers so desire.  There is frantic speculation about how many lawmakers have already submitted a letter calling for a vote of no confidence.
So far, there is no first contestant. Rishi Sunak, Truss's rival whom she defeated in the party presidency election, and  House of Commons leader Penny Mordaunt and Defence Minister Ben Wallace, have supporters, as well as Hunt, whom many already consider the de facto prime minister.
Some even prefer the return of Boris Johnson, who was ousted in the summer after being embroiled in ethics scandals.
Long-time Conservative MP Crispin Blunt told Channel Four: "I think the game is over, and now we should ask how to manage her succession phase."
Is the game really over? The picture will soon become clear.
Exclusives